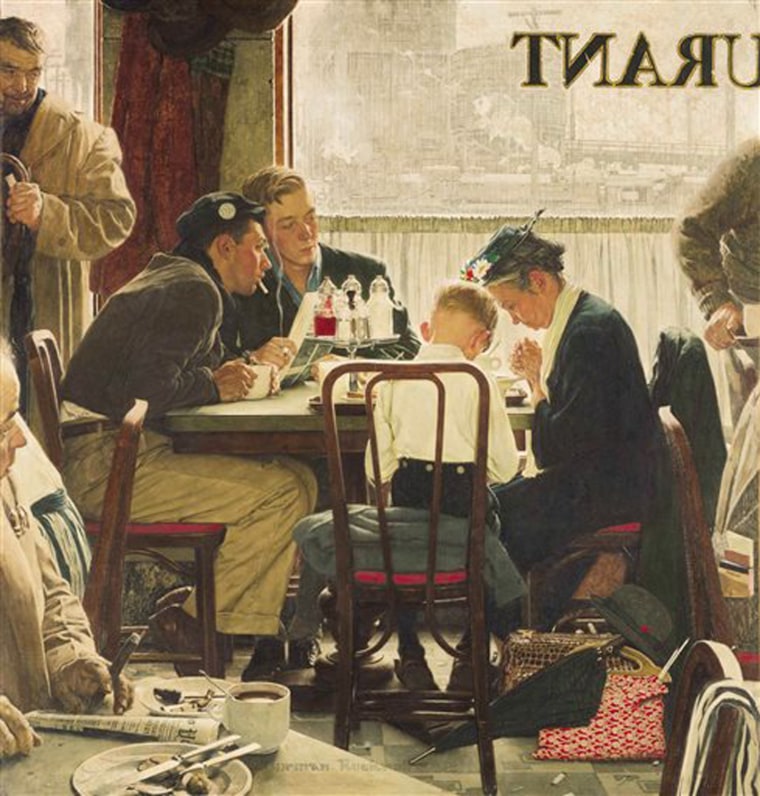 NEW YORK — A Norman Rockwell painting titled "Saying Grace" has been sold at a New York City auction for a record $46 million.
Sotheby's says it's the highest price ever paid at auction for an American painting and for a work by the Saturday Evening Post illustrator. The buyer wasn't disclosed.
The painting had a pre-sale estimate of $15 million to $20 million. In 2006, Sotheby's sold Rockwell's "Breaking Home Ties" for more than $15 million, then a record.
The previous record for an American painting was set in 1999, also at Sotheby's. George Bellows' work titled "Polo Crowd" sold for $27.7 million.
"Saying Grace" depicts a crowded restaurant with a grandmother and grandson bowed in prayer at their table.
Another Rockwell painting, "The Gossips," sold Wednesday for just under $8.5 million, while "Walking to Church" fetched a little more than $3.2 million.
For nearly two decades, all three had been on loan at the Norman Rockwell Museum in Stockbridge, Mass., which has the world's largest collection of original Rockwell art located in the artist's hometown.

Rockwell was paid $3,500 for "Saying Grace." It appeared on the cover of the magazine's Thanksgiving issue in 1951 and was voted Post readers' favorite cover in a 1955 poll.
The idea for the illustration came from a reader who saw a Mennonite family praying in a restaurant. Rockwell's son, Jarvis, was among the models the artist used for the drawing.
The illustrator, who created his first cover for the Post in 1916, is celebrated for his reflections of small-town America and portraits of famous figures. Rockwell spent 47 years at the magazine and produced 321 covers. He died in 1978.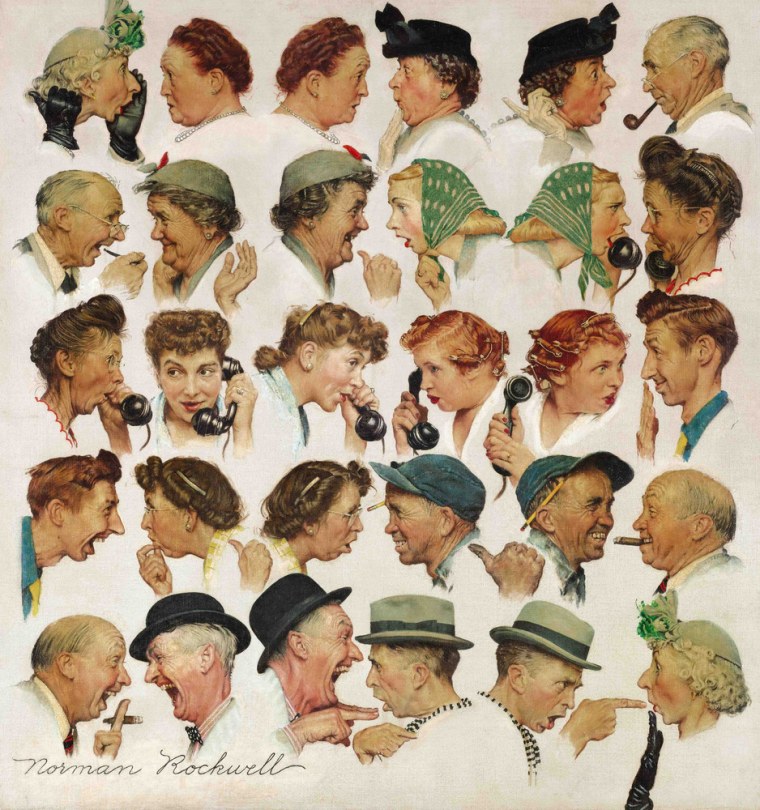 "The Gossips," which was a cover illustration for the March 6, 1948, issue, depicts a montage of the artist's neighbors, wife Mary and Rockwell himself finger-wagging and yammering on the phone.
"Walking to Church" appeared on the cover of the April 4, 1953, issue and shows a family dressed in their Sunday best walking along a city street. Rockwell based it on a painting by Johann Vermeer.
The trio, along with four other Rockwell works, were being sold by the family of Kenneth Stuart, Rockwell's longtime art director at the magazine. The sale comes years after a legal fight among Stuart's three sons. Rockwell and Stuart worked together at the magazine for 18 years.
Laurie Norton Moffatt, director at the Rockwell museum, has expressed hope that the three Rockwells will eventually be returned.
"We cared for them like children. ... We hope they come back some day. We believe that's where they belong," she said.