Author and illustrator Norman Bridwell, who created the popular character Clifford the Big Red Dog, died on Martha's Vineyard, Massachusetts, on Friday, Scholastic Books said Tuesday.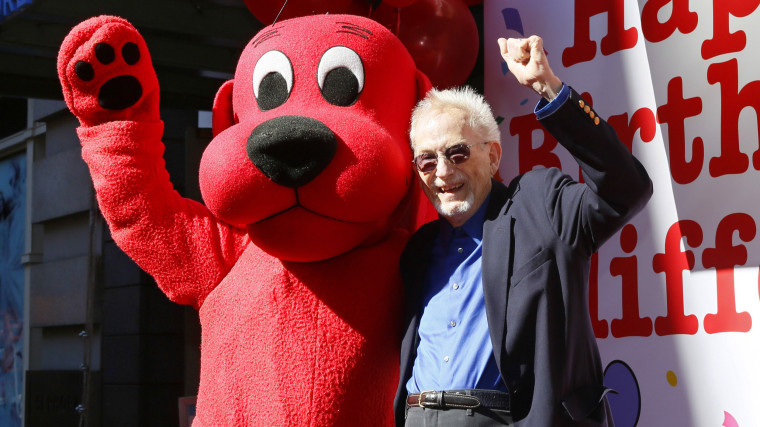 "Norman Bridwell's books about Clifford, childhood's most lovable dog, could only have been written by a gentle man with a great sense of humor," said Dick Robinson, Scholastic's chairman, president and CEO. "Norman personified the values that we as parents and educators hope to communicate to our children — kindness, compassion, helpfulness, gratitude — through the Clifford stories which have been loved for more than fifty years."
The first Clifford book was published in 1963, but not without a struggle. Bridwell's manuscript was turned down by nine publishers before Scholastic accepted it, the company said.
Clifford is a 25-foot-tall dog owned by 8-year-old Emily Elizabeth. Clifford was originally to be named Tiny, Scholastic said, but Bridwell's wife, Norma, suggested the dog be named after her childhood imaginary friend. Emily Elizabeth was named for the couple's daughter. And Clifford's fictional home, Birdwell Island, not only has a name similar to that of the Bridwell family, but resembles their own Martha's Vineyard home.
"The magic of the character and stories Norman created with Clifford is that children can see themselves in this big dog who tries very hard to be good, but is somewhat clumsy and always bumping into things and making mistakes," Robinson said in a statement. "What comforts the reader is that Clifford is always forgiven by Emily Elizabeth, who loves him unconditionally."
"At Scholastic, we are deeply saddened by the loss of our loyal and talented friend whose drawings and stories have inspired all of us and generations of children and their parents," Robinson said.
Bridwell is survived by his wife, Norma, daughter, Emily Elizabeth, son, Timothy, and three grandchildren.
Two more Clifford books will be published in 2015. "Clifford Goes to Kindergarten" will come out in May, and "Clifford Celebrates Hanukkah" in October.
Follow Gael Fashingbauer Cooper on Google+.