Some are quick to dismiss nonfiction as not right for summer reading, seeking out instead a good novel or light and fluffy beach book. But I view summer as the perfect time to dive into another world without ever leaving home.
Stretching out on my backyard lounge chair, I swab on the SPF 30 and disappear into the dust and dirt of a rodeo, or test my brain against others at a crossword-puzzle tournament, or even shiver at the cold-bloodedness of a murderer. Even topics that seem at first far from my circle, like NASCAR, the topic of Jeff MacGregor's gripping "Sunday Money," are fascinating in the hands of an expert author. I hope you'll find something you'll enjoy in our varied roundup of reviews.    —Gael Fashingbauer Cooper
Need for speedOutside of short glimpses in bars, restaurants and other places where the TV is not under my control, I've never watched a NASCAR race. But once I read even one page of Jeff MacGregor's "Sunday Money: A Hot Lap Around America with NASCAR" (HarperCollins, $26). I was strapped in tight, circling the track at 200 miles per hour, unable to put the book down.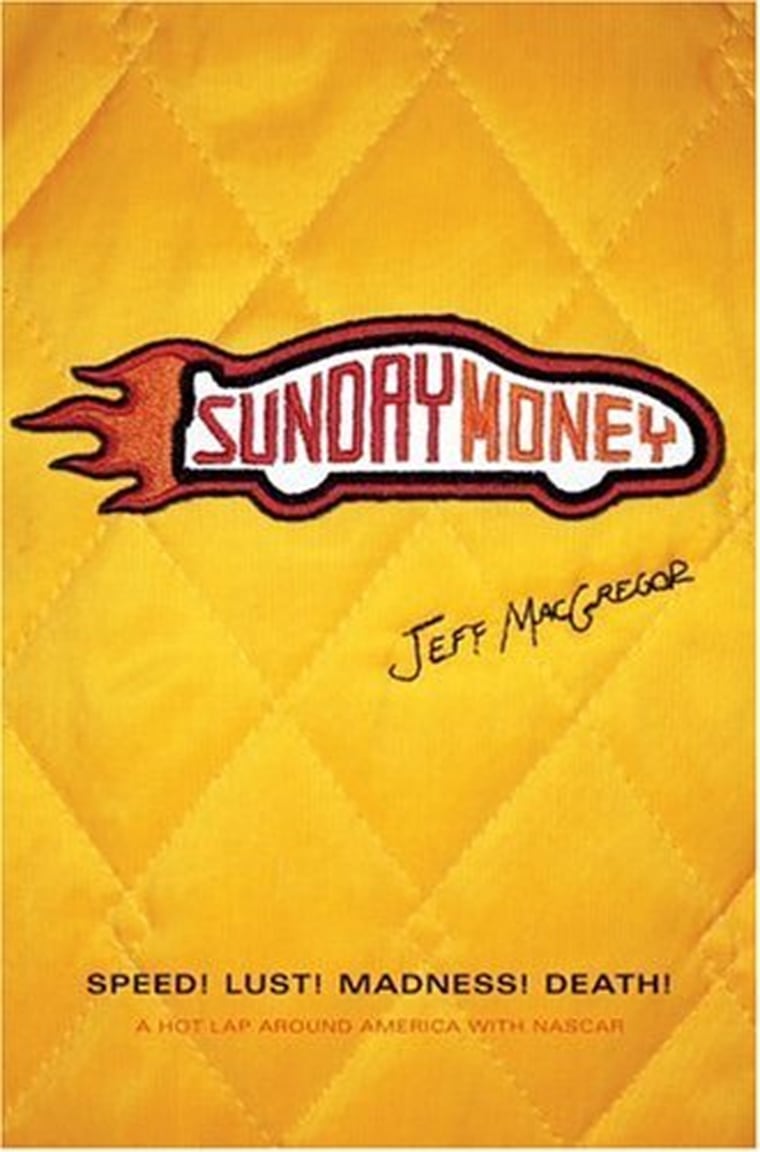 MacGregor is a contributor to Sports Illustrated, and together with his wife, a photographer, rents a motorhome and travels the nation for one NASCAR season, following the sport that has "more fans than Turkey has Turks or Great Britain Brits," as MacGregor puts it, and "where there are as many ways to die as parts on the car."
Even if NASCAR isn't your speed, MacGregor's colorful, original language and knack for finding the perfect detail will keep you riveted. He describes a distinguished-looking car owner as looking "like the U.S. ambassador to Cary Grant." The hair color alone of a worker at the Richard Petty Driving Experience inspires him to go on and on for a page and a half speculating about the man's life. Like NASCAR, MacGregor's book never stops, never slows down, never lets up, but unlike NASCAR, there aren't endless hours during which absolutely nothing is happening.
MacGregor and wife criss-cross the nation from track to track, but less time is spent on the specifics of each race than on NASCAR as a whole. Readers learn of its short history, how it's forever tangled with the American South, and how attempts to corporatize it may ensure its monetary success while destroying the loyalty of its core fans. Yet none of that's presented in biz-school gobbledygook. It's as entertaining and lively, packed with examples and anecdotes and written by a sharp mind with a gentle hand.  Put yourself on the fast track to the bookstore to buy "Sunday Money."    —G.F.C.
Befriending the murdererThe Christian Longo murder case was at least as horrific as the Laci Peterson case, quite possibly more so. Longo, deep in debt and with police after him for check fraud and car theft, murdered his wife, MaryJane, and their three young children, dumped them in water, and fled to Mexico. While on the run, Longo stole the identity of Michael Finkel, a writer for the New York Times who had just been fired for creating a composite character. When Finkel finds out, he sees in this odd happening a chance to redeem himself, perhaps, to tell an honest story this time.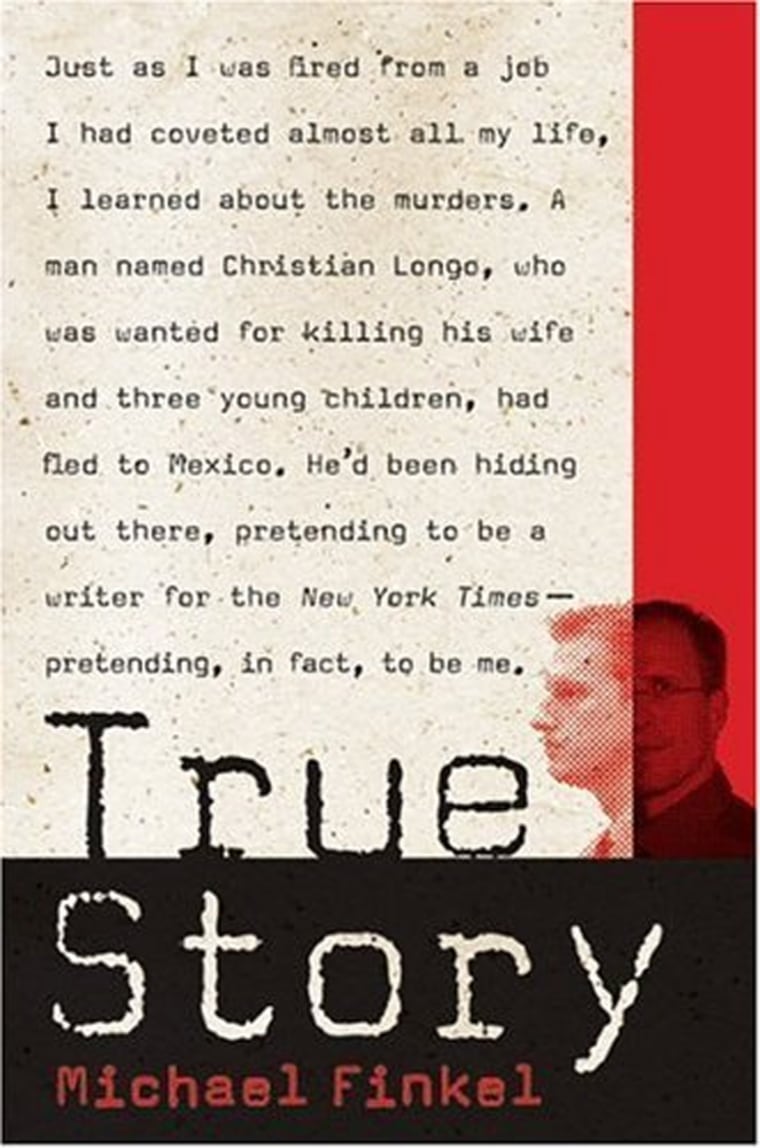 The resulting book, "True Story" (HarperCollins, $26), is both a gripping true-crime tale and an odd psychological experiment. Finkel knows that Longo killed his family, and brutally. Yet he courts the jailed killer, staying home to answer his calls, exchanging letters (Longo writes enormous letters to Finkel, sometimes 50+ pages long), attending his trial. At times he has to sweettalk Longo to keep working on what he dubs "the Chris and Mike project."
He does get the goods. The story of Longo's decline is painfully told and absorbing, though Finkel seems to rely almost totally on Longo's own version, not interspersing interviews with MaryJane's family or others. Chapters in which Finkel mixes reflections on how he came to falsify the Times story that got him fired are interesting to journalists, but perhaps distracting to other readers. Just when it seems Longo's creepy tale is gaining speed, readers are jerked back to Finkel's own musings.
Could Finkel have written the definitive true-crime tale on the Longo case? I think so. Was it possible for him to write that story without interspersing it with his own? I wonder. He might have been criticized for doing just that, leaving out the eerily intimate relationship he had with a murderer. (According to Publisher's Weekly, editors cut a lot of Finkel's own story from the book.)
"True Story" is an unsettling read, and Longo's case will stay with you long after you close the book. I don't know if it exorcised Finkel's ghosts, but it seems a more valuable work than, say, Stephen Glass' thinly fictionalized "The Fabulist."    —G.F.C.
Getting trashed
I found myself hesitating before throwing anything in my trash can after reading Elizabeth Royte's "Garbage Land: On the Secret Trail of Trash" (Little Brown, $25, will be published in July). It's hard not to compare Royte's book to "Fast Food Nation" — both works examine a subject often taken for granted by stripping it to its core, leaving readers with an unsettling feeling that they should take a hard look at their habits.
Royte decides to follow the path of her household trash, recyclables, compost, and even — yikes — sewage, following them to their various final resting places. Not everyone is thrilled to help her do so. Repeatedly, she's refused access or information from people who'd rather we not look too closely at what's happening to our garbage.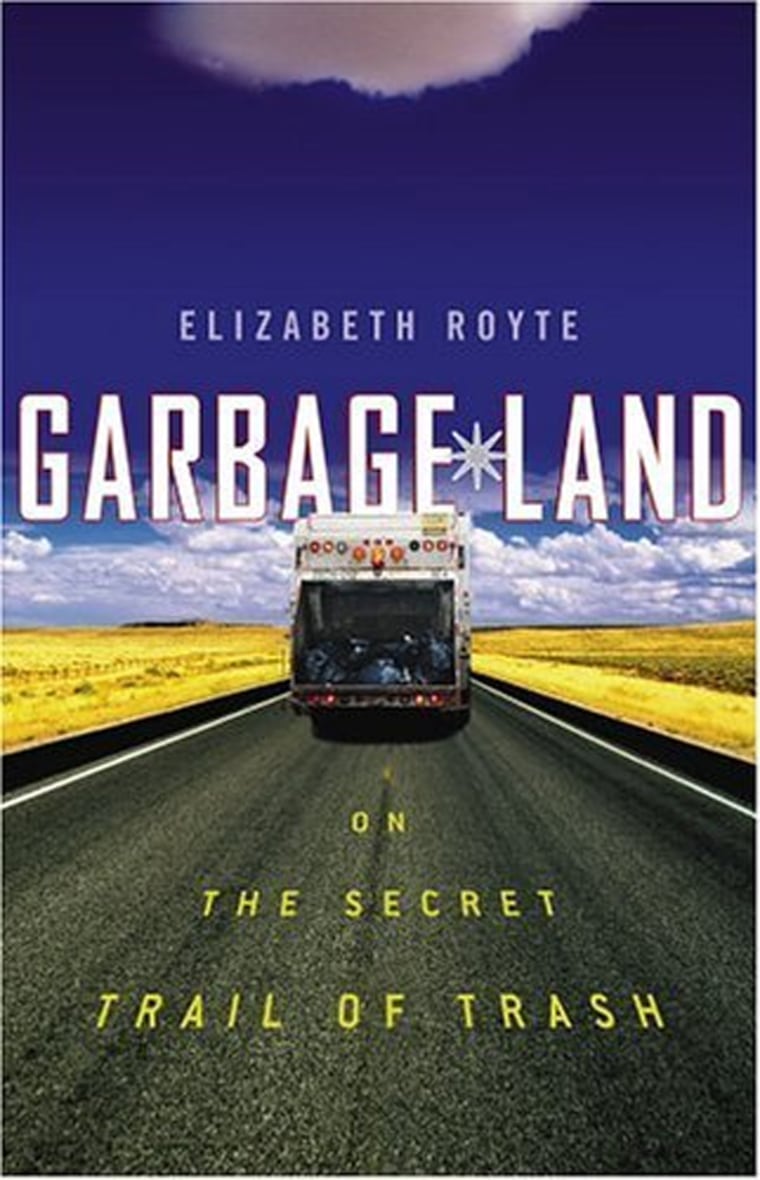 She perseveres, though, eventually following her local "san men" on their route, touring the huge Fresh Kills landfill, witnessing her junk mail get recycled, and teaching herself about the complex world of home composting. (She gets so involved with the latter that she considers subscribing to Worm Digest.)
It's hard not to feel guilty about one's own consumption when reading Royte's book, but she presents her information fairly objectively. For research purposes, she sorts through and weighs her trash every day or so, putting herself on very intimate terms with what her family uses and discards, and learning in the process about products she can reuse or donate, and which ones she may avoid buying in the future. I won't be doing that kind of garbage research anytime soon, but I'll be digesting the food for thought found in "Garbage Land" for a long time to come.    —G.F.C.
Home on the rangeFor those of us far removed from saddles and bridles, rodeo almost seems to belong to a vanished age. Yet to participants and fans, it lives on, as lively as a bucking bronc. W.K. Stratton's "Chasing the Rodeo: On Wild Rides and Big Dreams, Broken Hearts and Broken Bones, and One Man's Search for the West" (Harcourt, $25) is a fascinating look at an event that's unlikely to ever make the cover of Sports Illustrated.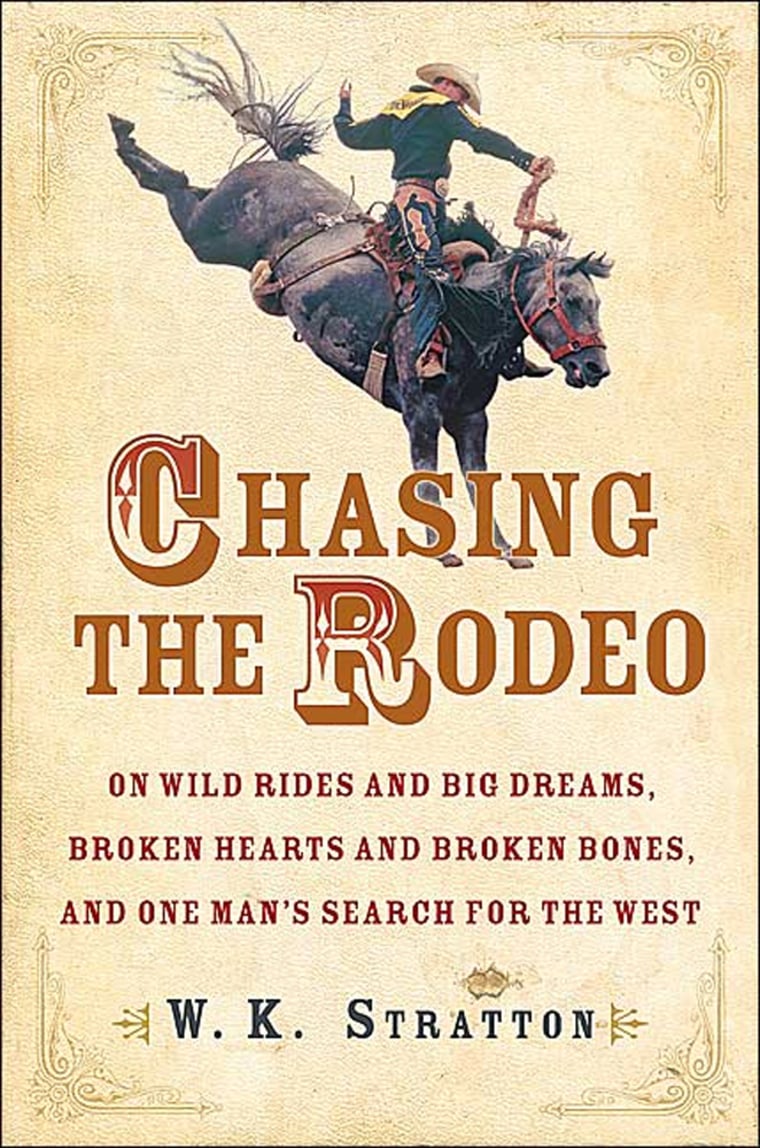 Speaking of Sports Illustrated, "Chasing the Rodeo" is perhaps best compared to Jeff MacGregor's NASCAR book, "Sunday Money" (see review). Like MacGregor, Stratton travels to the major events for one full season of rodeo, revealing the personalities and peculiarities behind the scenes. He attends "Cowboy Church," watches cowboys play hacky-sack off spurred boots, and discusses the trends in cowboy jeans (still mostly Wranglers for men, but Cinch is coming on  strong).
Stratton also delivers plenty of rodeo history, and doesn't fail to note the contributions made to the sport by African-Americans, Native Americans, Hawaiians and women. One large hole in the book is how the author tap-dances around the topic of how the animals are treated, but in an Author's Note at the book's end, he gently notes that the book was about rodeo as a culture phenomenon, not about animal-welfare issues. Whether you think that should be done in a book about such a controversial world is left to the reader.
Stratton interweaves the story of rodeo with his own personal story. The father he never met, "Cowboy Don," was a rodeo bum who could neither make a living from rodeo nor leave it behind. Smartly, Stratton never allows his personal tale to become maudlin, and it's hard not to come away from the book without a sense of appreciation that the world of cowboys isn't really lost to us after all.    —G.F.C.
Table for one
Having seen the way Steven Shaw can brutally dissect a restaurant review, I can't help but hesitate to tackle his new book, "Turning the Tables: Restaurants from the Inside Out" (HarperCollins, $25, to be published in August).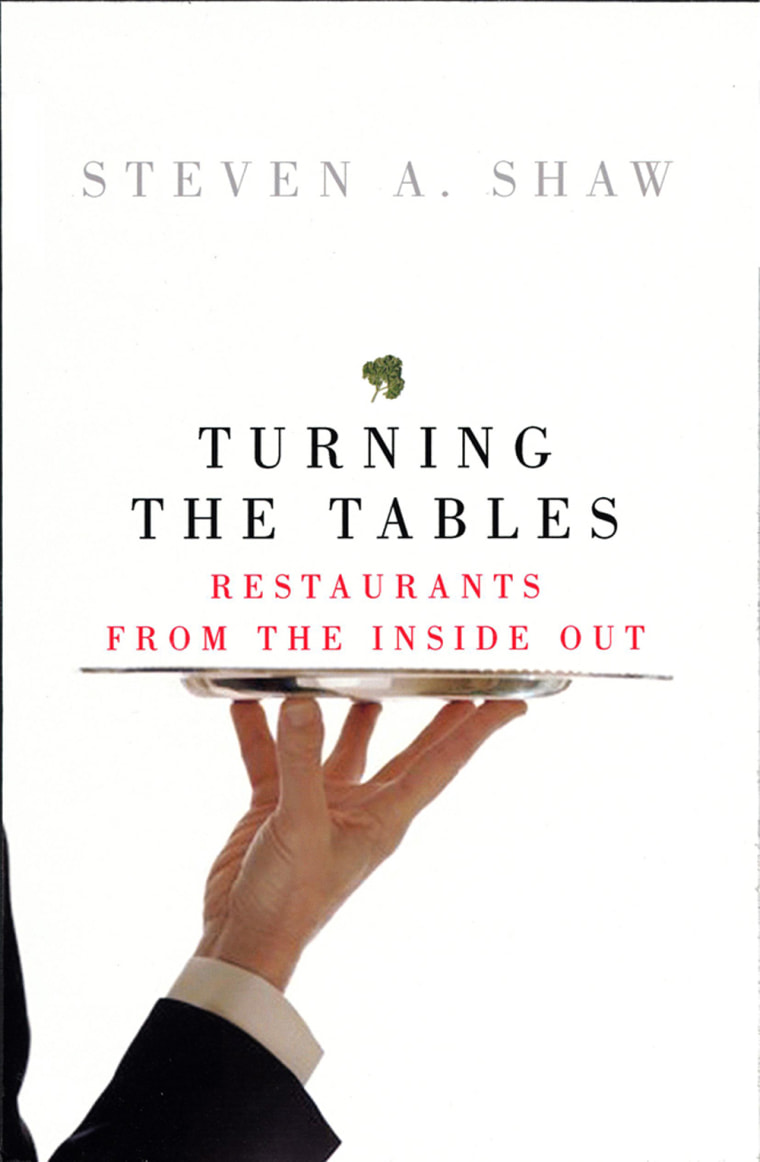 Shaw, a lawyer turned food writer who co-founded food site eGullet.com, has a healthy contempt for most food critics, many of whom he sees as vindictive and underqualified. He wants to help the average diner get the best experience possible, and to do so, he takes readers behind the kitchen door at some of the nation's best restaurants.
The best moments in "Turning the Tables" come in Shaw's unvarnished portraits of the restaurant world, à la "Kitchen Confidential." When, for instance, he hangs with the hosts at Eleven Madison Park (lesson: don't lie about your reservation) or the sous-chef at Gramercy Tavern (lesson: even simple dishes require painstaking work). He brilliantly portrays chef Gray Kunz's obsessive side as Kunz demands on-the-fly design changes to his new kitchen.
But much time is spent on side dishes — a lengthy chapter about food sourcing diverts from the book's focus. A promising section about service diverts to a rant on tipping. (While Shaw quite rightly opposes it as failed economics, I would have liked to hear that argument played out among actual waitstaff.)
His issues with critics are often spot-on — including his shredding of the Zagat surveys' methodology. But it's not really fair to target reviewers' occasional mercilessness unless you have a solution for many restaurants' habit of giving a cold shoulder to guests without a VIP mark next to their names.
Shaw's most essential advice — pick places you love, become a regular, be rewarded for your repeat business — is unassailable. But it is a view from the kitchen, where chefs pray their profit margins don't get any thinner. It won't match many peoples' dining habits (or budgets). A bit more sympathy for the customer might be in order.    —Jon Bonné
CheersAs author Mike Weiss explains it, a California winery needs more than great wine to succeed. It needs The Story, a compelling, personal brand image that pries open consumers' wallets.
"A Very Good Year" (Gotham Books, $26) tells The Story of Don and Rhonda Carano, and their Ferrari Carano winery. Theirs is remarkably similar to that of California wine king Robert Mondavi, master of The Story. (Weiss' succinct assessment: "Italian. Family. Wine." The Caranos downplay their personal twist, which is Don's fortune developing Reno's gambling industry.)
An expansion of his 39-part (39!) San Francisco Chronicle series, Weiss' book documents the thousand tortuous steps required to produce a single vintage, in this case Ferrari Carrano's 2002 fumé blanc. Having won near-total access to the winery, Weiss painstakingly details the entire process, from viticulturist Steve Domenichelli's fretting in a Sonoma vineyard to the wine's New York debut some 16 months later.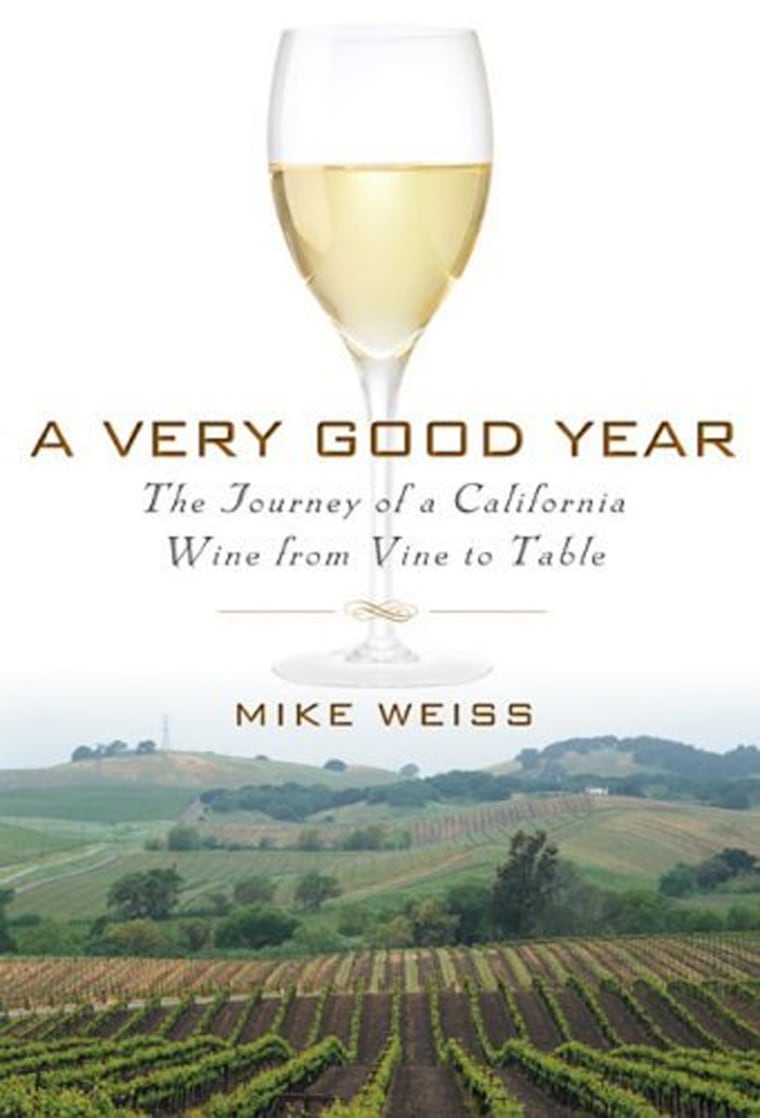 The writing occasionally dips into a halting, hard-boiled style, but Weiss has an extraordinary eye for detail; his mix of big themes and small vignettes makes for compelling narrative. He travels south of the border to the home village of the winery's Mexican vineyard workers to find them treated like swaggering kings. He uncovers simmering tensions between Domenichelli and winemaker George Bursick, and with help from an anonymous source ("Deep Cork") reveals more about the winery's inner doings than the Caranos intend. Wonder what wineries really think of wine ratings? Look no further.
Weiss knew little about winemaking before he began his project, and his own learning process informs the book. You can follow along even if you don't know sauvignon blanc from semillon, which helps "A Very Good Year" teach useful lessons about the endless hard work, money and machinations required to put a single bottle of wine on the shelf.    —J.B.
All in the familyAfschineh Latifi gets the byline on her memoir, but I suspect even she'd admit it's really about her parents. Latifi was just 10 when her father was executed in Iran, leaving her westernized mother a young widow with four children and a country that seemed to be slipping into madness.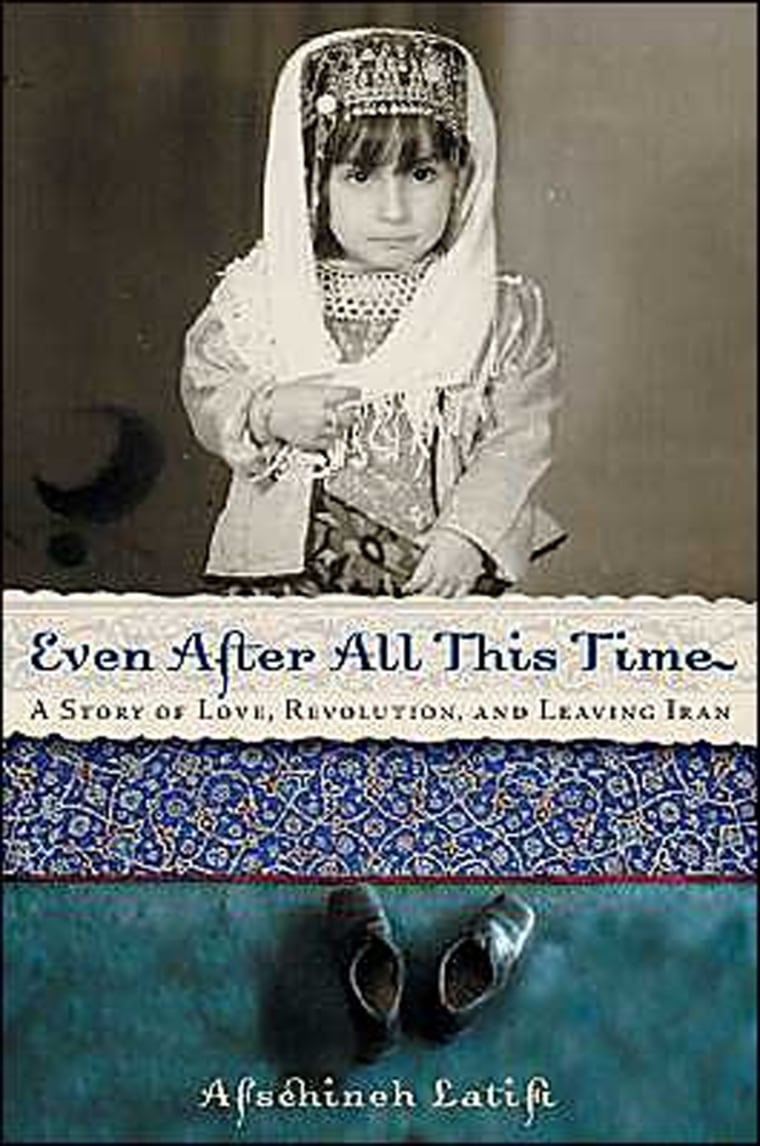 In Latifi's book, "Even After All This Time: A Story of Love, Revolution and Leaving Iran," (Regan Books, $25), it's her mother who comes out as rock-strong, keeping her two young sons with her until she can relocate to the U.S., and sending her daughters first to Austria and then to America. Her daughter has the luxury of whining about leaving home and feeling unwelcomed by her American relatives, and occasionally she does come off as ungrateful — understandable, for a teen.
Her mother has no such luxury. Once she loses her devoted husband, everything becomes a battle — even renting out her Tehran-area home turns into a court fight, as the tenants refuse to either move out or pay rent. A well-to-do teacher in Iran, she eventually takes a backbreaking job at a Virginia newspaper plant. Yet in America, she creates around her children and herself the same kind of family bonds she once had in her homeland, cooking delectable meals, celebrating traditional holidays, reaching out to the extended Persian community. Always, she reminds her offspring, they must remember that they are the children of a soldier, and carry on with his strength.
Latifi's moving family story is reminiscent of Marjane Satrapi's wonderful graphic novels, "Persepolis" and "Persepolis 2." We never get quite as well-rounded a look at Latifi as we do the witty, sometimes sullen Satrapi — Latifi and her sister seem to have been ideal daughters who never broke any rules. Still, their fight to be together and to pick up the pieces of their shattered family while keeping the memory of their murdered father close is thought-provoking, quick-moving, and rich with detail.    —G.F.C.
Puzzled
Like Stefan Fatsis' "Word Freak," which took readers into the delightful world of competitive Scrabble, Marc Romano's "Cross World: One Man's Journey Into America's Crossword Obsession" (Broadway, $25)  dives inside a popular form of entertainment and gets right to what techies call "geek level." These are not your grandfather's crossword-puzzle fans. Romano and his pals complete even the toughest puzzles in minutes, and they never leave an answer blank. (Although they're working so fast that they do, sometimes, mark a letter wrong.)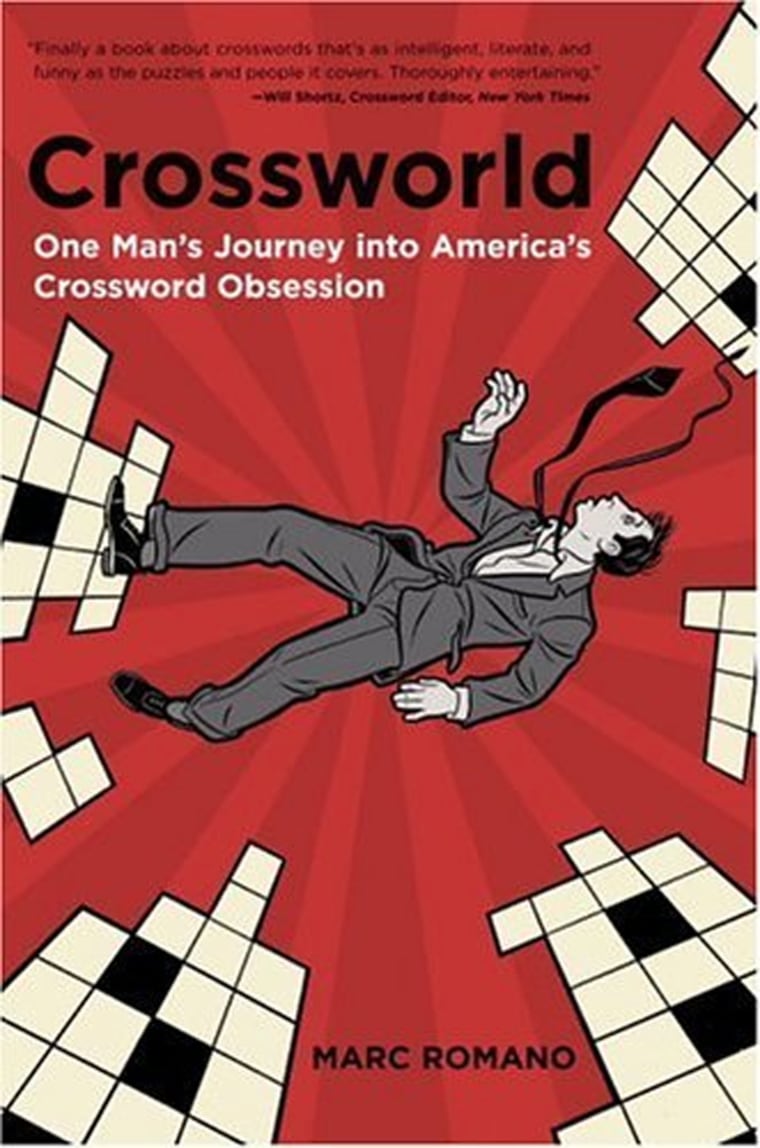 Most of us have done a crossword puzzle, as most have played Scrabble, and it's fascinating to learn about the whole hidden world of those who've made it such a central point of their lives. Romano talks with not just puzzle-completers, but puzzle-constructors. New York Times crossword editor Will Shortz, perhaps the biggest name in the game, comes across as an incredibly regular guy, considering how focused he is on puzzles.
Romano smartly sets much of his book at the 2004 American Crossword Puzzle Tournament, at which the winner rips through an extraordinary tough puzzle in just over five minutes. Most of us could barely read the clues in that time, and Romano, himself a crossword buff, does a nice job of explaining just how different his world is from ours.
I admit, I found "Word Freak" a smoother read than "Cross World." Romano's book suffers from fits and starts, as we meet various crossword constructors and experts and also learn a bit about the history of puzzledom. But if you've ever torn your hair out over a four-letter word for hydroxyl compound (enol), pick up this book in-between puzzles.    —G.F.C.
Gael Fashingbauer Cooper is MSNBC.com's Books Editor. Jon Bonné is MSNBC.com's Lifestyle Editor and specializes in writing about wine and food.