Nonfiction gets a bad rap. Many of us associate the very word with drudgery, with textbooks thicker than bricks, and about as readable. Summer, especially, has staked out the term which almost always means fiction, novels so light we could tie them to our plastic lawn chairs and just float away. But nonfiction is as varied as the seasons. For summer, we've selected some light, summery topics.
"Eat This Book" takes a bite out of the world of competitive eating, and "American Green" takes a detailed look at that American obsession, the perfect lawn.
But more serious topics nudge their way in, too. "Rumspringa" examines the life-changing decision Amish teens face when offered a chance to try life in the outside world. "Blue Monday" reviews the life and musical contributions of rock legend Fats Domino. Chef Anthony Bourdain and food writer Michael Ruhlman take foodies on different trips inside the culinary world's nooks and crannies. And the bluntly named "Mom's Cancer" uses a cartoon format to bravely tell a tale of a family's health crisis. Not your usual summer fare, perhaps, but even summer has its cloudy days.    —Gael Fashingbauer Cooper
Breaking awayThe cover is extremely promising — a teenage girl in Amish attire and head covering, lighting up a cigarette. But does Tom Shachtman's "Rumspringa: To Be or Not To Be Amish" (North Point Press, $24) live up to that promise?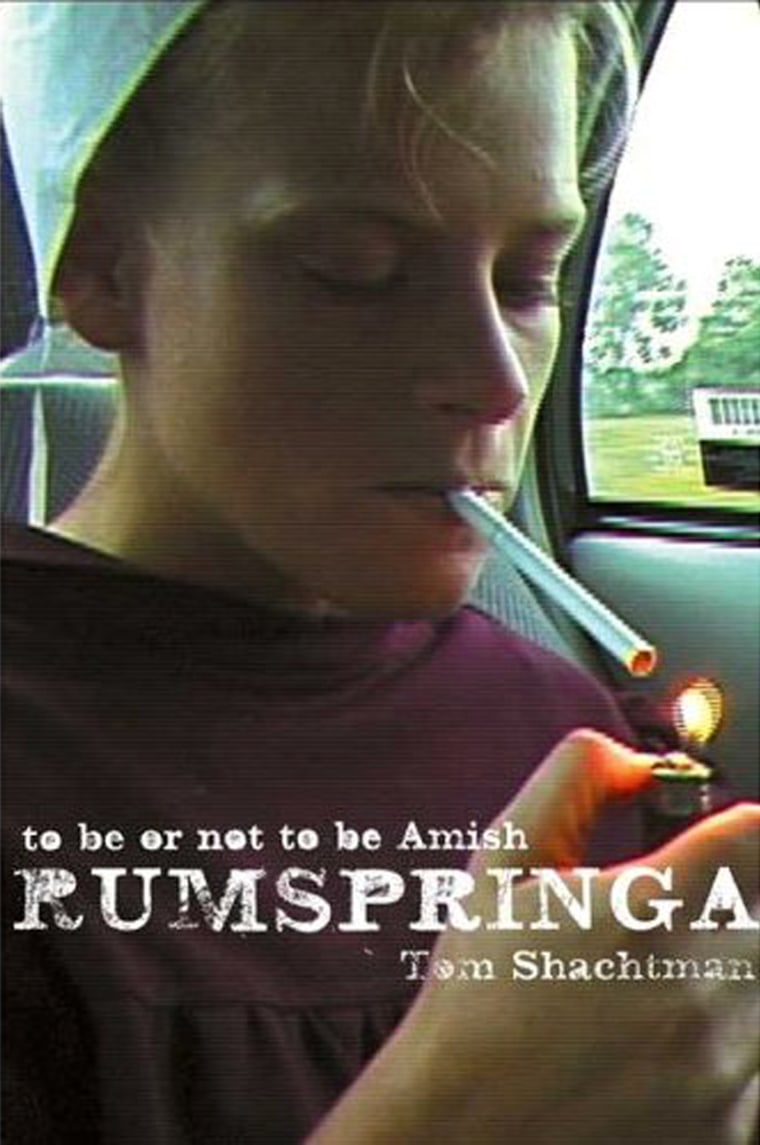 Almost. Shachtman's book isn't just about rumspringa, the tradition in which Amish teenagers experience the outside world before (ideally) returning to the fold and becoming full members of the community. It's also a comprehensive look at Amish culture as a whole.  Shachtman interviews dozens of Amish teens and adults, and covers almost every aspect of their tradition: nuptial customs (weddings usually take place in November); the challenges facing Amish farmers in the modern-agribusiness world; the role of women in the Amish culture, and how some of them chafe against it; the contrast between Amish and "English" schooling; and of course rumspringa.
The prose is often stilted. Shachtman uses the word "youngsters" without irony, and refers rather dweebily to rebellious Amish youths "smoking tokes of pot," and timelines tend to get muddled. Still, he presents a complete, unsensationalized portrayal of Amish teens, and of the reasons so many of them return to a culture that is both restrictive and reassuring.   —Sarah D.Bunting
Pictures from a struggle
The book's title is so blunt it's likely to chase many would-be readers away. "Mom's Cancer" (Image, $13) is Brian Fies' graphic-novel rendition of the storm that tore through his family when his mother was diagnosed with brain and lung cancer, caused by, one doctor says, "one of five things — smoking, smoking, smoking, smoking or smoking."
Fies confesses that the pressure made him realize how "perfectly nice" families fall apart. His sister the nurse jumps into action, calling on her medical knowledge to become "an aggressive advocate for Mom in the same way that Sherman was an aggressive advocate for the union."  A younger sister, herself with a brain injury and living at home, deals with the bulk of the everyday issues. Mom is at times resolute, at others confused. All of them are achingly recognizable and achingly human.
Fies slips plenty of humor into the book, but it's humor tinged with fear. Drawing radiation treatment as a Frankensteinian laboratory, he writes "Artist's conception. Your terror may vary." When tension grows high, he sketches himself and his sisters as superheroes, battling over who has the hardest burden. At other times, his anger can't help but spill out, as he watches blithe smokers pass by, mentally comparing them to the wizened bodies he sees at the cancer clinic, literally dying for another puff. And it's impossible not to nod in agreement when he depicts two conversations between himself and his ex-stepdad — one depicts what they actually say ("Your mom still doesn't say much"), and the other what they mean ("So you tell me what I'm missing."). Without giving anything away, its ending is hopeful, although an added afterword changes things.
"Mom's Cancer" may be a hard book to market. Many readers won't be able to get past the title, and even if the book rings true, it's not exactly a cheery gift — although it should become required reading in medical schools. But those who do pick it up will find it a brave and honest tale. Meeting "Mom" and her family will help you appreciate and understand your own.    —G.F.C.
Domino still standsWhen Hurricane Katrina swamped the city of New Orleans last year, the devastation that destroyed the city's Ninth Ward led many people to believe that Antoine "Fats" Domino had died in the floods that ensued. But rumors of his death were found to be greatly exaggerated. The writer of such classics as "Ain't That a Shame" and "Blueberry Hill" was found elsewhere in his broken city, very much alive.
You couldn't ask for a better metaphor for Domino's own career, or for the public's perception of the role of New Orleans in the evolution of rock and roll. Rick Coleman's new biography, "Blue Monday," (Da Capo, $27) helps right this wrong in a sparkling, informative book, said to be the first to sift through the life of the much-traveled singer-songwriter in comprehensive fashion.
Coleman's book examines Domino's vital role in the evolution of New Orleans' music. It's also a sturdy, readable examination of how the New Orleans sound fits into the American cultural landscape, showing how rock's African-American roots have been obscured. No one had to convince Elvis Presley of that fact: In 1969, Coleman reports, the singer so many call The King proclaimed that the title should really belong to Domino.     —Michael E. Ross
Mowed down
So… Hank Hill is the anti-Christ, then? To hear Ted Steinberg tell it in, "American Green:  The Obsessive Quest for the Perfect Lawn" ($25, W.W. Norton), those Americans seeking a golf-course-like blanket of grass around the house are both victims and perpetrators of a vast ecological crime. Yes, even the animated patriarch on "King of the Hill," whose lawn is as tidy as his crew-cut.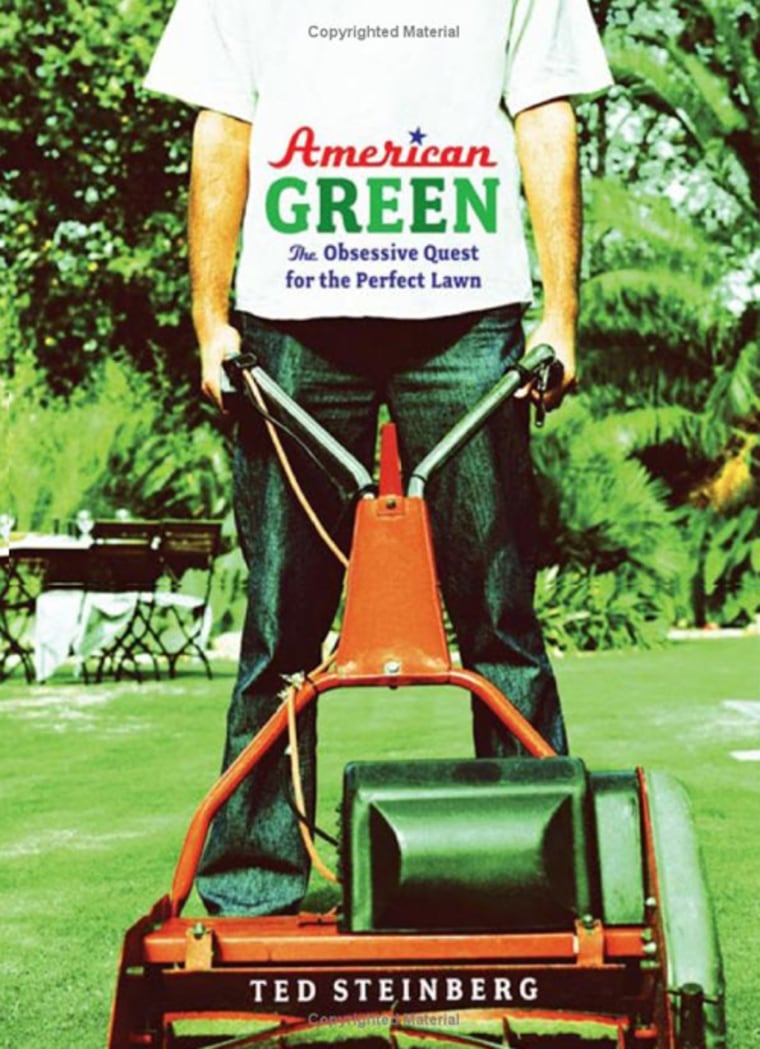 Steinberg, a professor of history, seeks to answer, "What is driving people to water, mow, and fertilize, to sacrifice their precious evenings and weekends in the quest to enter the kingdom of lawn glory?" His conclusion is that unrealistic expectations about what a lawn should look like (if it's green all the time, you're doing it wrong) coupled with overzealous marketing by what he only half-jokingly calls the "lawn-industrial complex" are creating a dangerous quest for curb-appeal perfection.
The various forms of grass used in the U.S. cover an estimated 25-40 million acres, "at minimum, about the size of the state of Kentucky, though perhaps as large as Florida," Steinberg says. But the mass colonization of Bermuda, St. Augustine, Kentucky Bluegrass and others feeds an over-reliance on potentially toxic chemicals and an unwinnable weed-killing battle for home turf that is ecologically unsustainable. Also? Riding lawn mowers can pin and kill you, and push-mowers can cut off your hands and feet.
Steinberg, who has a great subject on his hands, over-reports to a startling degree. "American Green" devotes 62 of its 292 pages to index, citations and acknowledgements. Like an underwatered lawn, the prose can be dry and patchy. Inevitably, "American Green" becomes a diatribe against lawn-lubbers, the lawn care industry and America's grass-is-always-greener aesthetic. It's a valid point that would have better taken root with more stories of lawn-obsessed citizens and less lecturing.    —Omar L. Gallaga
Tales from beyond the kitchenCelebrity chefdom is ripe for poking with a sharp stick, and Michael Ruhlman is in a unique position to do it.  Having previously examined the state of the American chef in "The Making of a Chef" and "The Soul of a Chef," he returns to finish the trilogy with "The Reach of a Chef: Beyond the Kitchen" (Viking, $28), a detailed consideration of the many ways in which the skills of a chef have morphed from sautéing and pasta sheets to branding and balance sheets.
Emeril, Batali, Bourdain, Flay and so on — Ruhlman considers them all, and approaches his subject with far more nuance than the usual "damn the Food Network" rants. He knows most of the chefs on a first-name basis and gets insider access — at one point skillfully documenting opening night at Alinea, the new restaurant from Chicago chef Grant Achatz — right down to the (not so anonymous) appearance of critic Frank Bruni. He even visits controversial Rachael Ray on her Food Network set, and comes away charmed by her professionalism.
Others have covered this ground before, but rarely with such skill and insight. Ruhlman weaves it all together effectively, except in the book's overly long first section, which documents his return to the Culinary Institute of America, where "Making" took place.
Strikingly, he shows how lesser-known chefs scramble to make ends meet, how an Alice Waters disciple such as Melissa Kelly franchised her Maine restaurant Primo — to Marriott, no less — because the money was too good. This, he posits, is the sort of Hobson's choice that keeps surfacing in the era of the "branded chef."
While Ruhlman's credentials are impeccable, his biases occasionally peek through. This is the man who helped Thomas Keller — arguably the most successful chef in America — produce "The French Laundry Cookbook" and "Bouchon," two tomes that cemented Keller's nonpareil reputation. Ruhlman doesn't shy from his roles as both critic and catalyst of the trend, but I kept waiting for him to fully acknowledge the inherent conflict.     —Jon Bonné
Easy to swallow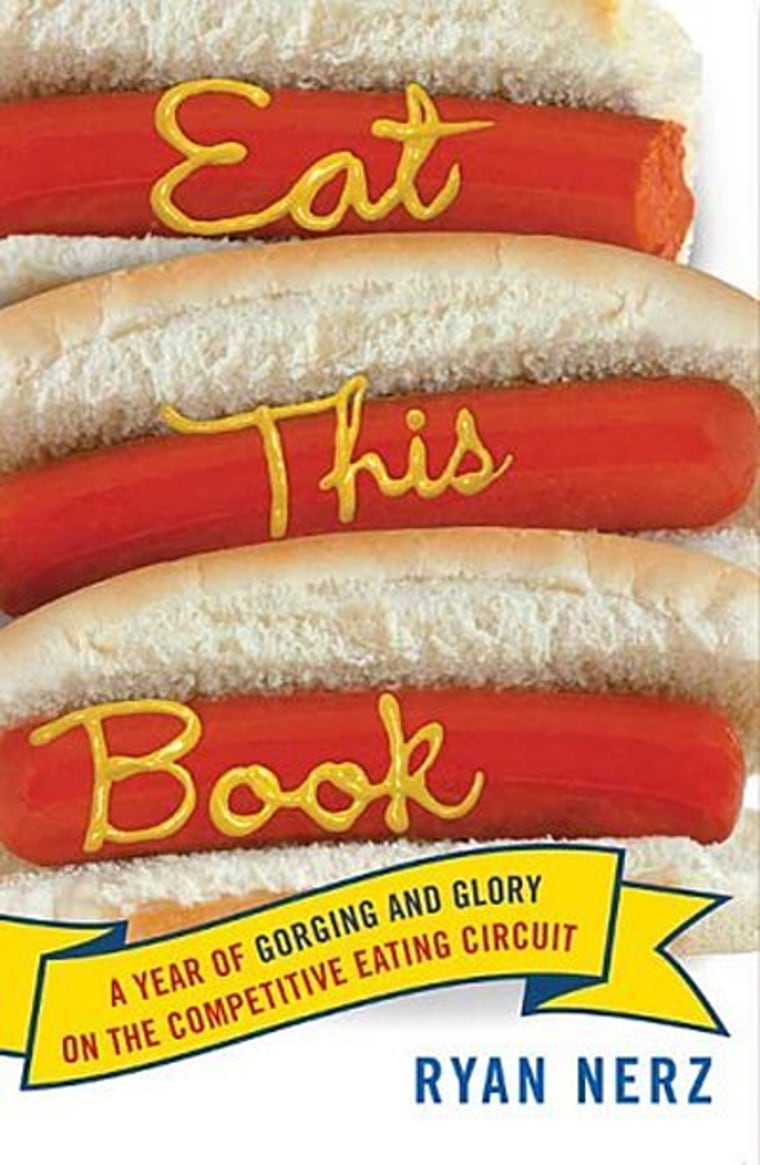 How many sticks of butter can a person eat in 5 minutes? Seven quarter-pound sticks.  How many eggs in 6 minutes? Try 65 hard boiled eggs. These are just a few questions answered by Ryan Nerz's entertaining journey into the world of competitive eating, "Eat This Book" ($15, St. Martin's).
For one year, Nerz traveled the competitive eating circuit, working as an MC for events and meeting master masticators. He chewed the fat with such eaters as Ed Krachie, who came up with the Belt of Fat theory as to why lean competitors can out-eat overweight competitors (he explains that fat is actually fighting against the incoming food for space in the belly); and Crazy Legs Conti, who once ate his way out of a sarcophagus of popcorn.
The affection Nerz has for the eaters and the sport is evident throughout. Though his tales may grow a touch repetitive, it's the delicious details — such as finding out that serious hot-dog huffers dunk the buns in water first so they go down more easily — that make the book a tasty treat.    —Paige Newman
Doing the 'Nasty'Once you push past the swagger and swearing, Anthony Bourdain (of "Kitchen Confidential" fame) is one of the most colorful and engaging food writers currently working today. His shtick as the Hunter S. Thompson of the culinary world is well-worn, but the man has an irresistible way with words.
Those talents are on full display in "The Nasty Bits" (Bloomsbury, $25), whose primary fault is revealed in its subtitle: "Collected Varietal Cuts, Usable Trim, Scraps and Bones." This is basically a Bourdain clip file, pieces previously written for newspapers, magazines and online publications. He invokes the charming device of dividing the book by taste sensation ("Salty," "Sweet," "Sour," "Bitter" and "Umami"), each meant to describe the tone of the essays within.
The best of the material lets Bourdain's smarmy wit shine through, perhaps none more so than his recounting of a gluttonous romp through Las Vegas with Michael Ruhlman (), which makes the Thompson comparison too literal for comfort. (He and Ruhlman both write in their respective books about the same indulgent sushi feast at New York's Masa.)
But much of "Nasty Bits" also feels like rehash from "Kitchen Confidential."  Many pieces end abruptly, or reveal the heavy hand of magazine editors. Some material literally contradicts itself. "Am I a chef? Well … not really anymore," he writes 12 pages before declaring, "I am a chef." What, should readers decide?
If nothing else, most of Bourdain's pieces are quippy and fun — great summer reading for foodies. Too bad he didn't put this greatest-hits collection out in paperback, so you could smear it with suntan lotion and hamburger grease and not feel guilty afterwards. He certainly wouldn't.    —J.B.
Jon Bonné is MSNBC.com's Lifestyle Editor. Paige Newman is MSNBC.com's Movies Editor. Michael E. Ross is a News Editor at MSNBC.com. Sarah D. Bunting is a writer in Brooklyn. Omar L. Gallaga is a writer in Austin, Tex.