Jonathan Knight certainly knows how to do a "Throwback Thursday"!
The New Kids on the Block singer surely melted the hearts of many 1980s fangirls when he posted a photo of himself with fellow '80s pop icon Tiffany on Instagram. The pair, who dated in the late 1980s, have remained friends, despite having not seen each other in recent years.
Knight showed his support for Tiffany by attending her New York City concert on Thursday. He snapped a photo of their reunion before Tiffany hit the stage.
"It's been sooooooo long," Knight captioned the photo of him and his ex-girlfriend backstage. "Excited to be here tonight and see the amazing @tiff_pop do what she does best!!!"
RELATED: Flashback! Watch New Kids On The Block talk fan 'hysteria' on TODAY in 1989
Tiffany posted the same photo to her own Instagram account, along with the caption, "So this happened last night. It's been a long time Wonderful memories Great to see Jon Knight."
The singers first met in 1988, when New Kids On The Block auditioned in Tiffany's dressing room to be the opening act for her next tour. A year later, it was widely reported that Tiffany and Knight were dating, but the pair denied that they were romantically involved at the time.
During a 2011 appearance on "Watch What Happens Live!" Tiffany admitted that she once dated one of the New Kids.
"The quiet one. The shy one. He became gay later," Tiffany said.
When host Andy Cohen asked Tiffany if she was responsible for "turning" Knight gay, she talked candidly about their relationship.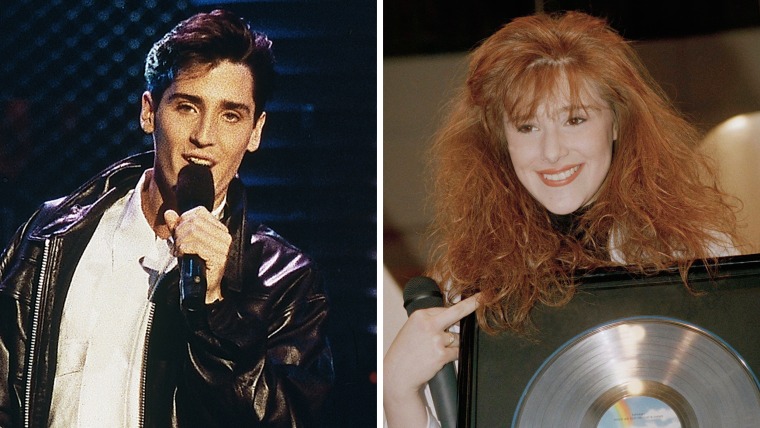 "No. See, I had issues with that," she said. "I was thinking maybe I did, but no. Now looking back to when we were dating, he was so much fun. We used to do facials together. He was so easy to talk to ... And he was fabulous. He's an awesome person."
At the time of the interview, Knight had not yet come forward to publicly reveal his sexual orientation. Tiffany later said she was unaware of this, and apologized for "outing" Knight.
"Really didn't know that was the wrong thing to say," she tweeted. "Never meant to hurt Jon."
Knight seemed to harbor no hard feelings for the slip. He even reportedly messaged her to let her know that he wasn't angry about what had happened.
"Tiff, please don't lose any sleep over it! I know you weren't being mean and I found it to be funny!" he wrote, according to E! News.
With their recent reunion, it's clear that the old pals have moved way past the blunder.