When John Cena opened up his heart and professed his enduring love for — and desire to marry and start a family with — his former fiancée, Nikki Bella, on TODAY Monday, his candid comments surprised viewers.
And, as it turns out, they surprised Bella, too.
Nikki, along with her wrestling partner and twin sister, Brie Bella, stopped by TODAY Wednesday to reflect on the moving moment and explain what it meant to her.
"I was so shocked," she said. "I literally was in the middle of the red carpet for the NBCUniversal upfronts and got the breaking news. I mean, John — and you guys know this — he is absolutely an amazing man, such a sweetheart, and I truly love him so much. He's my best friend."
But just weeks before their wedding was supposed to happen, Nikki and her best friend broke up.
"I think a lot of us that go through the wedding planning process, I think we kinda have to face — and get forced to face — all of these issues that we have just hiding deep down inside," she continued.
Cena proved he understood that when, during his Monday visit to the show, he said, "I love Nicole, and I'm really trying to support her in her trying to find whatever it is that she wanted that made this fall apart in the first place. And, in doing so, I'm also just trying to live. I don't have any other hopes, other than maybe one day, we can work it out."
That seems to be her hope, too.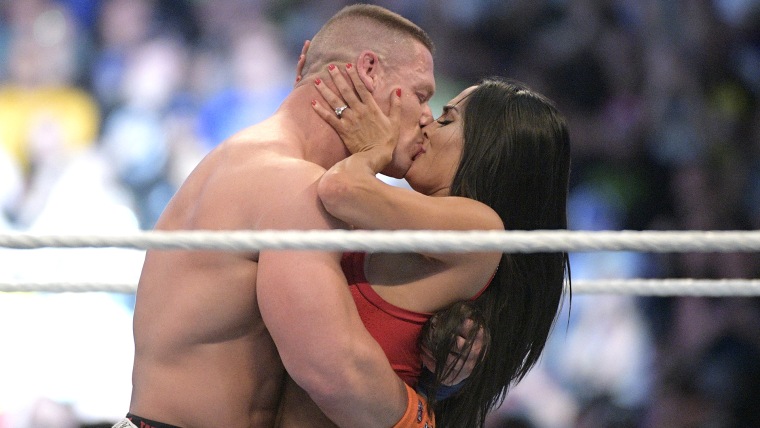 "I just know that a healthy me will be a healthy us," Nikki explained. "I do have hope for our future, but I know right now I need to work on me. Before I do say those vows and walk down that aisle, I just don't want to be hesitant. I don't want to be regretful."
Fans of the pair will have a chance to see and better understand what led up to their split when the new season of Nikki and Brie's E! reality show, "Total Bellas," kicks off May 20. And Brie believes there's a lesson in it all.
"My sister and I were always the type of people who were open books," Brie said. "We have no filters, the good and the bad and the ugly, it's all going on our show. (And this season) shows other women out there that you're not alone — cold feet really exist."
And warm reunions remain possible.
"I definitely have hope," Nikki reiterated. "I really do."