John Cena opened up about his heartbreaking split from Nikki Bella on TODAY Monday, and now his former fiancee is speaking out to share her own take on their breakup, his comments and what the future may hold for the pair.
Shortly after Cena's visit to TODAY, Bella hit the red carpet for the NBCUniversal Upfront presentation in New York and spoke to several outlets about it all — before she'd even had the chance to hear what he said for herself.
When a reporter from Extra TV gave her a recap, including Cena's declaration that he still wanted to marry her and "have a family" with her, Bella said, "I'm speechless."
But she didn't remain speechless for long. Instead, she explained what was behind her decision to call off the wedding: "The day I say my vows, I want to say them once and I want to fully mean them."
And that's not all she had to say. Just as Cena had said that she was the love of his life, she returned the sentiment.
"John is such an amazing man. He really is the love of my life," she revealed to Entertainment Tonight, adding, "I truly hope one day that we can work it out and get back together. I think there is hope."
There's not, however, certainty. The WWE and reality TV star said that the goal for now is simply happiness.
"I just want us both to live the rest of our lives happy," Bella continued. "Hopefully that's together; maybe it's not."
Until she knows for sure, she's turning her focus toward herself, telling ET, "I think I kind of lost me."
Still, Cena's never far from her thoughts, especially since the wrestler and actor's fame keeps him very visible.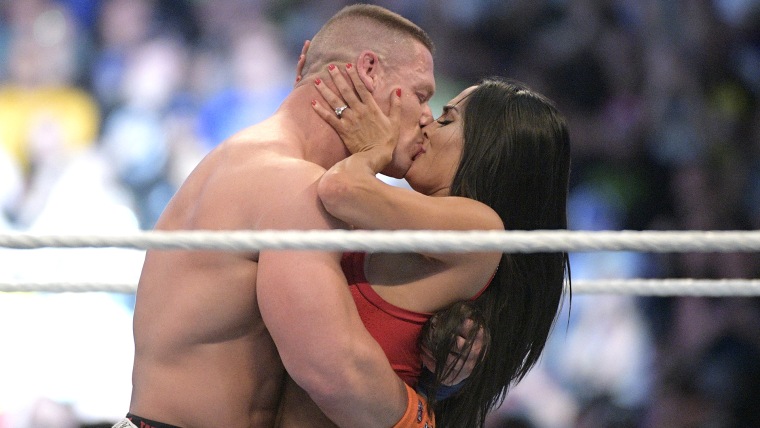 "It's hard, 'cause I'll see his handsome face everywhere," she told Access Hollywood. "It crushes me."
As for Cena, he returned to TODAY Tuesday to clarify one point about his candid interview, which proved to be so popular with fans.
"I did what I did yesterday for one person and one person only," he said. "It's because I love her. I think, in times of separation, oftentimes you speculate on what the other person is doing, and sometimes communication can get messed up. ... It was very important for me to be honest with myself, with you, with all of you (watching), because in turn, that allows me to be honest with Nicole."
Find out what Bella responds to that when she pays a visit of her own to TODAY on Wednesday.