Nick Offerman and Megan Mullally are #CoupleGoals. He's one of the funniest actors and authors out there, with an adorably deadpan sense of humor. And she's vodka-swilling Karen on NBC's Thursday hit "Will & Grace." And yes, Offerman hangs out with his better half when she's working.
"You mean my Ph.D. program? Yes, I go to every possible taping, because it's better than any ice cream I've ever tasted. And I am dead serious about my love of ice cream," he said.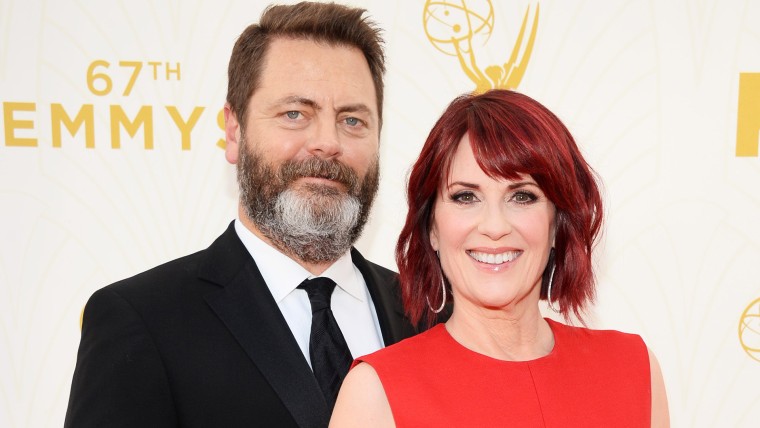 The two have been married since 2003 and the secret to their staying power is — well, there's no grand plan. Just decency, and patience. "Well, we're two humans trying to get along, just like any relationship, so I'd say I get a lot of mileage out of shutting my trap and listening. Compromise always leads to more kissing much quicker than obstinacy does," said Offerman.
Offerman once famously presented David Letterman with a handmade canoe while appearing on his show. Now, his Offerman Woodshop teamed up with the nonprofit Would Works, which provides job opportunities for people who are homeless or living in poverty in Los Angeles. When you buy a bottle opener, cocktail board, an everyday board or a charcuterie board from Would Works, a portion of the money goes to the organization.
"I am very hopeful that we can set this program to chugging along perpetually under its own steam so that other cities will follow their example by instituting similar programs. It gets our less fortunate citizens back in the work force, which is healthy for a society on every level," said Offerman.
Offerman, who last year built Stephen Colbert a table for his talk-show set, also revealed the most romantic thing he's ever made for his wife.
"A heart-shaped hinged box of walnut that housed the engagement ring with which I proposed marriage to her," he said. "Based on the success of my entreaty, and the ever blossoming garden of our lives together, I can't imagine making another object that would carry nearly as much romance."