When you hear the story about how Nick Jonas and Indian actress Priyanka Chopra got together, there's just oodles of romance in every corner.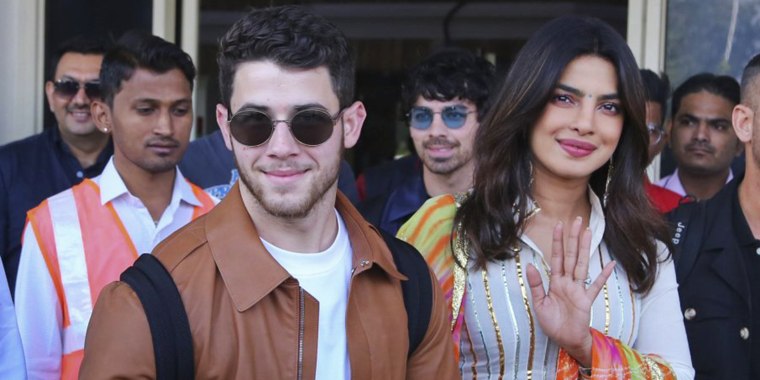 Then there's also the part about how he met her mom. But more on that in a minute.
Jonas and Chopra, who got engaged in August, spoke to Vogue recently about how they met, how he proposed and what their big wedding plans are, and we're gaga over just how sweet it all is.
As Jonas, 26, recalled, he'd bought the ring a few weeks before what Chopra, 36, thought would be a birthday trip to Crete. He waited until after midnight so their engagement story wouldn't overlap with her actual birthday, then got down on a knee.
'I said, 'Will you make me the happiest man in the world and marry me?'" he recalled. "No joke — she took about 45 seconds. Forty-five seconds of silence."
Chopra says she was speechless. We understand.
But he wasn't taking no answer for a "no," Jonas continued, recalling that he said, "I'm going to put this ring on your finger now unless you have objections."
And she didn't!
Afterward, there was a traditional roka engagement ceremony in Mumbai, which raised quite a stir: Chopra may not be as famous as Jonas in America, but their roles are reversed in India, where she's a big-deal actress.
It was a high point in a relationship that began as a text message flirtation, and picked up steam at the 2017 Vanity Fair Oscars party when he finally saw her in person — and got on a knee for the first time, saying, "You're real. Where have you been all my life?"
OK, we're seriously swooning. The pair began dating, meeting at one point for a drink at the Carlyle Hotel in New York City, after which Chopra invited him to her apartment — where her mom was watching "Law & Order" in her nightgown!
Well, that's one way to meet your future mother-in-law.
Now that the happy couple is engaged, they're planning two ceremonies: a traditional Indian wedding, and a Christian service that will be officiated by Jonas' father, Paul. Both ceremonies will be held over three days at a pink sandstone and marble palace in Rajasthan, India.
"People will need vacations after this wedding," joked Chopra, who is expected to wear a custom Ralph Lauren gown (or two or three). Lauren has only ever made wedding dresses for family members, but has been working personally with the actress on sketches.
Jonas will dress like Indian royalty, with a turban and sword, and ride a horse. Following in tradition, they will walk around a fire seven times, once for each of the seven lifetimes they will spend together.
Jonas is fully on board with all of it, believing they're already on a third lifetime together. "I'll take seven more," he says.
Isn't it romantic?