/ Source: The Associated Press
Sequels to "Shrek," "Spider-Man" and "Pirates of the Caribbean" aren't the only movies coming out this summer. It only seems that way. Beneath Hollywood's behemoth franchise flicks, a few less-heralded gems sneak in to become niche hits and sometimes $100 million smashes.
The question is whether this season's exceptionally strong lineup of blockbuster sequels will leave breathing room for many — or any — summer sleepers.
"There's not a single movie I don't know about this summer, and I'm terrified of them all," said director Matthew Vaughn, who worries his intriguing fantasy "Stardust" could get lost amid the rush that begins in May with "Spider-Man 3," "Shrek the Third" and "Pirates of the Caribbean: At World's End." "I call them juggernauts. They are coming, and nothing's going to stop them."
A fairy tale for adults, "Stardust" (from Viacom Inc.'s Paramount Pictures) features Claire Danes as the human incarnation of a fallen star, who lands on Earth, falls for a young adventurer (Charlie Cox), is befriended by an effeminate ship captain (Robert De Niro) and pursued by an evil witch (Michelle Pfeiffer).
"Stardust" opens in August on the same day as the buddy-cop sequel "Rush Hour 3" and just weeks after such big flicks as "Harry Potter and the Order of the Phoenix," "The Simpsons Movie" and "The Bourne Ultimatum."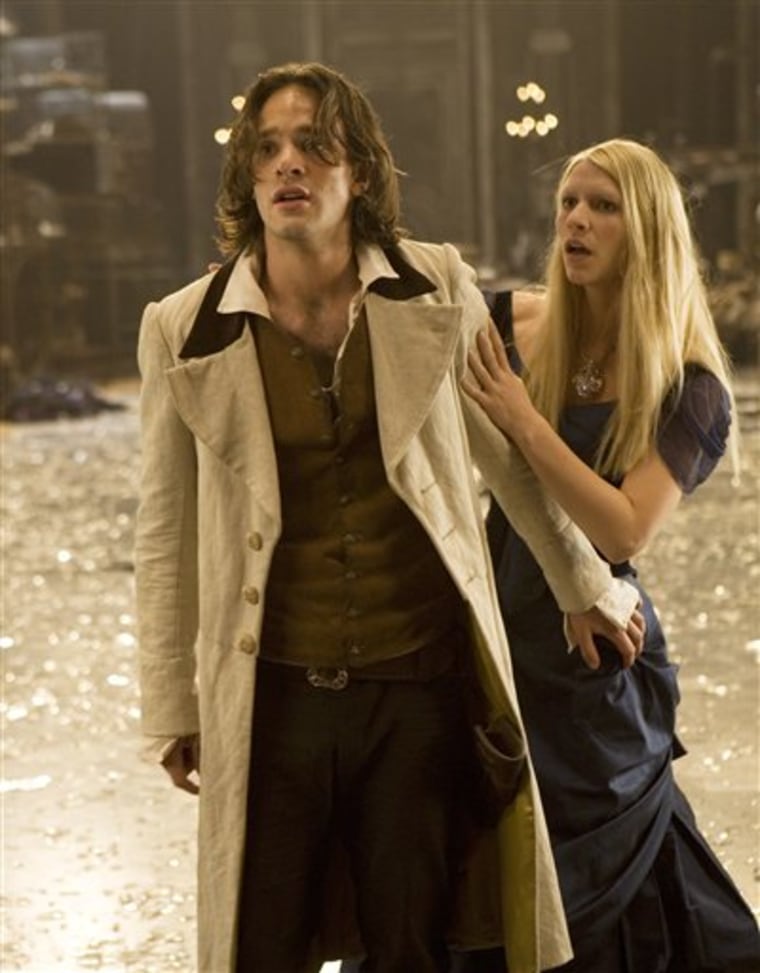 Along with those big hitters, summer's lineup features such heavily marketed studio flicks as the animated tales "Ratatouille" and "Surf's Up," the sci-fi saga "Transformers," and sequels including the heist caper "Ocean's Thirteen," the superhero adventure "Fantastic Four: Rise of the Silver Surfer" and the comedy "Evan Almighty."
How are worthy smaller movies supposed to stand out in a crowd like that?
"That's none of my business. I'm a filmmaker, not a marketer," said Frank Oz, who has made such studio films as "The Stepford Wives" remake and "The Score" but this time directs the small ensemble comedy "Death at a Funeral," which opens right before the busy Fourth of July weekend, when "Ratatouille" and "Transformers" are expected to dominate at theaters.
"My job is to make a film, not to look at grosses and marketing. I've been told what films are up against mine, and I've forgotten them all," said Oz, whose film features a relatively unknown cast in the tale of a British funeral beset by outrageous revelations, schemes and mishaps.
The strategy for such smaller films is to screen them for critics and preview audiences well in advance, so word-of-mouth can help make up for their generally minimal marketing budgets.
Film festivals generate buzzThe film-festival circuit is a major pipeline to build buzz for sleeper films, including such past summer hits as "Little Miss Sunshine," "Garden State" and "Napoleon Dynamite."
Favorites from last fall's Toronto and this winter's Sundance festivals are hitting theaters this summer, among them the teen tale "Rocket Science," about a stuttering youth who tries out for a debate team; "Away From Her," a melancholy drama directed by actress Sarah Polley about a woman (Julie Christie) succumbing to Alzheimer's; "Waitress," with Keri Russell as a diner worker trying to break away from her dreary life; "Once," following an Irish street musician (Glen Hansard of the Frames) who forms a musical partnership with a Czech woman; and "Eagle vs. Shark," a quirky New Zealand romance between a wallflower and a geek.
Some summer films vying for attention among the franchise flicks benefit from big-name performers, such as last year's breakout hits "The Devil Wears Prada" with Meryl Streep and "The Break-Up" with Jennifer Aniston.
Those two films also filled the chick-flick void typical of summer, which tends toward action spectacles, teen comedies and family movies.
Among this season's films with female star power are the comedy "Knocked Up," featuring Katherine Heigl of "Grey's Anatomy" as a career-minded woman who gets pregnant from a drunken one-night stand with a slacker (Seth Rogen), and the romantic drama "No Reservations," starring Catherine Zeta-Jones as a work-obsessed chef whose poor interpersonal skills are tested by her young niece (Abigail Breslin) and an easygoing sous chef (Aaron Eckhart).
"It's certainly not a 'Spider-Man' or a 'Batman,"' Zeta-Jones said of "No Reservations," a remake of the 2002 German charmer "Mostly Martha." "I really love the movie, but it's out of my control, the way it's programmed and marketed. ... I just thought that it's a story that could be brought to a broader audience."
"No Reservations" director Scott Hicks said he was happy distributor Warner Bros. had enough confidence in the film to put it out in the busy summer rather than waiting for fall, when most films aimed at older adults hit theaters.
"We hope to sort of weave our way through the behemoths as they come thundering down the tracks," Hicks said. "It will provide some counterprogramming for the big summer fare. Beyond that, it's in the hands of the audience gods now."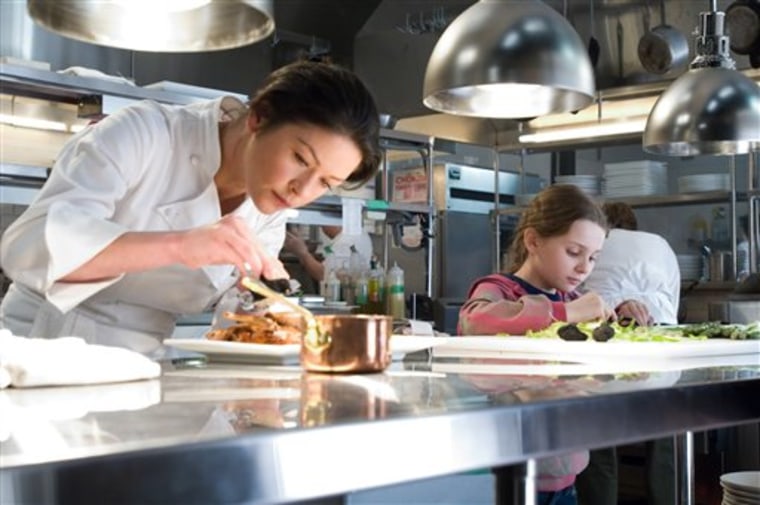 Along with Heigl's appeal, "Knocked Up" benefits from the track record of writer-director Judd Apatow, who scored a big-screen smash with "The 40-Year-Old Virgin," which co-starred Rogen, now elevated to leading man.
"We talked about making a movie where I was the lead, but no one was going to let us, which is not surprising," said Rogen, who also co-starred in Apatow's beloved TV shows "Freaks and Geeks" and "Undeclared." "If you look at me, there's nothing that screams, 'I want to stare at this for two hours."'
Apatow managed to convince Universal Pictures, whose posters for "Knocked Up" take advantage of Rogen's average looks, presenting a tight shot of his face as he stares goofily, with a scruffy stubble of beard. The slogan: "What if he got you pregnant?"
It's reminiscent of the marketing campaign for "The 40-Year-Old Virgin," which had a similarly straightforward title that spells out the story. The poster used a close-up image of star Steve Carell looking innocent and hopeful.
Offer something unexpectedThe success of sleeper hits such as "The 40-Year-Old Virgin" or "Napoleon Dynamite" hangs on offering something unique or unexpected that movie lovers would not get from studio films aimed at the broadest possible mainstream audience.
The Broadway adaptation "Hairspray" presents something wildly different: John Travolta in drag as an overweight Baltimore housewife, a role originated by Divine in the 1980s cult film that inspired the stage version.
"Hairspray" also is unique as this summer's one big musical, a genre reborn in recent years with hits such as "Chicago" and "Dreamgirls."
"It's like the Western or science fiction. You just have to do them well and people will want to see them," Travolta said. "People just have more tolerance for comedy and drama not done well, but musicals you have to do full-blast, everyone on their best game, their A-plus game. Then you can pull it off."
As she does in "Stardust," Pfeiffer plays the villain of "Hairspray," the story of a plump teen who leads a fight to integrate a TV dance show in the 1960s.
"Stardust" director Vaughn figures his thoughtful fantasy will offer something fresh after audiences have gorged themselves on blockbuster after blockbuster.
"The movie's sort of unique, so I'm thinking, people love chocolate cake, it tastes fantastic, but once you've had six slices, you've had enough," Vaughn said. "Hopefully, we'll be the sorbet to cleanse the palate."