Tori Spelling brought two more of her children to the hospital this week, marking her third visit in the last two weeks.
The "Beverly Hills, 90210" star shared an Instagram story on Friday, Jan. 20, of her 15-year-old son Liam McDermott's wrist with a hospital band. Over the photo, she wrote that she spent the morning with her youngest at Children's Hospital Los Angeles, before returning to the emergency room for Liam by the evening. Last week, Spelling's 14-year-old daughter Stella was also hospitalized.
Her son Liam was at the hospital because a "viral infection triggered severe migraine and neck pain," she wrote in the post.
"He's my stoic one," Spelling commented. "Never seen him in this much pain in his life."
Earlier in the day, Spelling posted a photo of her youngest child, Beau, 5, with an IV sealed to his hand and teddy bear bandages.
"Our little... he's so brave," she wrote. "He's ok! He was born with one kidney that doesn't completely empty so he's having his renal scan done today."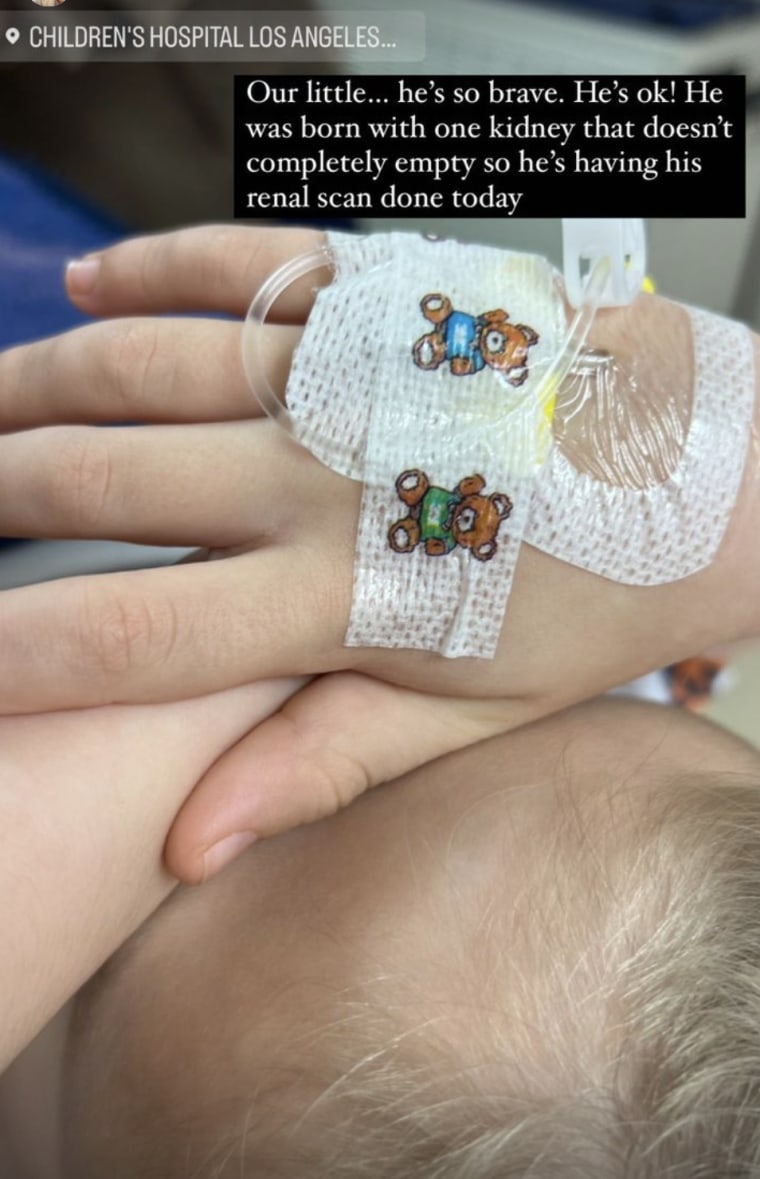 She then shared side-by-side images of Beau on Friday and of him at 2 months old, laying down to receive medical testing to evaluate kidney function.
On Jan. 11, Spelling's 14-year-old daughter Stella was hospitalized and later diagnosed with a hemiplegic migraine — a rare type of migraine that primarily impacts one side of the body.
Days later, the actor reported that Stella was "home and feeling much better."
"It can be terrifying if you don't know what's happening or about this type of migraine," Spelling wrote on Instagram. "As a migraine sufferer my entire life, I had no idea about this. Grateful to everyone at the ER. They were amazing and took great loving care of her."
In a later update, Spelling revealed that this specific type of migraine is hereditary and runs in husband Dean McDermott's family. She said her daughter is set to visit a neurologist at Children's Hospital Los Angeles.
Her children's hospitalizations come after Spelling opened up about her own health struggles back in December. In an Instagram story, the actor said she was admitted to the hospital before the holidays due to having a "hard time breathing, high blood pressure and crazy dizziness," according to US Weekly.
Spelling posted a selfie of herself in a hospital bed and called out "all of you who gaslit" her about her illness.
"How about next time (you) take someone at face value and show kindness instead of doubtfulness," she wrote, the publication reported. "Remember, for people like me, NOT working is a nightmare. I'm a hustler and a workaholic. I always choose work."
Spelling and husband Dean McDermott share children Liam, Stella, Hattie, 11, Finn, 10 and Beau.