When it comes to the most beloved balloons at the annual Macy's Thanksgiving Day Parade, Snoopy reigns supreme.
TODAY fans have spoken, and it's the iconic "Peanuts" character in a landslide when it comes to choosing the top balloon in the parade.
Snoopy won our Best Balloon Bracket handily with 93% of the vote, compared to only 7% for the runner-up, Papa Smurf.
They will be two of the characters appearing in balloon form as they make their way down New York City's Central Park West and straight through to television screens across the nation as part of the annual Macy's Thanksgiving Day Parade.
Snoopy cruised to the title in our bracket by defeating his old "Peanuts" buddy Charlie Brown in the first round and then topping "Ghostbusters" favorite Pillsbury Doughboy in the semifinals before fans made him a landslide winner over Papa Smurf.
Final Round: Voting is closed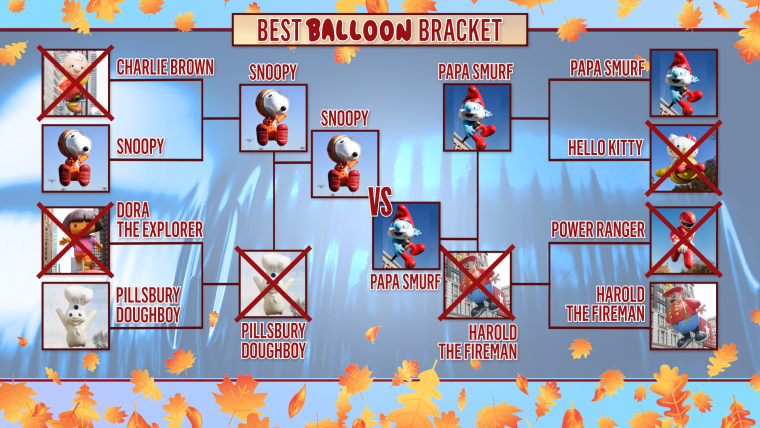 Results: Round 2
Snoopy (83%), Pillsbury Doughboy (17%)
Papa Smurf (68%), Harold the Fireman (32%)
Results: Round 1
Charlie Brown (17%), Snoopy (83%)
Dora (12%), Pillsbury (88%)
Papa Smurf (57%), Hello Kitty (43%)
Power Ranger (45%), Harold the Fireman (55%)