Shannen Doherty appeared at 90s Con this weekend, joining her former "Charmed" co-stars for a special reunion.
On March 18, fans of the hit '90s supernatural series attended a panel featuring cast members like Holly Marie Combs, Rose McGowan, Drew Fuller, Brian Krause and Dorian Gregory.
That's 4 Entertainment, the company behind the annual event that features some of the biggest '90s stars, uploaded a video on its Instagram story of Doherty walking onto the stage and bringing Prue, Piper and Paige together. 
In the clip, the audience starts to cheer as Doherty embraces the "Charmed" cast. Doherty brings McGowan and Combs into a big group hug and asks the crowd, "I mean, is this not like a power of three or what?"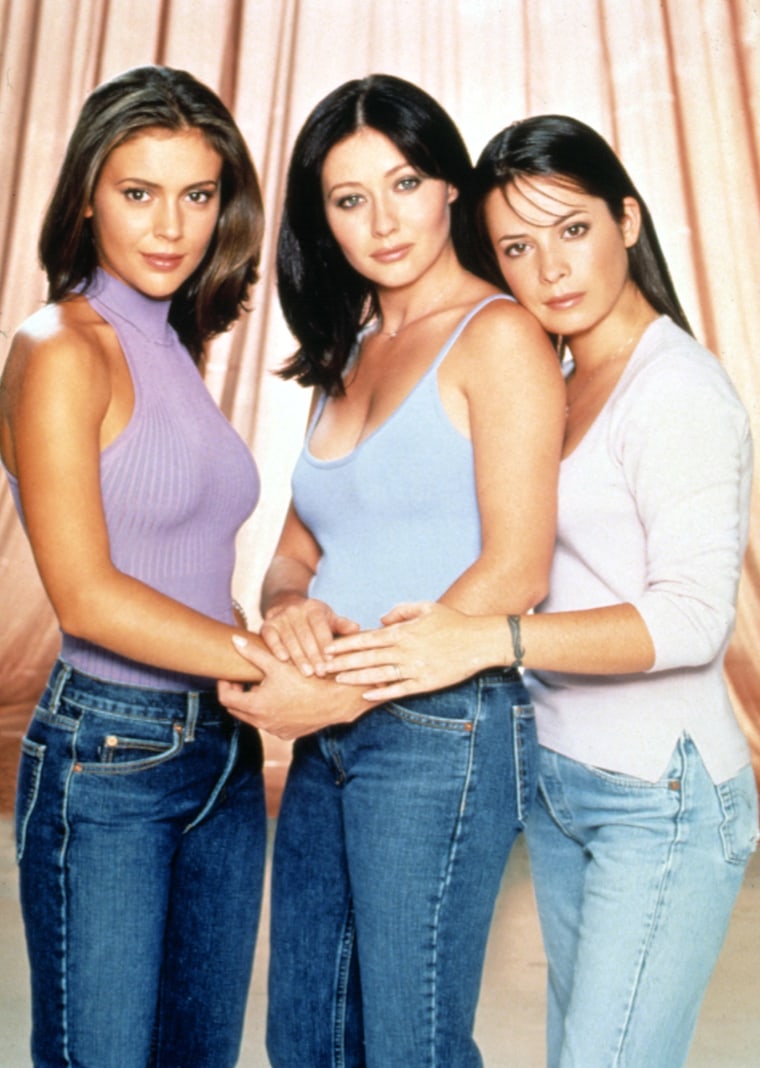 Prue, Piper and Alyssa Milano's character, Phoebe, were the original "power of three" on the show. They played sisters who discovered they were powerful witches.
Doherty left "Charmed" after Season Three and was replaced in the trio by McGowan's character, Paige.
During the panel, Doherty, who revealed that her breast cancer had returned as stage 4 in 2020, also shared a brief update on how she's feeling. 
According to People, the 51-year-old actor was asked on stage how she was doing.
"I'm feeling great, thank you! … This crowd is amazing!" she said. 
During the panel, she spoke about how she related to her character Prue and the eldest Halliwell's strength. 
"Prue was a very, very, very strong woman. I was a really strong woman," she told the audience, per People. "I played her as that. And I think that did have a definitive impression upon a lot of younger women who were watching the show, to grow up with that sort of inner strength and to help their families and take care of their families."
She added, "We're very much about empowering women and empowering women within the show."
The former "Beverly Hills, 90210" star was initially diagnosed with breast cancer in 2015 before going into remission in 2017. Three years later, Doherty's representative confirmed to TODAY.com that her breast cancer had returned.
Doherty opened up to People in 2021 about her diagnosis being a "part of life at this point."
"I feel like I have a responsibility in my more public life, which I separate from my acting life … to talk about cancer and perhaps educate people more and let people know that people with stage 4 are very much alive and very active," she told the outlet at the time. 
"My husband says that you would never know that I have cancer," she continued, referring to photographer Kurt Iswarienko. "I never really complain. I don't really talk about it. It's part of life at this point."
Since receiving her diagnosis, Doherty has used her platform to educate fans about the impact the disease has on the body. 
In October 2021, she uploaded photos to Instagram to document her breast cancer journey and the effects of chemotherapy treatment.
"For breast cancer awareness month, I'd like to share more of my own personal journey from my first diagnosis to my second," she wrote in the caption. "Is it all pretty? NO but it's truthful and my hope in sharing is that we all become more educated, more familiar with what cancer looks like." 
She encouraged everyone reading her post to get mammograms and regular checkups. 
Doherty also said she would do simple things, like put on Cookie Monster pajamas, to cheer her up. She included a picture of her lying in the all-blue outfit in her post. 
"I looked ridiculous and in that ridiculousness, I was able to laugh at myself," she wrote. "Finding humor helped get me thru what seemed impossible. I hope we all find humor in the impossible."