Serena and Venus Williams are the two most famous sisters in tennis. But the close-knit pair share 10 other siblings from their parents' other marriages and relationships.
The Williams sisters' dad, Richard Williams, and their mom Oracene Price, met at a bus stop in 1979 and tied the knot in 1980, making Richard Williams the step-father of Price's three daughters, Yetunde Price, Lyndrea Price and Isha Price, from her first marriage to Yusef A.K. Rasheed, according to the Los Angeles Times.
Venus Williams, who was born in 1980, and Serena Williams, who was born in 1981, grew up in the same Compton, California, home as their sisters, according to the New York Times.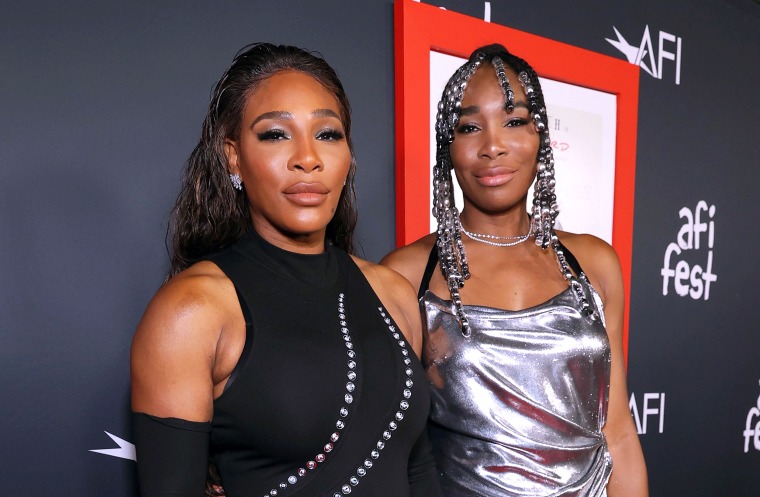 Eventually, the family of five relocated to West Palm Beach Florida, so that Venus Williams and Serena Williams could attend a prestigious tennis academy.
Read on to learn about the Williams' other siblings.
The entire family focused on making Serena and Venus champions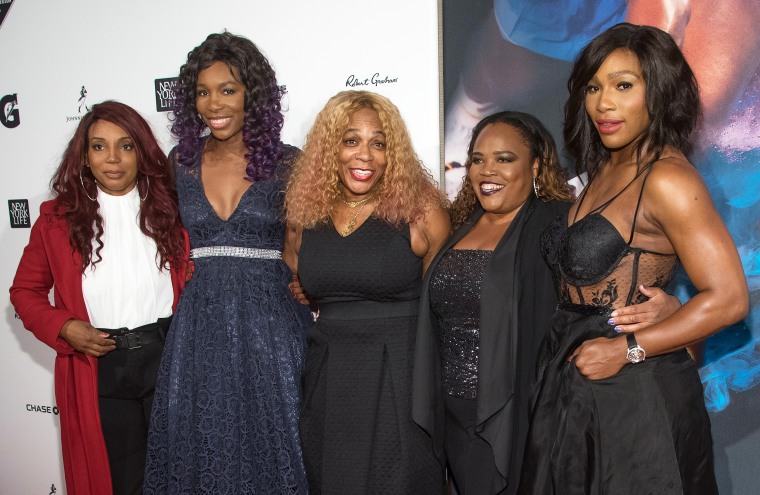 Richard Williams was inspired to teach Serena Williams and Venus Williams how to play tennis after he learned of a woman who earned more than $40,000 for four days of work playing tennis professionally, according to the Times.
Richard Williams used videos and guidebooks to teach his daughters the game himself, and enlisted the rest of the family to help him with the endeavor.
After school, the family would visit tennis courts in Compton so Venus Williams and Serena Williams could practice. Older sisters Yetunde Price, Lyndrea Price and Isha Price would feed and pick up balls for their younger two until closing time.
"It wasn't until I got to college that I realized that our lives weren't what other people considered normal," Isha Price, an attorney, told the Times.
The five sisters were inseparable as kids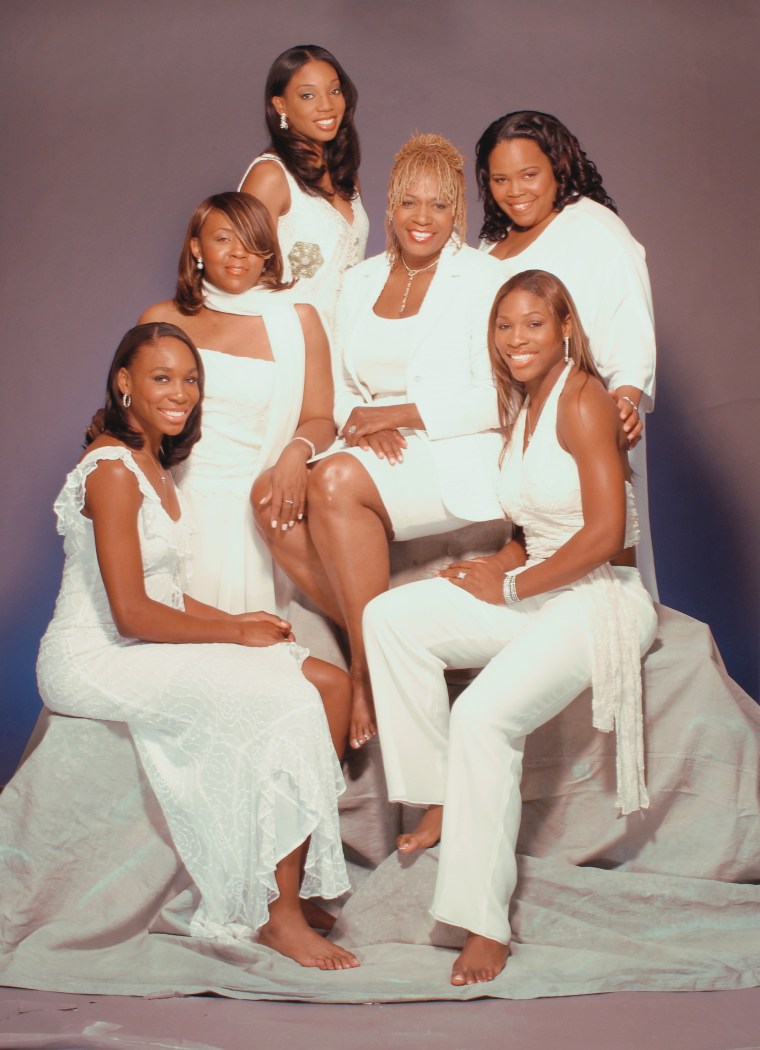 Serena Williams and Venus Williams were inseparable with older sisters Yetunde Price, Lyndrea Price and Isha Price when they were children, according to the The New York Times.
The five girls shared a single bedroom with four beds, forcing future 23-time Grand Slam champion Serena Williams to bunk with a different sister every night.
Oldest sister Yetunde Price was a nurse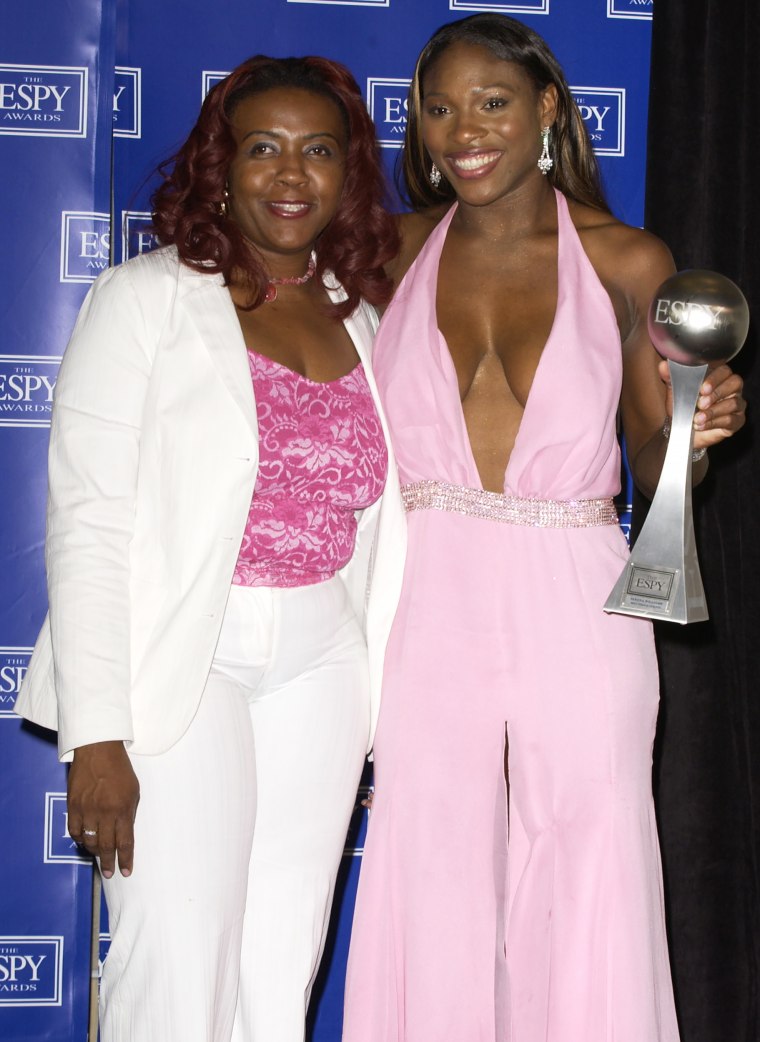 Yetunde Price was the eldest daughter of Oracene Price from her first marriage to Yusef A.K. Rasheed.
The hardworking mother of three was a professional nurse and also co-owned a hair salon with her best friend from high school, according to the Los Angeles Times.
Price, who later worked as an assistant for Venus Williams and Serena Williams when their tennis careers became more demanding, attended many of the sisters' tournaments, the Times reported.
Yetunde died tragically in 2003
Yetunde Price died tragically in September 2003 at age 31 when she was shot and killed in Compton by a bullet that was reportedly meant to hit a man in the same car, according to the Los Angeles Times.
Yetunde Price's boyfriend, Rolland Wormley, was driving the vehicle on the night she was shot. He recalled the chaos of the event to when speaking to the Los Angeles Times in 2003.
"These guys just started opening fire," said Wormley, then 28. "We were just innocent passersby. Believe me, if anything, I would go through that myself twice before I let that happen to my girl."
Wormley described the shock of the gunfire coming at the car.
"I'm trying to get through this. I'm trying to get away, I'm trying to get her to safety," said Wormley. "Once I get to Long Beach Boulevard, I see the back window is shattered. I look to the right and said, 'Baby, are you all right?' I look at (Price), and there was blood everywhere."
"That's half my life right there," he added about his partner's murder. "I don't even know how to feel right now. I'm not going to ask God why he didn't take both of us."
Serena and Yetunde was especially close
Serena Williams was extremely close to oldest sister Yetunde Price.
"Yetunde and I were so close; she changed my diapers," the tennis champ told People in 2007.
Months before she was killed, Yetunded Price used her nursing skills to care daily for Serena Williams, who was healing from a torn quad, according to The New York Times.
Serena Williams tearfully dedicated her win at the Australian Open in 2007 to her late sister, the Times reported.
In 2016, Serena Williams told Time that she was distraught when she learned that just 10 minutes before her loss to Johanna Konta at the Mubadala Silicon Valley Classic that the man convicted of killing her sister had been released early from prison.
"It was hard because all I think about is her kids," she said, "and what they meant to me. And how much I love them."
"No matter what, my sister is not coming back for good behavior ... It's unfair that she'll never have an opportunity to hug me. But also …" she said, pausing. "The Bible talks about forgiveness."
When asked if she forgave her sister's killer, Serena Williams responded, "I'm not there yet."
"I would like to practice what I preach, and teach (daughter) Olympia that as well. I want to forgive. I have to get there. I'll be there."
In 2016, Serena Williams and Venus Williams honored their late sister by founding the Yetunde Price Resource Center, a non-profit that collaborates with other organizations to offer healing-centered and trauma-informed programs to victims of violence.
Isha Price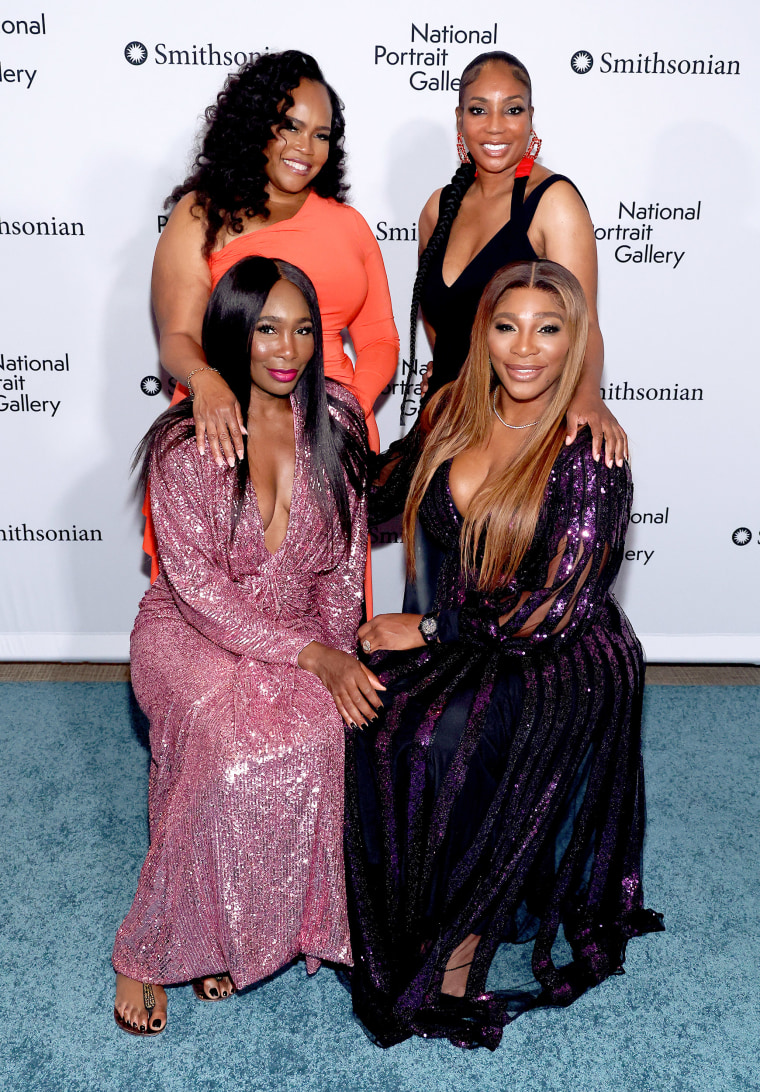 Isha Price works as an attorney and, along with her sisters, was one of the executive producers of the Oscar-nominated 2021 movie "King Richard."
Isha Price spoke highly of sisters Serena Williams and Venus Williams during a video interview with "The Upcoming" while promoting King Richard.
When asked why the world loved her tennis campion sisters so much, Isla Price gushed, "Because they're crazy and funny and real and honest."
She continued, "I've often said that sport is the most pure form of entertainment. You don't get a second take ...You get that one moment and they have lived so many of those moments out loud in front since they were 14 and 15 years old. So when you consider that length of time, I think everybody is endeared to them for that reason."
Lyndrea Price
Lyndrea Price has worked as a costumer on several movies and TV shows, including "King Richard,""Babylon," "Abbott Elementary" and "Euphoria," according to IMDB.
All the sisters knew Serena idolized Venus as a child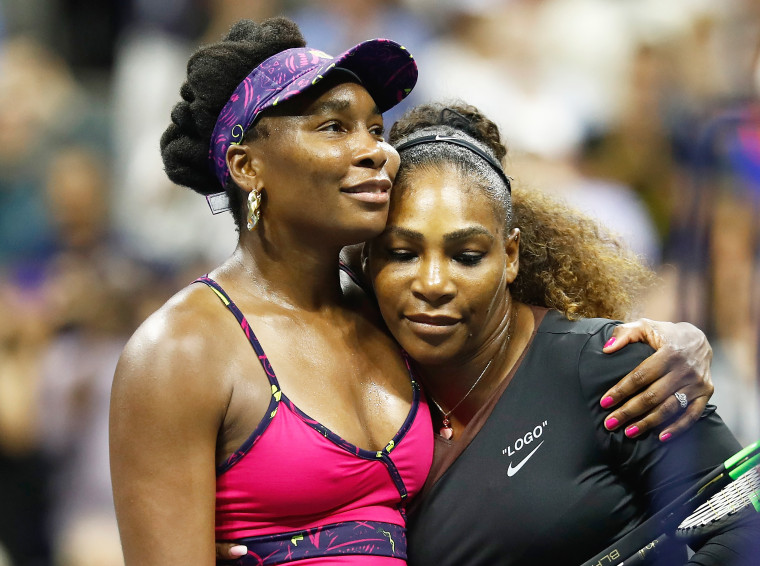 Isha Price told The New York Times that young Serena Williams practically worshipped big sister Venus Williams, who is only 15 months older than her.
She "looked up to Venus so much she was Venus," said Isha Price.
Serena Williams recalled her early idolization of Venus Williams during a 2003 Q&A published in O, The Oprah Magazine. "There were two Venus Williamses in our family — it was crazy," she recalled.
At restaurants as a child, Serena Williams was forced to order before her sister Venus in an effort to make her eat food she really wanted. "My parents would make me order first, but once she ordered, I'd change my mind," the tennis champ told Winfrey. "It was tough for me to stop being Venus and become the person I am."
Serena Williams added that it took her a long time before she began forging her own identity. "One day I just said to myself, I'm not Venus," she said.
She added jokingly, "I still copy Venus in many ways, but it's not as bad. I sound like I've been through some kind of 12-step program."
Serena is happy her daughter Olympia has her aunts as role models
Serena Williams wrote about how glad she was to have her sisters act as role models to her young daughter Olympia in a 2018 Instagram post.
"Women. They are so prominent strong and vital to my life. My mom raised 5 women (one passed) and 3 grand children. I love this photo because we have a close bond. This is what keeps me humble," she wrote alongside a family photo of the women.
"They are not afraid to tell me anything after all I am the youngest of 5. I'm so happy Olympia has my mom as her grandma (of course she has Alexis Stepmom as well) and I'm happy she has aunts like my sisters Venus , Isha , Lyn and Alexis' sisters Amy and Hayley. Alll women! Coincidence? I think it not. She will fit right in."
Serena and Venus have seven other half-siblings on their dad's side
Richard Williams was already a dad to five children — Sabrina, Richard III, Ronner, Reluss, and Reneeka —  from his first marriage when he met Oracene Price in 1979, according to a family tree generated by Geneanet.
Williams and Price divorced in 2002 after 22 years of marriage.
In 2012, Richard Williams welcomed another child, son Dylan Starr Richard, with his third wife, Lakeisha, according to Tennis.com.
He is also the father of movie producer Chavoita LeSane from a previous relationship. LeSane produced a 2022 documentary about his father, "On the Line: The Richard Williams Story."
The family's story was told in the Oscar-nominated movie 'King Richard'
The story of Serena and Venus Williams' early years of tennis training, their close-knit family and their eventual dominance in the tennis world was told in the Oscar-nominated 2021 movie "King Richard."
Will Smith won an Oscar for his portrayal of Richard Williams.
"I think it captures the togetherness because we're very very close. And it was so interesting how everyone who was cast — the girls Demi (Singleton) and Saniyya (Sidney) who play me and Serena, they were holding hands on set. And that is just exactly what we do," Venus Williams told She Knows the same year.
"And how much they looked up to Will (Smith), which was very similar to how close we were to our dad," she added. "So, that chemistry was there. It just couldn't have been more perfect."
Isha Price, who served as one of the film's executive producers, opened up about seeing her family's life depicted onscreen in a 2022 guest essay for The Hollywood Reporter.
"The complicated relationship among siblings often plays out in real life in such a huge way," Isha Price wrote.
"I cannot tell you how many times I have been reminded by people who have not spoken to their siblings in years of how refreshing it was to see the very loving though very real and commonplace relationship of sisterhood," she added. "To be able to have that relationship with my sisters, all of them, and to have that shown onscreen is one of the biggest honors of our lives."
As crucial of a role as the sisters' father played in their lives, Isha Price credited the family matriarch for leading the way.
"As strong as my father is, my mother, Oracene Price, was still the actual glue that held it all together. She was the doer, the provider, the comforter and sometimes even the friend that we all needed at various times of our lives."
"In so many ways, she sacrificed so that our family was able to continue to be what we were striving for from the beginning: true to ourselves," she wrote.