Kerry Washington and Tony Goldwyn had a reunion this weekend that made Olitz fans reminisce about their "Scandal" days together. 
On May 20, Washington celebrated her former co-star's 63rd birthday on Instagram with a few photos of them together. 
She uploaded three cute and silly selfies, including one where Goldwyn pretended to put his finger in her nose. 
"I told @tonygoldwyn that #Olitz is trending on TikTok for his birthday," she wrote in the caption. 
Washington continued, "He's clearly VERY excited," referring to the third selfie. 
At the end of the sweet tribute she said, "HAPPY BIRTHDAY TONY!!!! Love you SOOOOOOOOOOOOOO much! XOXOXOXOXO." She also added the hashtag "ScandalFam."
Fans in the comments could not contain their excitement after seeing Olivia and Fitz back together again. 
"We all love this. Happy Birthday Mr. President," one fan wrote, referring to Goldwyn's portrayal of President Fitzgerald Grant on "Scandal."
Another wrote, "Ok now we need a new season of Scandal," with a crying-laughing face emoji.
Goldwyn and Washington continued celebrating his special day on TikTok. 
The "Little Fires Everywhere" star posted a video with Goldwyn that began with her telling him how great he looked. 
"You look so beautiful," he replied. 
She then asked, "Do you know that we are trending on TikTok these days?"
Goldwyn, who said he does not use the social media platform, explained that a fan recently told him Fitz and Olivia videos were going viral on TikTok. 
So, in honor of his first appearance on the popular site, the actor asked "Scandal" fans to share their favorite Olitz moment.
Washington then asked fans to weigh in on an important question.
"Should Tony Goldwyn be on TikTok?," she asked, before responding "yes" to her own question.
In the caption, the 46-year-old actor also encouraged fans to share their favorite Olitz scenes on TikTok, and later posted a poll on her Instagram story for her followers to vote on if Goldwyn should join the platform.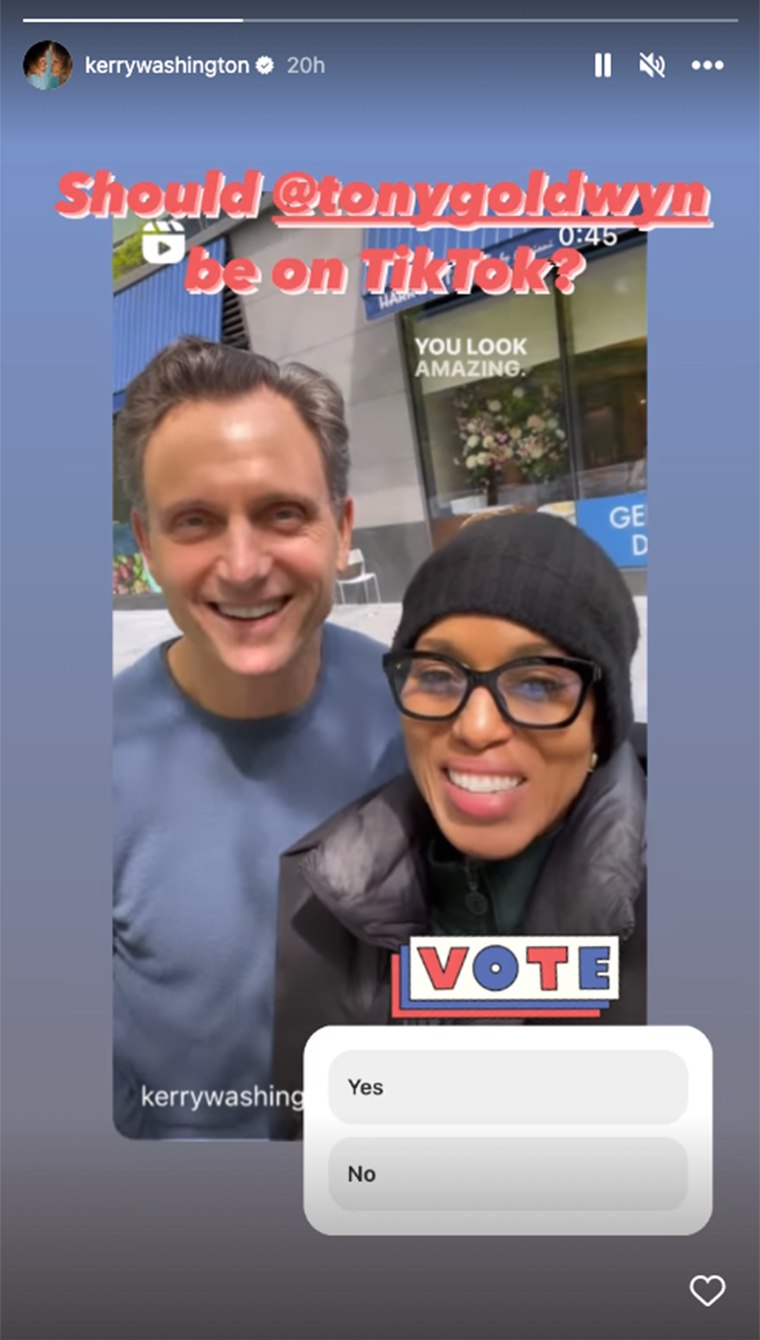 Beneath Washington's TikTok video, one fan joked about how determined they were to see more of Goldwyn on the social site. "I would sell my kidney for Mr Tony Goldwyn to be on TikTok. Unfiltered and unrestricted. Good day lovely people," the fan wrote.
Another pleaded for "Scandal" creator Shonda Rhimes to write another project for Washington and Goldwyn to star in. "SHONDA WE NEED THEM IN A MOVIE IMMEDIATELY PLZ," the fan commented. 
Although the political drama series aired its final episode in April 2018, loyal fans of the show still seem enthused whenever the cast members interact. 
In January, Washington virtually reunited with Scott Foley, who portrayed her other love interest on the show, Jake, for her 46th birthday. 
In a now-viral TikTok video, which has over 4 million views, Washington called Foley, 50, on the phone while wearing a party hat and a crown that said "It's My Birthday."
At the end of the clip, which is a recreated scene from "The Office," Foley said, "Happy birthday, Kerry." 
From the looks of the comments, fans are still divided over whether Olivia should have ended up with Fitz or Jake. 
"I'm ashamed by the amount of excitement I had for this," one person wrote. "I was always team Jake for Olivia not that president guy."
There's no word on if the Olivia, Fitz and Jake love triangle debate will ever end.