Robert Pattinson has his sparkle back.
More than a decade after leaving "The Twilight Saga's" shimmering Edward Cullen behind him, the 36-year-old actor stepped out in what appeared to be a twinkling tweed kilt for Paris Fashion Week.
Pattinson, who serves as a global ambassador for Dior, attended the Dior Homme Menswear Fall-Winter 2023-2024 show on Jan. 20, in one of the fashion house's new looks: a furry aviator jacket paired with the perfect piece to show his off black knee-high socks and shin-high boots — a tweed skirt that gave off a glimmer in the right light.
The androgynous, leg-baring garment seems to be gaining popularity among leading men. Last summer, Brad Pitt made headlines for hitting the red carpet in an asymmetrical linen skirt as he attended the premiere of his film "Bullet Train" in Berlin. 
When asked about his own breezy style choice, Pitt said, "I don't know! We're all going to die, so let's mess it up."
As for Pattinson, he seems similarly unconcerned about Hollywood's expectations when it comes to the masculine ideal.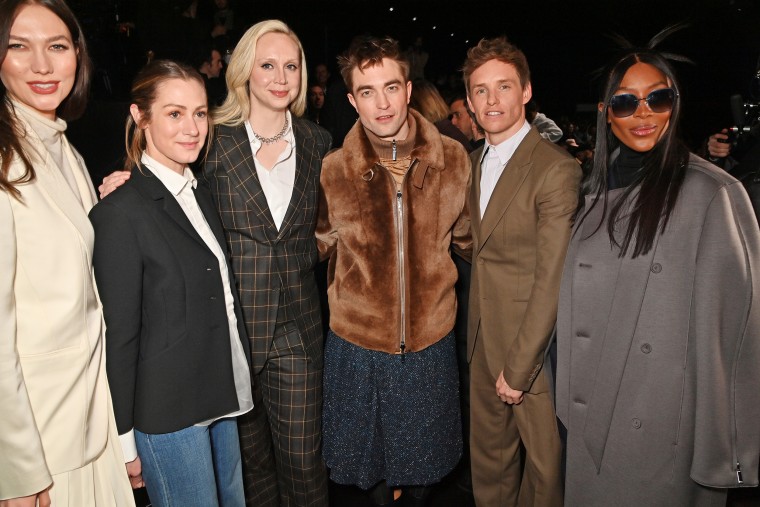 In a recent interview with ES Magazine, "The Batman" star, who got his start as a model, spoke about the pressure men are under to craft an ultra-fit and lean look for the big screen.
"Yeah, it's crazy," he said. "And it's very, very easy to fall into that pattern as well, even if you're just watching your calorie intake, it's extraordinarily addictive — and you don't quite realize how insidious it is until it's too late."
Although Pattinson told the publication he's never personally struggled with his body image, he added that he has dabbled in questionable diets nonetheless, noting, "I have basically tried every fad you can think of, everything except consistency. I once ate nothing but potatoes for two weeks, as a detox."