Exactly one year after the death of her fiancé, actor Ray Liotta, Jacy Nittolo is opening up about the day he died.
The two had been in the Dominican Republic while Liotta filmed a movie called "Dangerous Waters" when the actor died in his sleep at the age of 67, his publicist confirmed to NBC News at the time.
In her post on May 26, Nittolo wrote that she then took a flight back to the United States "by myself in shock" after her "entire world unexpectedly turned upside down."
"I'll never forget the beautiful woman, a complete stranger, who sat next to me and didn't say a word. She gently grabbed and held my hand the entire flight as I cried and looked out the window," Nittolo wrote. "When we landed she looked at me and said everything is going to be ok. (You're) going to be ok."
Nittolo said she met Liotta's sister, Linda, for a connecting flight back to Los Angeles.
"I don't know what I would have done without Linda that night," she wrote.
At the time of his death, Liotta's publicist said there was nothing suspicious about his death, and no foul play was suspected. He is survived by Nittolo and his daughter Karsen Liotta, whom he shares with his ex, Michelle Grace.
In February 2023, Karsen Liotta accepted a posthumous star issued to her late father by the Hollywood Walk of Fame.
In her speech, she called her dad "a one-of-a-kind actor and the best friend, brother, and father anyone could ask for."
As she teared up, she looked to the sky and addressed her father, saying, "I lucked out with you."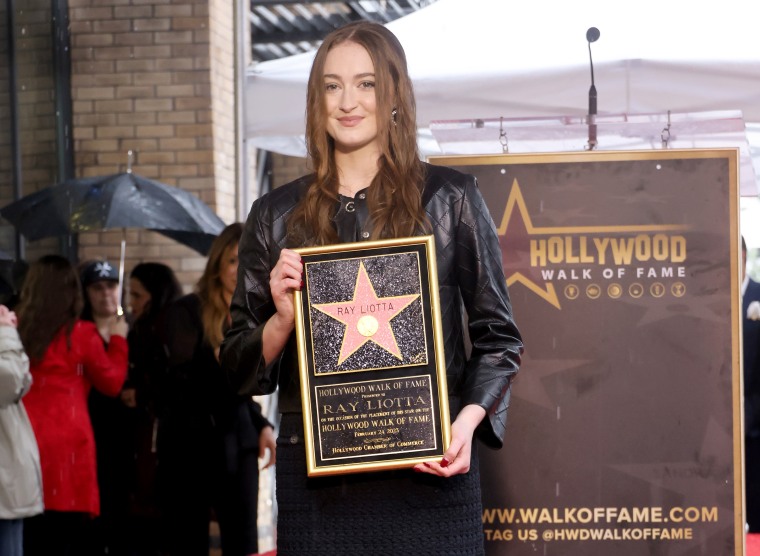 "If you had a Ray in your life, you're lucky," she said. "I love you so much. Thank you for your work and the imprint you left on me and all of those who love you. Everyone deserves a Ray in their life."
Nittolo has also been open about sharing her grief, previously writing on social media that she misses the elder Liotta "every second of every day."
In her most recent post on May 26, Nittolo wrote that the past year has been "heavy" and filled with "pain, heartache, healing, growing and accepting what is."
"Learning to smile at what was. It supposedly gets easier with time. No time will change a loss so great," she wrote. "You just learn to live with it and keep going, trusting that all will be ok."