Priscilla Presley paid tribute to late husband Elvis Presley with a sentimental message on the former couple's May 1 wedding anniversary.
"May 1st. A very special day for Elvis and I," the "Naked Gun" franchise star captioned a black-and-white photo of the pair on their wedding day that she shared on Instagram.
"'Memories pressed between the pages of my mind,'" she added, quoting from her late husband's song "Memories." She added several hashtags including  #sweetmemories and #specialday.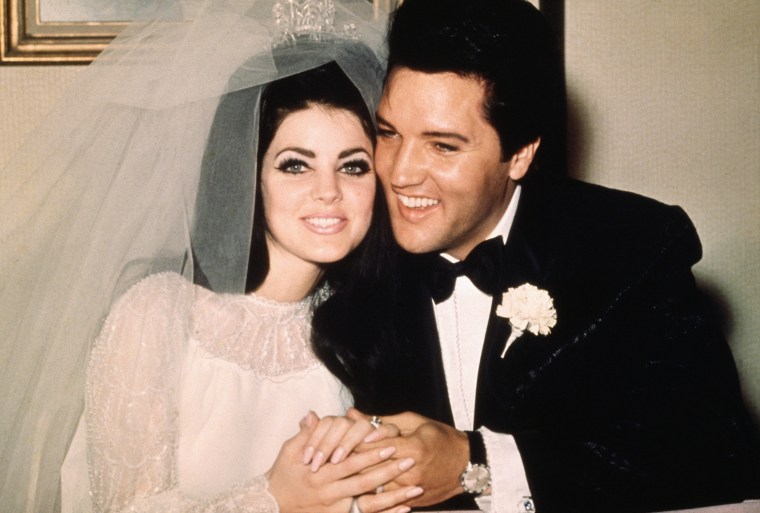 Priscilla Presley and Elvis Presley were married from 1967 until 1973 and shared a daughter, the late Lisa Marie Presley, who died from a suspected cardiac arrest on Jan. 12 at age 54.
Elvis Presley's life was depicted in Baz Luhrmann's 2022 biopic "Elvis," but the King of Rock 'n' Roll's love story with Priscilla Presley is one fans know by heart.
The pair reportedly met in West Germany in 1959 when Elvis Presley, then the world's biggest music star, was serving in the U.S. Army. Priscilla Presley's stepfather, who was in the Air Force, was transferred to a base in the area.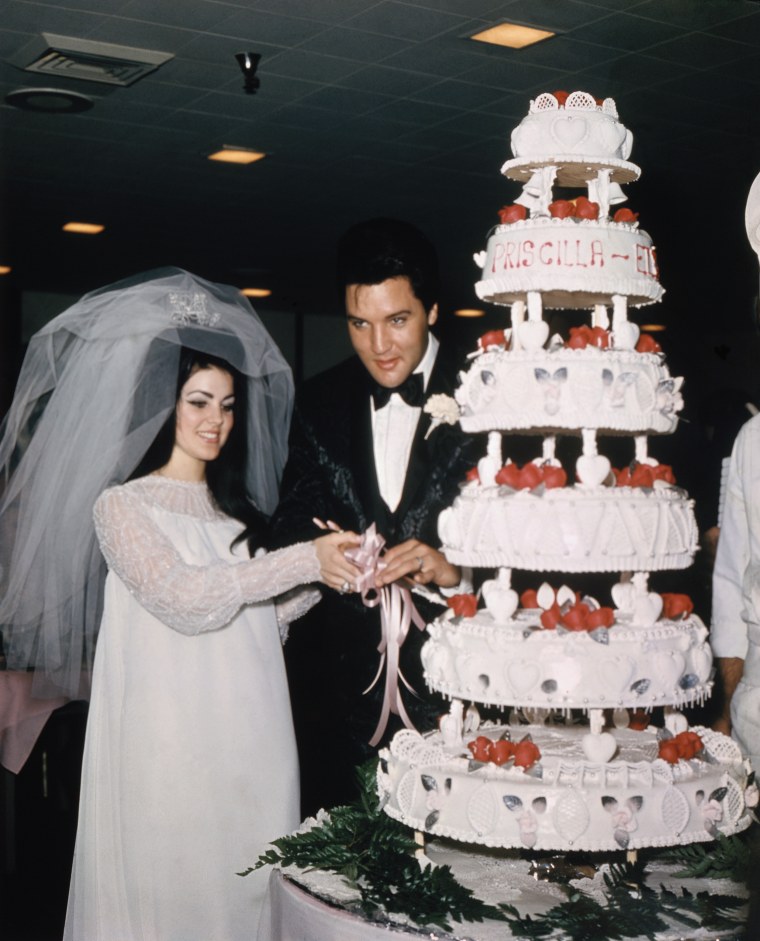 "When we met, I was an impressionable 14-year-old. He was 24," Priscilla Presley wrote in an 1985 essay for People. According to her, when she told the singer she was in ninth grade, he responded, "Why, you're just a baby."
Speaking to Larry King in 1999, Priscilla Presley said of Elvis Presley at the time of their first meeting, "I saw him at a very vulnerable time in his life. He had just lost his mother. He was grieving."
The pair began seeing one another, with the musician soon winning over his future bride's parents. "He came to the house and he was charming and wonderful. My family had a lot of faith in him," Priscilla Presley told Barbara Walters for ABC in 1985.
The pair stayed in touch when Elvis Presley returned to the U.S. in 1960. By 1963, Priscilla Presley's parents gave her permission to finish high school in Elvis Presley's hometown of Memphis, Tennessee.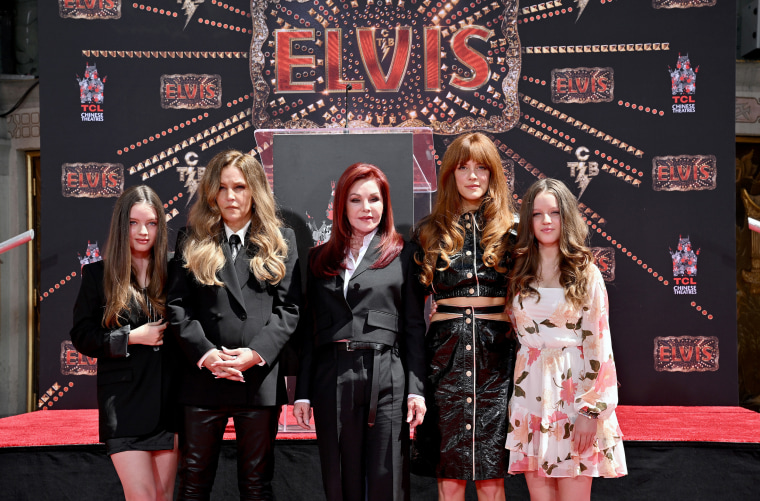 The singer popped the question in 1966 and the couple married on May 1, 1967. They welcomed Lisa Marie Presley exactly nine months later.
Priscilla Presley's anniversary post about Elvis Presley comes amid her petition for control of Lisa Marie Presley's trust.
In a statement issued to NBC News in February, Priscilla Presley said she was proceeding in her fight with "honesty, dignity" and "integrity."
"I loved Elvis very much as he loved me. Lisa is a result of our love," reads the first part of her statement. "For anyone to think anything differently would be a travesty of the family legacy and would be disrespectful of what Elvis left behind in his life."
The former "Dallas" star's statement suggested that an unnamed person "trying to speak on behalf" of the Presleys was "not a representative of Elvis or our family." 
"Please allow us the time we need to work together and sort this out," Priscilla Presley's statement continued. "Please ignore 'the noise.' As I have always been there for Elvis' legacy, our family and the fans, I will continue to forge a pathway forward with respect, honesty, dignity, integrity and love."
As the sole heir to her father, Lisa Marie Presley created a living trust in 1993 to legally protect her assets and to determine their distribution in the case of her death.
The trust was restated in 2010 and appointed Priscilla Presley and her former business manager, Barry Siegel, as co-trustees, according to documents previously obtained by NBC News.
In 2016, Lisa Marie Presley's will was amended to include her children, actor Riley Keough and her brother Benjamin Keough, as co-trustees of her estate. 
Benjamin Keough then died by suicide in 2020, leaving Riley Keough as Lisa Marie Presley's sole trustee. 
Priscilla Presley's attorneys outlined several alleged issues with Lisa Marie Presley's amended will in their petition, which was filed with Los Angeles Superior Court. They say the document misspelled Priscilla Presley's name, was also never delivered to her, and that Lisa Marie Presley's signature "appears inconsistent with her usual and customary signature."
The petition requests that a judge declare the 2016 amendment invalid in order to keep Priscilla Presley the estate trustee.