Priscilla Presley's court challenge of Lisa Marie Presley's will giving her daughter Riley Keough control of her estate is a "money grab," a friend of Lisa Marie told NBC News.
"Lisa's intent was very clear for her children to inherit her trust," the unnamed friend told NBC News in an email on Jan. 30. "Lisa really didn't feel that Priscilla was doing anything in her best interest."
"This is a money grab," the friend added in a phone call later. "She had no relationship with Priscilla."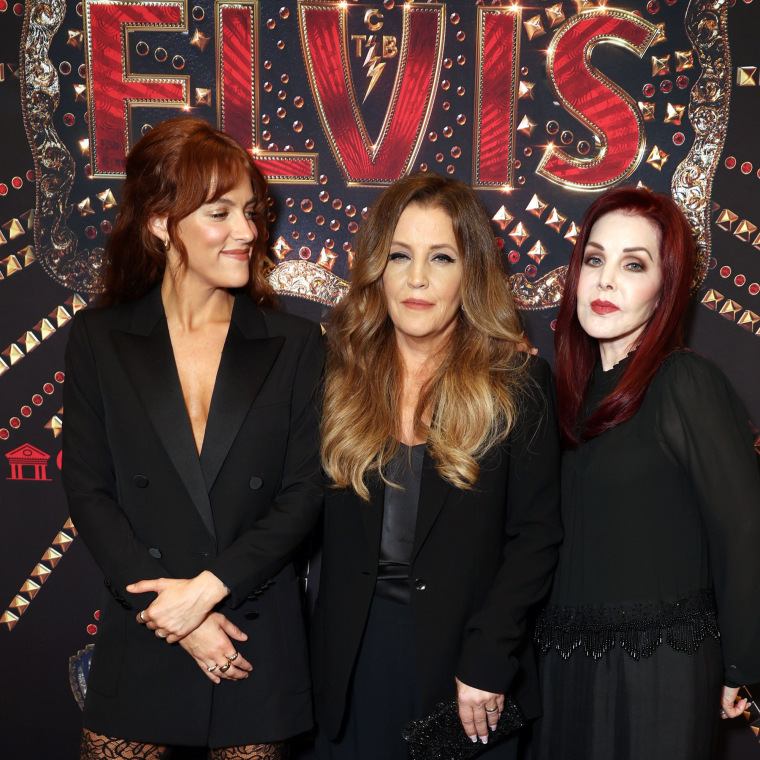 Lisa Marie, the only daughter of Elvis and Priscilla Presley, died on Jan. 12 at the age of 54 due to an apparent cardiac arrest. Her official cause of death has been deferred pending toxicology results, which could take months.
Lisa Marie and her mother made multiple appearances together over the years, most recently for the rollout and award celebration of the 2022 film "Elvis."
According to documents obtained by NBC News, attorneys for Priscilla filed a petition on Jan. 26 to determine the validity of Lisa Marie's will, which was modified in 2016 to name two of her children, Riley and Benjamin Keough, as co-trustees of her estate.
The original trust, created in 1993 and restated in 2010, named Priscilla Presley and Lisa Marie's former business manager, Barry Siegel, as co-trustees of the estate, according to the documents. But a purported 2016 amendment replaced Priscilla and Siegel with with Riley, now 33, and Benjamin Keough.
Benjamin died in 2020 at age 27, leaving Riley as the only trustee, according to the purported amendment.
In the petition, Priscilla Presley's attorneys alleged a number of issues with the amendment, including that it was never delivered to Priscilla, the document misspells Priscilla's name, and that Lisa Marie's signature "appears inconsistent with her usual and customary signature."
"There are many issues surrounding the authenticity and validity of the purported 2016 amendment," attorneys for Priscilla wrote in the petition.
The petition asks for a judge to declare the 2016 amendment to the trust invalid so that Priscilla would remain a trustee of the estate.
Jeffrey Eisen, a trusts and estates attorney, told TODAY he thinks the petition raises some questions.
"What really jumped out at me from the petition was that it said that Priscilla and Mr. Siegel are already the trustees during Lisa Marie's lifetime," Eisen said. "That itself is unusual. Usually people are their own trustees while they're alive."
Attorneys for Priscilla and Siegel did not respond to requests for comment from NBC News. Representatives for Keough and Lisa Marie also did not respond to a requests for comment.
Lisa Marie's life was honored in a Jan. 22 ceremony on the front lawn of Graceland, Elvis' former home. She was buried next to Benjamin in the meditation garden at the famed estate.
A Graceland spokesperson previously told TODAY Lisa Marie's three surviving children, Riley Keough and twins Harper and Finley Lockwood, would inherit Graceland.