Paul Mescal confessed that he was sparsely dressed when he met Nicole Kidman.
During an appearance on "Jimmy Kimmel Live" March 3, the actor walked host Jimmy Kimmel through some of his recent celebrity encounters. Mescal, who has been performing in London as Stanley Kowalski in the play "A Streetcar Named Desire," said that since his Oscar nomination for his role in "Aftersun," it's been a "pretty starry backstage" with several celebrities gracing his presence, including none other than the "Big Little Lies" star.
"Nicole Kidman came to the play and it was pretty cool," he said. "I didn't know she was in and then she came backstage, and I was sharing a dressing room ... and we're getting changed, and we're in our underwear. We hear a knock on the door and we thought it was the stage manager or something, and I go to open the door and it's Nicole Kidman."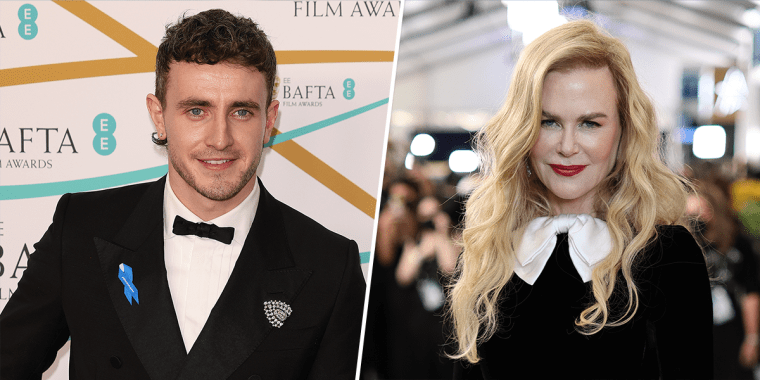 Mescal continued his embarrassing tale, adding, "I'm standing there in sweaty underwear and then you think the next smart step is to put on some trousers, but there's something incredibly undignified about the act of putting (them on)," he said, while acting out the process of pulling on pants.
"Then, you kind of half pull on your trousers and you're chatting about the play and then you hug and then you're like 'Thanks for coming,'" he told Kimmel. "The door shuts and then you're just turning to each other like 'What the hell just happened?'"
Earlier in the interview, Mescal revealed his mom would be his date to the Oscars and tackled a recent discussion involving the actor's last name and how to pronounce it.
In an interview with The Hollywood Reporter, the "Normal People" star said that he would not be shocked if his last name was mispronounced if he won the award for best actor in a leading role, explaining, "People get confused with how to pronounce my name because of the drink mezcal."
While he said "everybody does it," he did share the correct pronunciation, explaining, "I pronounce it 'mess-cull."
Just one month before the Oscars, which are slated for March 12, Mescal opened up about what his nomination meant for himself and his family. The 27-year-old's Academy Award nomination coincided with the day his sister, Nell Mescal, shared on Twitter that their mother was preparing to undergo chemotherapy.
"It's all a bit overwhelming, especially for my family, because I don't think anybody or even I was expecting this," Mescal told BBC Radio 4 Today.
Mescal alluded to some of the personal issues he has been dealing with, adding that his nomination has given his family a "very welcome respite."