No one takes NBA Media Day as seriously as Jimmy Butler. 
Media day, which marks the unofficial start of the basketball season, kicked off on Oct. 2 as some players across the league reunited with their teammates after the off-season. Most athletes spent Media Day answering questions from reporters about the 2023-2024 season, shooting funny videos and posing for their official team photos. But, Jimmy Butler used the day as an opportunity to debut his dramatic hair transformation.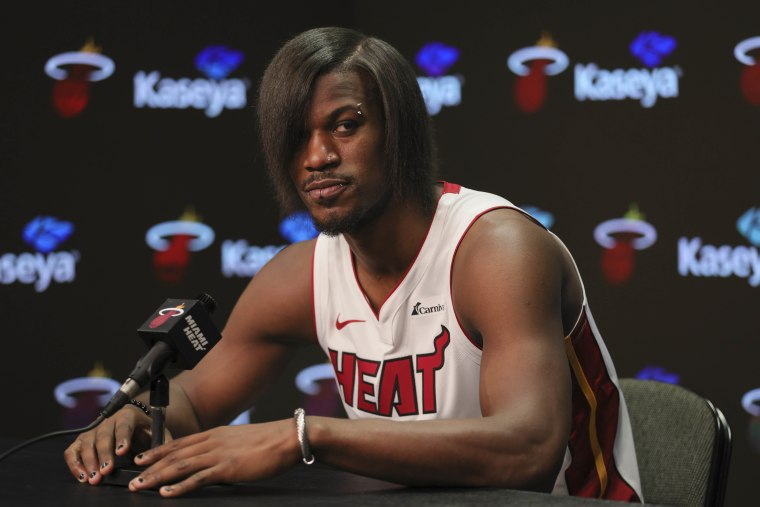 The 34-year-old Miami Heat player, who constantly changes his hair and tries different styles, has turned Media Day into a running bit. Last year, he showed up with long dreads that delighted NBA fans all season long — the pictures players take repeatedly appear on social media and are used to promote televised games. 
Leading up to what is essentially NBA picture day this year, Butler teased his new appearance on Instagram. 
He uploaded a series of photos to his Instagram story that showed off his black nail polish as well as nose, lip and eyebrow piercings. In one clip, Butler sat with his back facing the camera as a woman straightened his hair and Fall Out Boy's "Thnks fr the Mmrs" blasted in the background. 
Finally, he was ready to unveil his entire ensemble. He strolled into the Kaseya Center, where the Miami Heat play, and revealed his complete. Butler paired his straightened locks – which partially covered his face — with baggy black pants, black t-shirt and a knee-length black coat. The coat had a white skull and multiple quotes like, "The harder you look the harder you look."
Butler then changed into his No. 22 jersey and greeted Miami Heat head coach Erik Spoelstra and the rest of the coaching staff. When it was time for his press conference, he walked into the room and said "Don't make me break character right now."
As a couple reporters chuckled, he flipped his hair a little and said, "Yeah, yeah, yeah, laugh it up."
One journalist mentioned that Butler had "braids" last year. "What's this?" the reporter asked.
The athlete corrected him and said, "I had dreads last year, for the last time. What's this? This is my emotional state. I'm one with my emotions. So, this is what you get." 
The Miami Heat also uploaded a video to X, formerly known as Twitter, of Butler preparing to take his team photos. 
"Nobody does Media Day like Jimmy Butler does Media Day," his team said. 
His teammates, like Bam Adebayo, were also amused by his appearance. 
Butler posted a video on his Instagram story of Adebayo questioning him about his new hair and piercings as teammate Tyler Herro listened in.
Adebayo asked about Butler's lip ring and he explained he was fully committed to his emo joke. 
"Look, I gotta stay in character, though," he told Adebayo.
Adebayo started laughing and pointed out most players just get a haircut for Media Day.
"This is my Halloween," Butler explained. After a hairstylist stepped in to comb Butler's hair, Adebayo laughed so hard he started to cry in a separate video posted on X. 
In Butler's next Instagram story, he continued his bit and snapped photos while Good Charlotte's "The Anthem" played. 
After he fulfilled his Media Day obligations, he returned to his Instagram story to share his thoughts on his alter ego.  
"Yeah, it's that time for me. I gotta get up out of here. My time is up," he said as he highlighted his painted nails and piercings. 
He added, "Emo Jimbo, will he be back? Probably so. It was a hit." Butler later uploaded a carousel of photos and videos from Media Day with the caption, "Year 12." 
Not everyone was so sure that Emo Jimbo should stick around. Journalist and television personality Stephen A. Smith reacted to the Heat superstar's look on his show, "First Take." 
Smith looked stunned before he finally said, "Oh my God" in a clip posted on X.
He compared Butler's look to a character on the Starz drama "P-Valley." 
"I don't know about all of that," Smith said. "I can't vibe with that." 
Plenty of NBA fans also poked fun at Butler's look, comparing him to rapper André 3000 and giving him the nickname "Ball Out Boy."