Mariska Hargitay is sending a sweet birthday shoutout to her "Law & Order: Special Victims Unit" co-star Ice T.
The 59-year-old Emmy winner shared a photo on Instagram Feb. 16 that showed her hugging the actor and rapper in celebration of his 65th birthday.
"Happy Birthday @icet," she wrote alongside the pic, adding the hashtags #LoveIsLove #RealDeal #ThatsWhatsUp and #OG.
Fans popped into the comments of the Emmy winner's post to add their own warm thoughts about the two longtime co-stars, who play NYPD colleagues Capt. Olivia Benson and Sgt. Odafin "Fin" Tutuola.
"The two OGs. I love Olivia and Fin's friendship. Her ride or die 😍😍😍😍❤️," wrote one.
On Feb. 6, Ice-T, whose real name is Tracy Marrow, opened up to TODAY.com about his close friendship with Hargitay — and how he's even written hip-hop lyrics for her to rap herself.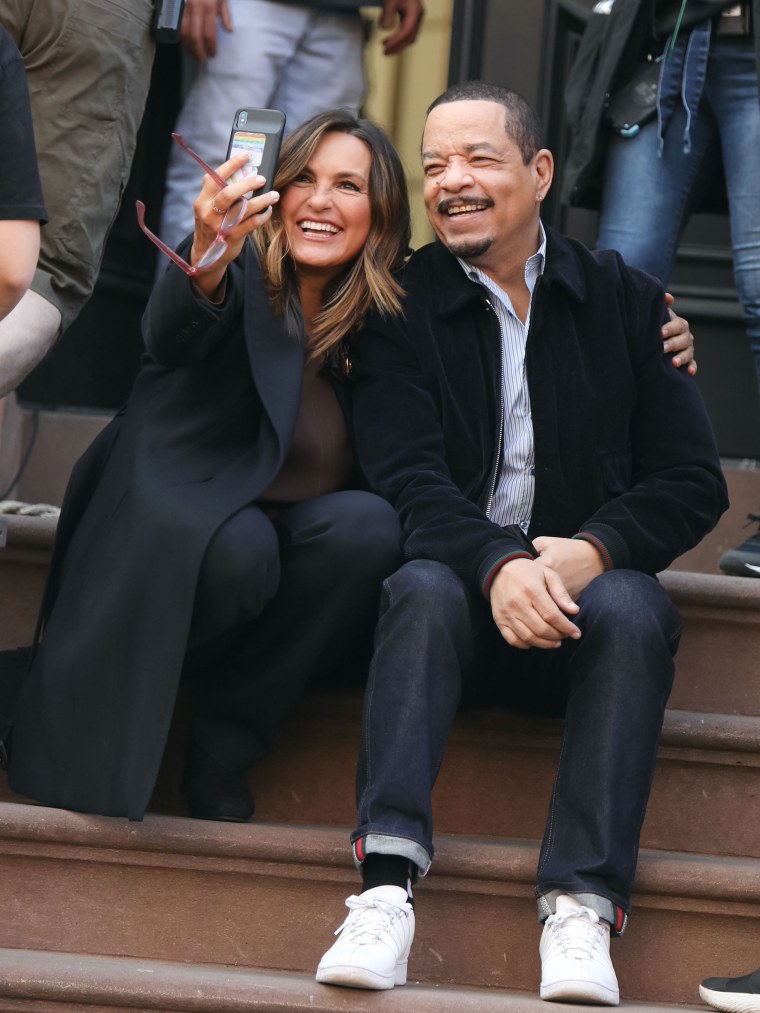 "It's funny, though, Mariska has me write her raps," said the entertainer. "She wants to rap, like, 'Write me a rap.' So yeah, I wrote a rap for Joyful Heart (Hargitay's foundation). She's got a little rap I wrote her early. She's like, 'It's time for you to write me a new rap.' All right, take it easy, Mariska," he joked.
In September 2022, Ice-T told E! News that his friendship with Hargitay dates back to before he joined "SVU" in its second season. "Me and Mariska lived on the same street in Hollywood," he explained. "We lived on Sunset Plaza, and her family house was up the hill, and my house was a little lower."
Over the years, Ice-T and Hargitay have become just as close in real life as their characters are on the show, according to the former Body Count frontman.
"I tell Mariska, I have four women in my life," said Ice-T, who shares daughter LeTesha with ex Adrienne, son Tracy Jr., with ex Darlene Ortiz, and his youngest daughter, 7-year-old Chanel, with his wife of 21 years, Coco.
"But I've made more money with Mariska," he joked. "So she ranks really high in my women I care about."