Mariska Hargitay celebrated her close friendship with her "Law & Order: Special Victims Unit" co-star Ice-T at the actor and rapper's Hollywood Walk of Fame ceremony on Feb. 17.
After praising Ice-T's acting and musical talent, as well as his devotion as a husband and a father, Hargitay got personal by opening up about the pair's close bond, which began before they were co-stars.
"The reason that you have fame in my heart is because you are the OG of friendship. You are my real deal, my true blue, authentic, unshakable friend and I cannot tell you what that means to me," gushed Hargitay.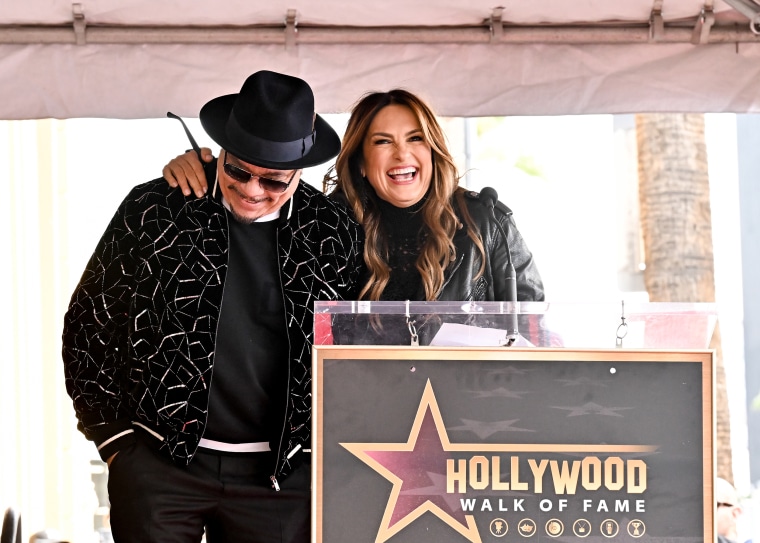 "As simple and as deep and as glorious as that is, and I know that you know in your heart and in your marrow," she said, winking, as she stood next to the rapper — whose real name is Tracy Marrow — "how full the word 'friend' is when I say it to you, but I'm going to explain it anyway."
Turning to Ice-T, she continued, "You have been such a joy in my life. You are the embodiment of loyalty. You tell the truth. You keep it real. You usually introduce it with, 'So here's what's up.'"
Hargitay — who earlier in her speech mentioned that she was happy to have a star on the Walk of Fame near the one bearing the name of her late mother, Hollywood bombshell Jayne Mansfield — went on to say that she and Ice-T laugh together every day, and also grieve together "during times of sorrow."
"You keep everything in perspective," she marveled, adding, "You have been by my side, working, learning, living, growing and you've never failed me once, Ice. And you're so deeply gracious and so profoundly grateful."
Hargitay added that in more than 22 years working together, she had never once heard Ice-T complain. She also laughed as she revealed his nickname, "Icy."
The Emmy winner concluded her emotional speech by telling her co-star and friend. "Welcome to this sacred space. My mom and I are happy to have you here."
"Law & Order: Special Victims Unit" creator Dick Wolf and legendary rapper Chuck D also made speeches.
Ice-T's Hollywood Walk of Fame ceremony took place just one day after his 65th birthday, which Hargitay also celebrated.
The 59-year-old Emmy winner shared a photo on Instagram showing her and Ice-T hugging one another.
"Happy Birthday @icet," she wrote alongside the pic, adding the hashtags #LoveIsLove #RealDeal #ThatsWhatsUp and #OG.