Justin Theroux is opening up about why he does not publicly address his past relationship with ex-wife Jennifer Aniston. 
The couple married in 2015, but they later announced in 2018 that they were separating. Since then, the two actors have rarely spoken about their divorce. 
In an interview with Esquire published on May 1, Theroux finally explained why he avoids commenting about Aniston, 54, and their marriage.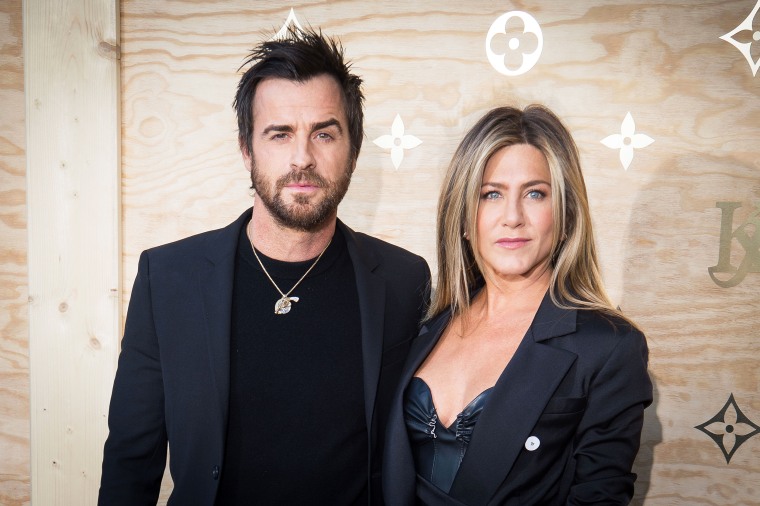 The 51-year-old actor joined co-star Woody Harrelson for a sit-down with the publication to chat about their new HBO miniseries "White House Plumbers." The show is a satirical political drama that follows the Watergate scandal and the political operatives who contributed to the demise of Richard Nixon's presidency, which dominated news headlines.   
During the interview, Theroux and Harrelson were asked how they react to seeing their names in headlines and if they engage with positive or negative comments online. 
"The Internet is like this really big high school, and why on earth would you walk around it checking every room and broom closet for the bully to kick your a--?" Theroux replied. 
He added, "I don't linger." 
The Esquire journalist then asked Theroux how it feels to have social media users dissect his personal life, particularly his divorce from Aniston. 
"The Leftovers" star said, "There's something to, once you're out of that, where I want all of my relationships to exist within the four walls of whatever room we're in."
"And I'm not trying to be evasive, but I talk to Jen—I don't talk about Jen," he continued.
Theroux explained that he tries to find "balance" in his life instead of feeding rumors. 
"And having been in a public relationship, it's much more fun not being in a public relationship," he shared. "Me saying anything, even if it was something loving, it would just turn into a thing."
Now, he doesn't talk about his ex-wife to prevent having his words misinterpreted. 
"So it's a classic no-comment situation for me," he concluded. 
The "Friends" star and Theroux were engaged for three years before they tied the knot in August 2015. 
In February 2018, they released a joint statement confirming that their decision to call it quits "was mutual and lovingly made at the end of last year." 
"Normally we would do this privately, but given that the gossip industry cannot resist an opportunity to speculate and invent, we wanted to convey the truth directly," they wrote at the time. "Whatever else is printed about us that is not directly from us, is someone else's fictional narrative. Above all, we are determined to maintain the deep respect and love that we have for one another."
The exes have remained friends and have wished each other happy birthdays with sweet messages over the years. During an appearance on Sunday TODAY with Willie Geist in April 2021, Theroux shared that he and Aniston try to keep in touch with each other. 
"We don't talk every day, but we call each other. We FaceTime. We text," he said.
A few months later, the exes publicly reunited to film a "Facts of Life" special in December 2021.
Aniston and Theroux collaborated when she appeared in ABC's "Life in Front of a Studio Audience" special that reimagined episodes of '80s sitcoms "The Facts of Life" and "Diff'rent Strokes." 
In the live recreation, Aniston portrayed Blair Warner, who was originally played by Lisa Whelchel. Theroux served as one of the executive producers of the specials. 
He shared a behind-the-scenes photo on his Instagram story of them hugging each other and a third person while working on the project.