Joe Jonas and Sophie Turner's divorce proceedings have turned rocky.
After Jonas filed for divorce, the "Game of Thrones" actor sued her husband for the "wrongful retention" of their two daughters, according to court documents filed Sept. 21.
Turner alleges in court filings that Jonas is refusing to send their children back to their "habitual residence" of England and has withheld their passports amid the divorce.
Jonas responded to Turner's lawsuit in a statement and said their kids "were born in the U.S. and have spent the vast majority of their lives in the U.S."  
"This is an unfortunate legal disagreement about a marriage that is sadly ending," Jonas said in a statement Sept. 21.
On Sept. 5, TODAY.com exclusively confirmed that the Jonas Brothers singer filed for divorce from the "Game of Thrones" actor.
Jonas' petition obtained by TODAY.com states that "the marriage between the parties is irretrievably broken." The day after he submitted the filing, the couple issued a joint statement confirming their split.
"After four years of wonderful marriage we have mutually decided to amicably end our marriage," reads the statement shared on their Instagram accounts Sept. 6. "There are many speculative narratives as to why but, truly this is a united decision and we sincerely hope that everyone can respect our wishes for privacy for us and our children."
The former couple, who wed in 2019, share daughter Willa, 3, and a second daughter born in July 2022. 
Here's a look back at their relationship and marriage:
2016: Joe Jonas slides into Sophie Turner's DMs
Turner revealed in an interview with Harper's Bazaar UK that Jonas was the one who reached out first.
"We had a lot of mutual friends," she told the magazine in 2019, "And they'd been trying to introduce us for a long time. We were following each other on Instagram and he direct-messaged me one fine day, out of the blue." 
"He's lovely. He's just the funniest. You wouldn't expect he's about to turn 30 this year," she said of Jonas. "He's the most fun, energetic, positive person I've ever seen. I'm pessimistic, so we balance each other out."
2016: Joe Jonas and Sophie Turner start dating
Turner knew it was love at first sight when she met Jonas in 2016. She recalled their first date during an appearance on "The Tonight Show Starring Jimmy Fallon" in May 2022. 
She told Fallon that she knew she wanted to marry Jonas "the first night" they met before joking "it may have been the alcohol."
"We went out, and we hung out at a bar with all my friends and all his friends. They all came back to my apartment, and we had drinks after," she said. 
When everyone left, Turner suddenly became emotional. 
"I remember him leaving and I just wept to my brother. I was like, 'I love this man so much!'" she shared. 
October 2017: Joe Jonas and Sophie Turner get engaged
Turner's initial impression was that she knew they were meant to be together. Just one year later, the couple announced their engagement. 
In October 2017, Turner and Joe Jonas both uploaded photos to Instagram that showed off Turner's engagement ring. 
"She said yes," he captioned his post. She wrote, "I said yes" on hers. 
October 2018: They make their red carpet debut
After years of being photographed by paparazzi, the pair made their red carpet debut at the Louis Vuitton show as part of the Paris Fashion Week Womenswear Spring/Summer 2019 on Oct. 2, 2018.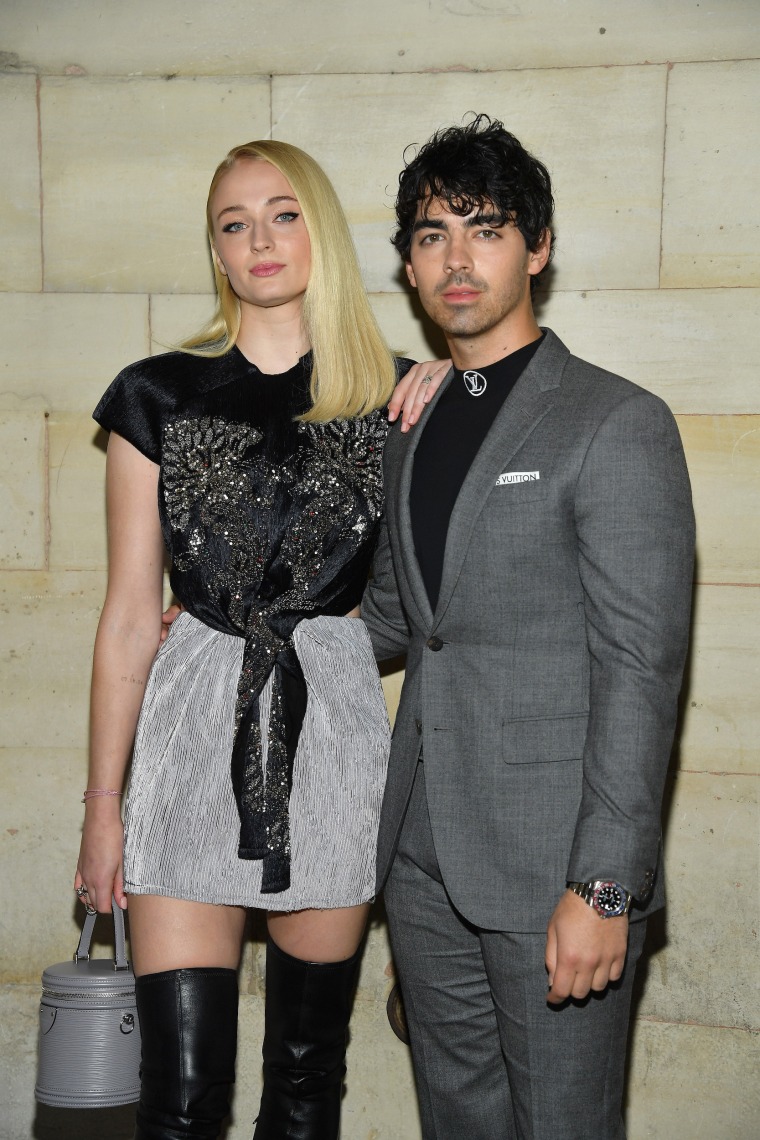 May 2019: Joe Jonas and Sophie Turner marry in surprise Las Vegas ceremony
The couple got married May 1, 2019, in Las Vegas after the Billboard Music Awards.
The singer and actor said "I do" at Chapel L'Amour inside A Little White Wedding Chapel, per People. The ceremony was performed by an Elvis impersonator.
The newlyweds exchanged ring pops instead of traditional weddings bands, E! Online reported at the time.
"We had to do a legal marriage before we did a real big one," Jonas told Harper's Bazaar in June 2019, sharing the reason behind their Vegas wedding. "It was either the courthouse, or our version, and I preferred our version. Friends, Elvis and Ring Pops."
Fans were first tipped off that the couple was getting married when Diplo livestreamed the ceremony on Instagram. Weeks after the celebration, Jonas joked that the DJ ruined his surprise wedding while on the U.K.'s "Capital Breakfast With Roman Kemp" radio show.
Jonas said Diplo didn't ask if he could go live on his social media, saying, "Diplo did. Yeah, he ruined it. I love Diplo, but he loves his 'gram more than a 13-year-old. He posts every five seconds. He literally, like, livestreamed with dog face filters." 
June 2019: Joe Jonas and Sophie Turner marry again in second wedding ceremony
The following month, the pair got married for a second time in an elegant wedding at Chateau de Tourreau in the south of France on July 29.
According to People, they were surrounded by their friends and family, with Jonas' brother Nick, Kevin and Frankie Jonas serving as groomsmen.
On July 3, 2019, the pair shared a black-and-white photo of their wedding celebration. The newlyweds are seen smiling and holding hands as they walk down the aisle.
Turner wore a flowing white dress with a deep V-neck and lace sleeves, while the singer was in an all-black suit.
"Mr and Mrs Jonas," Jonas captioned it.
February 2020: Joe Jonas and Sophie Turner are expecting their first child
On Feb. 13, E! News announced that the pair was expecting their first child together. Jonas and Turner remained quiet about their pregnancy news and never officially released a statement or commented.
July 2020: They welcome their first child together
On July 27, 2020, reps for the "Burnin' Up" singer and the "Dark Phoenix" star confirmed to TODAY.com that the pair were officially parents.
"Sophie Turner and Joe Jonas are delighted to announce the birth of their baby," the statement read. It was later revealed that the pair named their baby girl Willa.
Turner and Jonas did not publicly announce her first pregnancy. They also waited to reveal that they were expecting a second child until two months before she arrived. 
May 2022: Sophie Turner confirms she's pregnant with baby No. 2
In an interview with Elle UK magazine, the actor revealed that she was expecting a second child.
"It's what life is about for me — raising the next generation. The greatest thing in life is seeing my daughter go from strength to strength. We're so excited to be expanding the family. It's the best blessing ever," she said, adding that she didn't know if her daughter knew she was going to be a big sister.
"I don't think so," Turner said. "I'll point to my stomach and say, 'What's in there?' And she'll go, 'Baby.'" 
July 2022: They welcome their second child together
Jonas and Turner became a family of four. On July 14, 2022, their rep confirmed to TODAY.com that they recently welcomed their second child, a baby girl.
They have yet to reveal the name of their youngest daughter, and they do not post photos of their children on social media. 
"We have always advocated for our kids' rights to privacy so sharing this publicly is against anything I stand for,"  Turner explained on her Instagram story in May after accidentally sharing a video of one of their daughters. 
She wrote, "Our children deserve the right to grow up out of the public eye, to learn and grow in private." 
August 2023: Sophie Turner wishes Joe Jonas a happy birthday
On Aug. 15, Turner marked her husband's birthday by sharing a selfie to her Instagram story of her and Joe Jonas in matching striped pajamas.
"Happy birthday handsome," the 27-year-old actor captioned the snap.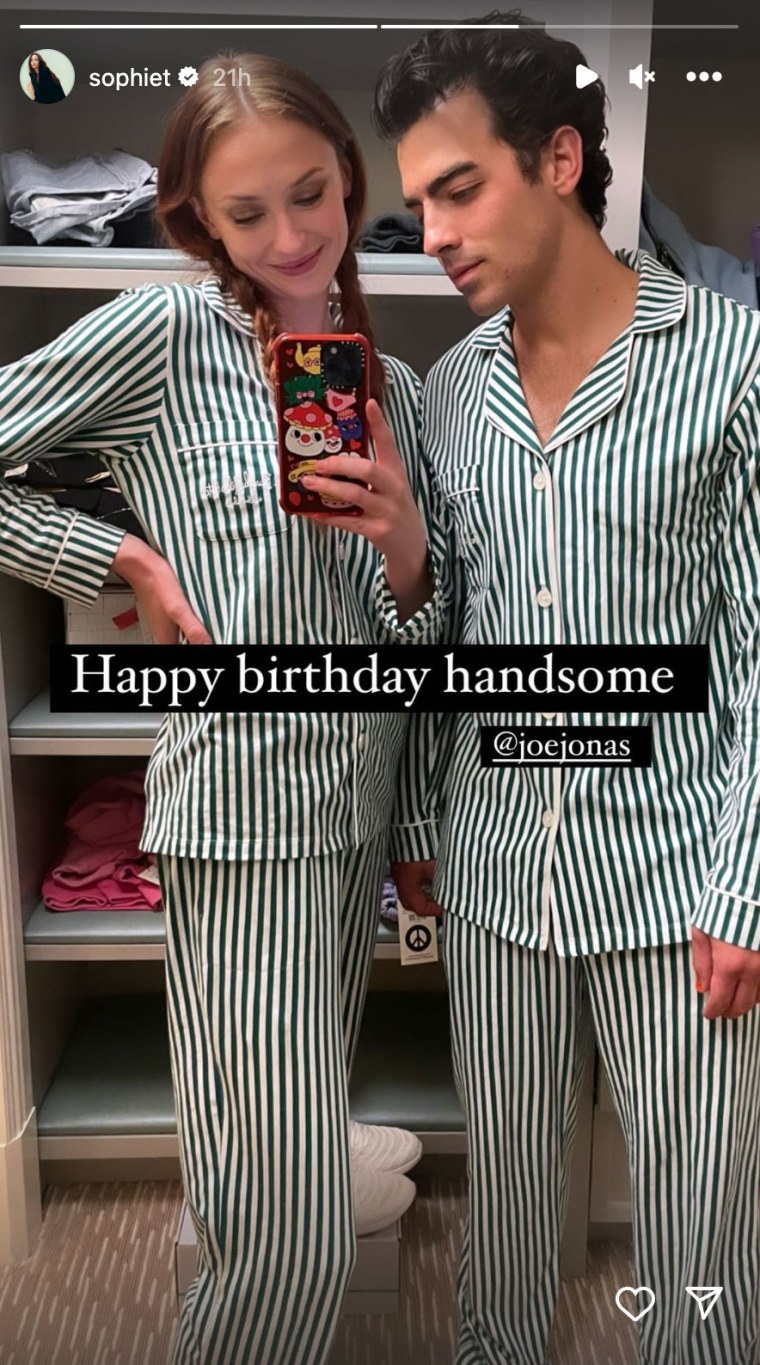 September 2023: Joe Jonas files for divorce
TODAY.com exclusively obtained a petition that confirmed that Jonas filed for divorce on Sept. 5 in Miami Dade County, Florida. Per the petition, Jonas states that "the marriage between the parties is irretrievably broken."
The pair had a prenuptial agreement, according to his filing.
It also stated that their two minor children have been living with the singer in Miami and other locations throughout the country, but that "it is in the best interests of the minor children that the parties have shared parental responsibility."
Turner on Sept. 21 filed a petition suing Jonas over the return of their children to the U.K. In her court documents, Turner alleges that Jonas "incorrectly" claimed the children had been living at their Miami home. The children have been regularly living in England since April and their oldest daughter attends nursery school there, Turner's petition says.
Their two daughters had been with Jonas and a nanny in the U.S. through August while he was on tour, the court filings say.
Before their split, which her petition says happened "very suddenly," the couple planned to send the children back to England with Turner starting Sept. 20, according to her filings. But after having an "argument" on Aug. 15, Jonas filed for divorce from Turner, the filings say.
Turner alleges in her court docs she learned Sept. 5 that Jonas had filed for divorce from her through the media.
Jonas disputed this in a statement from his rep Sept. 21, saying his filing followed "multiple conversations with Sophie."
"Sophie was aware that Joe was going to file for divorce. The Florida Court has already entered an order that restricts both parents from relocating the children," the statement said, in part.
Jonas' rep added that "if he complies" with Turner's request that the children return to England, he "will be in violation of the Florida Court order."