Joe and Nick Jonas consider themselves competitive, but when it comes to their careers they cheer each other on.
However, there was one gig that Joe Jonas really wanted that his younger brother got.
"I remember — and I don't even know if you know this, some more tea that hasn't been spilled — it was at the most picturesque setting, it was at the Fleetwood Mac show at MSG (Madison Square Garden), and as they're playing 'Landslide,' I found out that he was going to be a judge on 'The Voice,'" Joe Jonas, 33, said during the May 22 "Armchair Expert With Dax Shepard" podcast episode. "I was so jealous. I cried my eyes out to 'Landslide.'"
Nick Jonas, 30, first appeared on "The Voice" in 2015 as a battle advisor for Christina Aguilera during Season Eight. He then officially joined as a coach in 2020's Season 18 and appeared in Season 20. 
"It was bittersweet, of course, because I'm super happy for him," Joe Jonas continued. "But I'm also bummed because I want that f---ing gig."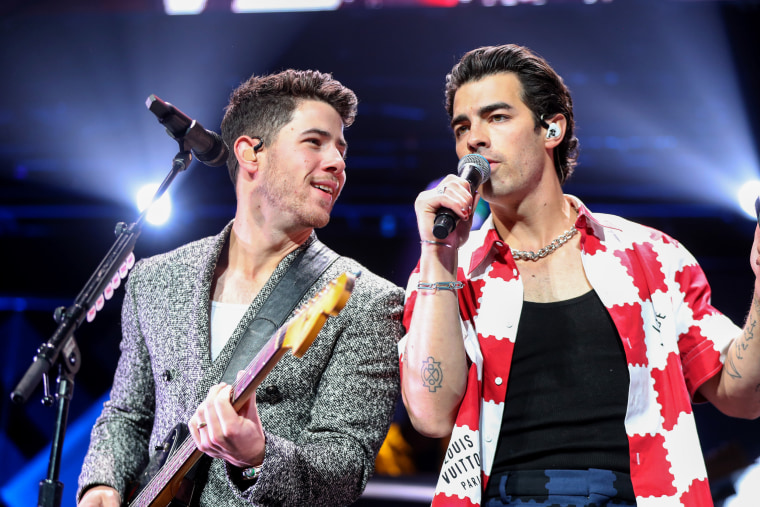 Kevin Jonas, meanwhile, added "a little context" on the matter, saying, "Joe did 'The Voice.' He was one of the judges in Australia."
"He was like, 'I did my time there! I should do it here,'" the 35-year-old said.
Despite not getting the job, the "Cake by the Ocean" singer said his brother "crushed it."
Joe and Kevin Jonas would go on to be advisors on Nick Jonas' team during Season 18. Joe Jonas was also an advisor for Adam Levine's team on the 13th season.
That wasn't the only time the two brothers went up against each other. Joe and Nick Jonas also revealed that they auditioned for the same role in the upcoming two-part "Wicked" movie adaptation.
"We always say, we want someone with the last name Jonas to win," the "Jumanji" actor said, before sharing their most recent experience.
"We both auditioned for the same role. Joe and I, it was for 'Wicked,' actually," Nick Jonas shared, without revealing which role it was. "Going into it and naturally, you know, we're brothers, we're competitive in sports and other things. But when it comes to our career, I think we genuinely both looked at each other, we said, like, 'Go in there and kill it because it's got to be one of us.'"
However, they joked that they "never got that call" to be a part of the movie.
The two brothers do have a slight connection with the upcoming movie adaptation of "Wicked." The film co-stars Cynthia Erivo and Ariana Grande, who would go on to replace Nick Jonas as a coach on Season 21 of "The Voice."