Jodie Turner-Smith and Joshua Jackson are ending their marriage.
The British actress and model filed for divorce on Oct. 2 from her husband after nearly four years of marriage, TODAY has confirmed.
The "Queen & Slim" star, 37, cited "irreconcilable differences" as the cause of the couple's split. She listed the date of separation as Sept. 13 and is seeking joint custody of their 3-year-old daughter, Juno.
Turner-Smith and Jackson reportedly tied the knot in late 2019, less than a year after meeting.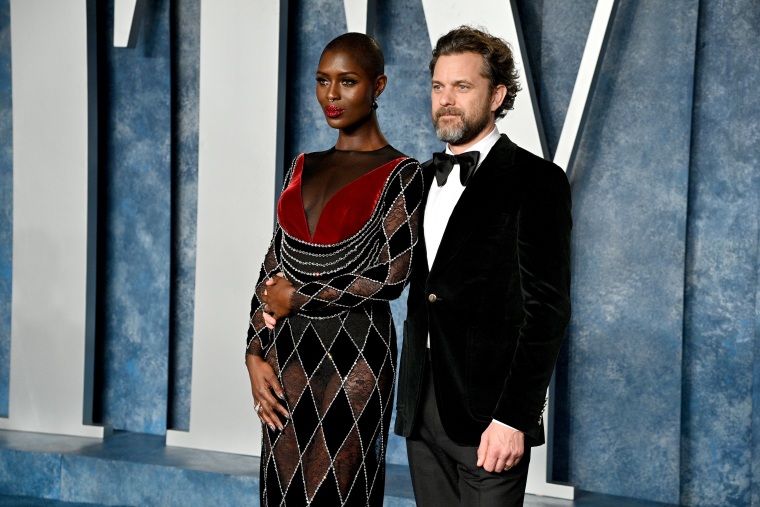 During their time together, the couple frequently gushed about one another during interviews and on social media.
Read on to learn what Turner-Smith and Jackson have shared about their relationship.
The couple met in 2018
Turner-Smith candidly shared that she and Jackson had a one-night stand after meeting for the first time at a party.
"When I first met my husband, we had a one-night stand," she  revealed as a guest on "Late Night with Seth Meyers in 2021, according to People.
"We're in a two, three-year one-night stand now," she joked.
"First of all, I saw him before he saw me and when I saw him, I was like, 'I want that," she recalled of their first meeting. "And then when he saw me, I just pretended like I didn't see him."
Turner Smith proposed to Jackson first
The couple actually got engaged twice, with Turner-Smith popping the question first, Jackson revealed on "The Tonight Show" in July 2021.
"She asked me, yeah, on New Year's Eve," recalled the Canadian-born actor. "We were in Nicaragua. It was very beautiful and incredibly romantic. We were walking down the beach and she asked me to marry her."
The "Little Fires Everywhere" star added that he was surprised by Turner-Smith's proposal, revealing that she was "quite adamant" that the two should marry and that "she was right."
Jackson then took off his wedding ring and held it up in front of him. "This was the best choice I ever made," he gushed before placing the ring back on his finger.
Jackson later proposed to Turner-Smith
In August 2021, Jackson revealed that he later proposed to Turner after she proposed to him.
"I'm still old school enough that I said, (when Turner proposed) 'This is a yes, but you have to give me the opportunity,'" he said during an interview with Refinery29.
"She has a biological father and a stepdad, who's the man who raised her. (I said), 'You have to give me the opportunity to ask both of those men for your hand in marriage.' And then, 'I would like the opportunity to re-propose those to you and do it the old fashioned way down on bended knee.' So that's actually how the story ended up."
They tied the knot in late 2019
The couple got married in late 2019, according to People.
The pair welcomed a daughter in 2020
The couple welcomed their only child, a daughter named Juno, in April 2020.
Jackson opened up to BuzzFeed News' "AM to DM" during the previous month about how his first-time dad jitters were intensified by the coronavirus outbreak.
"I've never been a parent before, so I'm not quite sure how much of this is just first baby anxiety and how much of this is pandemic anxiety," he said. "But for us, in this house, it's just the two of us leaning on each other, (being) open, about like, 'Yeah, man, it's stressful! This is a lot to deal with.'"
Jackson thanked his wife for making him a father
In a poignant Mother's Day tribute on Instagram in 2020, Jackson honored his wife for bringing their baby daughter into the world.
"On this most special of mothers days I want to thank you for the being the light that you are. For the the passion with which you threw yourself into nurturing and protecting our child when she was in your womb. For the dedication and will you showed bringing her into the world," he wrote.
He also thanked her for making him a dad.
"Thank you for the depth of grace you have found since our daughter has arrived. The commitment that you make look so effortless but I know is anything but. Thank you for making me a father," he wrote.
Turner-Smith surprised her husband by owning a 'Dawson's Creek' T-shirt
During his July 2021 appearance on the "The Tonight Show," Jackson said he was surprised when he learned his future bride owned a "Dawson's Creek" T-shirt featuring his image.
"This popped up eight or nine months into our relationship," Jackson said after Fallon showed a photo of the "Anne Boleyn" star wearing the shirt.
"I'm not exactly sure who the Amazon seller is who keeps the Pacey shirts on hand, but she is their core customer," the actor added.
Turner Smith previously told W magazine in 2020 that her husband's character on the show was her first crush.
Turner-Smith described Jackson as 'supportive' and 'loving'
Speaking to People in April 2021, Turner-Smith described her husband as "supportive" and "loving."
"I think it's really beautiful to be with someone who is so supportive and so loving," she said. "We're so similar in so many ways. We're like mirrors for each other. And I just really love that human being."
"We high five each other all the time about how great we chose," she added, laughing. "We're like, 'You did a great job choosing,' and then we're like, 'Yeah, you too.'"
Jackson said starting a family with Turner-Smith was 'the happiest whirlwind' of his life
Months after welcoming their baby daughter, Jackson paid tribute to his wife in a heartfelt Instagram post in honor of her 34th birthday on Sept. 7, 2020.
"Happy Birthday my beautiful wife," he wrote alongside a photo of Turner-Smith. "Thank you for choosing to share your light with me. Thank you for walking this path of life as my wife. Thank you for bringing our daughter into the world."
He went on to write that "this last year has been the happiest whirlwind of my life."
"I can't wait to see what all the years to come bring our way," he added.