Jeremy Renner's adorable nephew is wishing his uncle a speedy recovery after his scary snow plow accident in January.
On March 15, the 52-year-old action star uploaded a sweet handwritten message he recently received from his nephew on his Instagram story.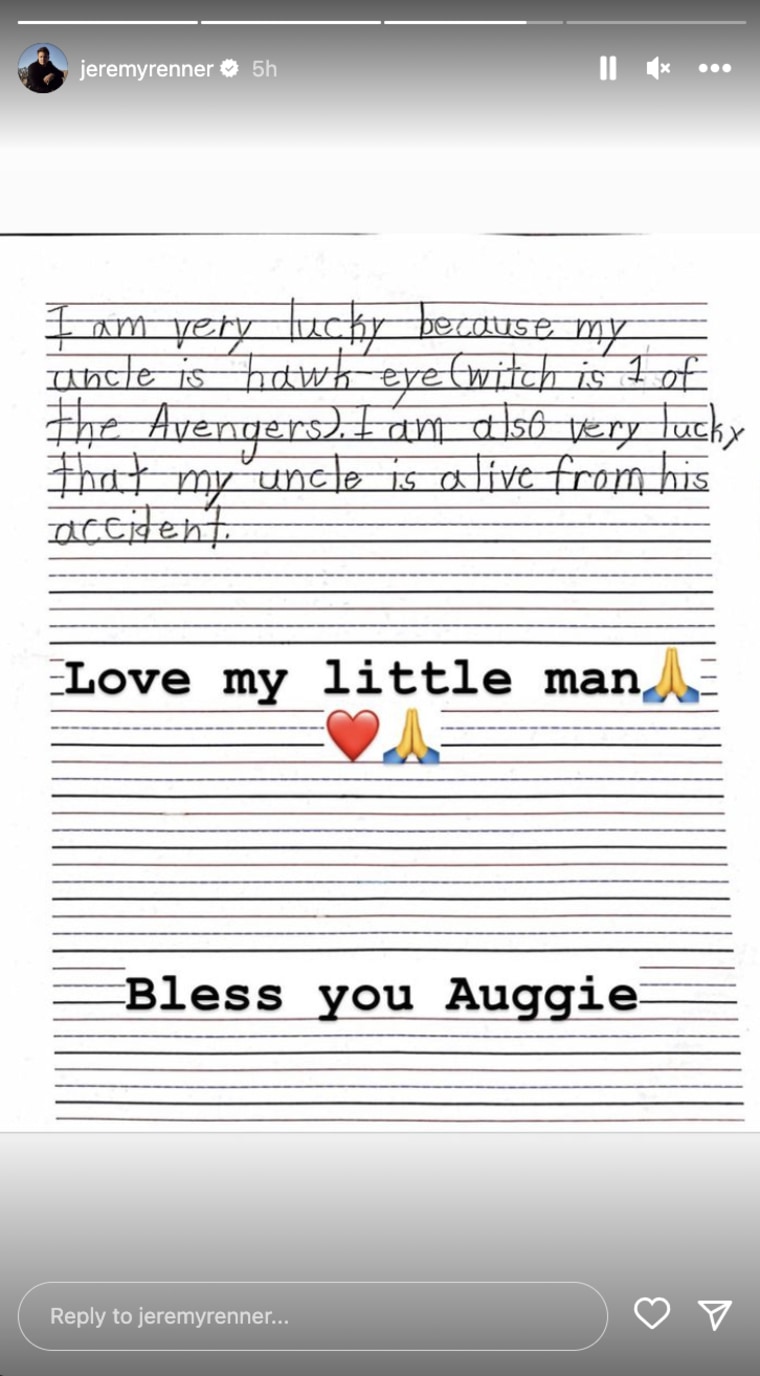 "I am very lucky because my uncle is Hawkeye (which is 1 of the Avengers)," his nephew wrote. "I am also very lucky that my uncle is alive from his accident."
Below the note, Renner responded and said, "Love my little man." He included two praying-hand emoji and a red heart before adding "Bless you Auggie."
On Jan. 1, the "Mayor of Kingstown" actor was in the process of towing another nephew's truck from a private road in Reno, Nevada when he was seriously injured, the Washoe County Sheriff's Office confirmed. 
The office said Renner's Pistenbully snowplow, which can weigh at least seven tons, began to slide down a hill and he attempted to stop the heavy machinery. 
"Renner was pulled under the Pistenbully, and the track rolled over him," a report from Washoe County Sheriff's Office obtained by NBC News said. "Renner suffered injuries to his torso, extremities, face and head." 
The Marvel star has been documenting his progress on social media since he was run over. 
A few weeks after the accident, he shared an Instagram photo of him lying in a bed as he received physical therapy. In the caption, he revealed that he had broken more than 30 bones. 
"I want to thank EVERYONE for their messages and thoughtfulness for my family and I …. Much love and appreciation to you all," he wrote. "These 30 plus broken bones will mend , grow stronger, just like the love and bond with family and friends deepens." 
On Feb. 27, he uploaded a video to his Instagram story of him riding a stationary bike while leaning on a support device. "Whatever it Takes," he captioned the clip. 
In a second Instagram story post, he appeared to be holding the best-selling Mark Nepo book "The Book of Awakening." 
"Mental Recovery Too," he said in the caption. 
He has also been busy promoting Season Two of "Mayor of Kingstown" and his upcoming Disney+ show called "Rennervations" on social media. 
The four-part series, which premieres on April 12, will follow Renner as he travels across the world to help rebuild vehicles for a new purpose. 
He posted a first look from the series on Instagram on March 7. " Im coming back very soon," he promised his fans in the caption.