Jenna Bush Hager and her twin sister, Barbara, looked ready for summer when they both wore yellow dresses to attend a childhood friend's wedding over the weekend.
The TODAY with Hoda & Jenna co-host, 41, whose dress featured the lovely image of a tulip, shared pictures of her and Barbara on Instagram on March 5. In one photo, the twins smile as they pose side by side for the camera. In the next image, they gaze affectionately at each other.
"Hey, soul sister! I love you like YELLOW," Jenna captioned the sweet shot, adding two sun emojis.
Fans hopped into the comments of Jenna's post to say how much they loved the sweet snap. "Yellow roses of Texas !!" wrote one, referring to the twins' Dallas, Texas, birthplace.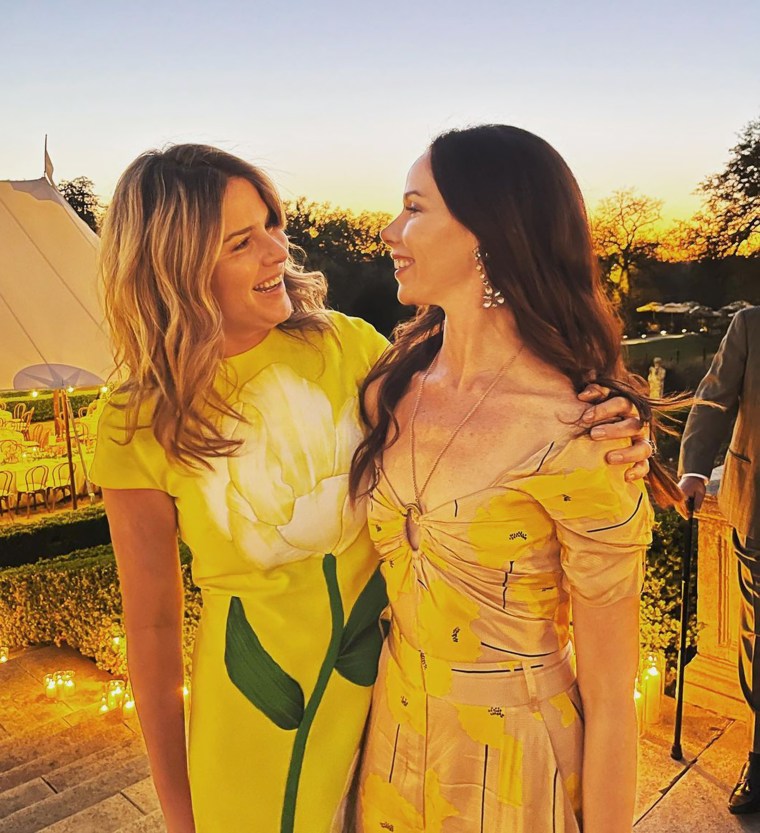 Jenna shared details about the wedding festivities with co-host Hoda Kotb on the March 6 episode of TODAY. "I met her in sixth grade," she said of the bride.
She also described the bride as her "wild friend." That sounded a little suspicious to Hoda, who's worked closely with fun-loving Jenna for years.
"Wait, no wait. Pause. She's the wild friend?" asked Hoda as others in Studio 1A loudly laughed.
"She sure is," responded Jenna. "She sure is, who we have loved, my sister and I, since we were tweens. And we got to go watch her get married this weekend to her match."
The bride has always been "so brilliant" and "so funny," said Jenna, that she sometimes worried that her friend would have trouble finding a partner on her level. But the worrying was for naught.
"She met him," Jenna gushed. "And we love him."
The couple's love story still makes Jenna happy. "I really was thinking that one of the greatest joys is watching people fall in love," she said.
Jenna also explained that she ended up going to the wedding with Barbara because her husband, Henry Hager, was at home with strep throat.
"It was fun. We danced. We also got to see our high school friends," said Jenna, who explained that the twin's 20th high school reunion in 2020 was canceled during the COVID-19 pandemic.
It apparently took no time at all for the twins and their old pals to reconnect as only longtime friends can do. "A friend said it perfectly: teenage middle-agers," joked Jenna.
"Because you get back together with people you've known forever and you immediately are teenagers!" she added.
Last month, Jenna opened up about being a twin in a personal essay she penned for TODAY.com. One of the perks of having a twin? Dressing alike, of course. Until the fateful day you decide to discover your own fashion sense.
"You'll have frilly dresses, holiday PJs, even American flag shirts with jorts — until one day you refuse," wrote Jenna. "To your parents' dismay, you will want your own style at some point, and the days of 'Parent Trap' looks will be over."