You never know when an opportunity will present itself.
During a matinee performance of "Prima Facie" on June 7, Tony-nominated actor Jodie Comer left during her one-woman show due to the poor air quality from the Canadian wildfires that has caused smoke to hover over parts of the United States. Comer literally set the stage for her understudy to take over.
Jenna Bush Hager went to see the show with her sister Barbara and a friend and recalls the moment Comer stopped her performance.
"And she gets out there, Jodie does, and about three minutes in she stops," she said June 8 on TODAY with Hoda & Jenna.
"And you couldn't tell, because I've never seen it, if it was part of the show, at first. She said, 'I am so sorry. I cannot breathe' and walked off. And the curtain dropped and everybody's kind of like, 'What's happening?'"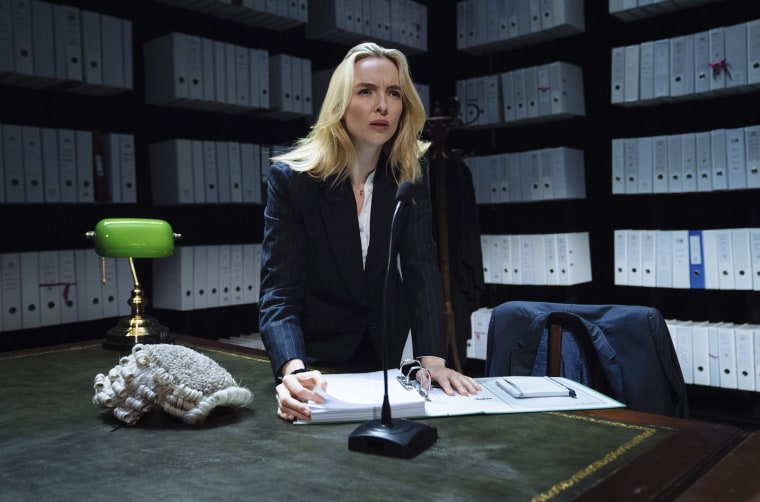 Jenna didn't know what would happen, since everyone at the show had spent money to see it. Some people left and the audience was told that the understudy, Dani Arlington, would come on to replace Comer, an Emmy winner for "Killing Eve" who is up for a Tony award for best performance by a leading actress in a play for her work in "Prima Facie."
"Today's matinee of 'Prima Facie' was halted approximately 10 minutes into the performance after Jodie Comer had difficulty breathing due to the poor air quality in New York City because of smoke from the Canadian wildfires," a representative for the show said in a statement to NBC News.
"The performance was set to start again from the top with understudy Dani Arlington going on for Ms. Comer in the role of Tessa."
Jenna said her sister decided they weren't going to leave and they'd support Arlington, even as some people may have been turned off because they wanted to see Comer.
"(Arlington) stood up there for a hundred minutes and she absolutely killed it," Jenna recalled. "We were crying, weeping. She got a standing ovation ... this huge standing ovation.
"And it is a very intense show, so that character's crying, but you could tell that, I think, that some of her tears were also like, 'I got up there, and even in the worst conditions, I gave it my all and I killed it,'" she added.
Hoda compared the situation to Jordan Chiles replacing Simone Biles at the 2021 Summer Olympics, which resulted in the team winning the silver medal.
Jenna said that Arlington's performance proves the importance of being prepared.
"She was remarkable," Jenna said, recalling when she underwent a similar experience.
"I was an understudy on this show for a long time, and then one day the star left, and nobody was left but the understudy," Jenna added, alluding to how she replaced Kathie Lee Gifford.
"When it's your turn, you've got to be ready," Hoda said while discussing the understudy's duty.
"First of all, you learn every line, all the time, of every show, and maybe you'll get a shot, but unlikely," she added. "That's what your job is: to learn it and to go through a whole entire run of the show, and to maybe get on one time, maybe. And then that's it.
"I wonder if this is going to be a career changer," Hoda said of Arlington's future. "Keep your eye on her."