The former live-in nanny to actors Olivia Wilde and Jason Sudeikis is alleging that the pair terminated her as retaliation after she sought help for depression and anxiety amid their tumultuous split.
Erika Genaro, who began working for the actors in 2018, says their breakup in 2020 created a tense environment that compromised her mental health, according to the lawsuit she filed in Los Angeles Superior Court on Tuesday. Genaro alleges that Sudeikis often spoke about Wilde to her following Wilde's "abrupt" departure from the family's home in November 2020, which led to her feeling pressure to "pick sides" between the couple.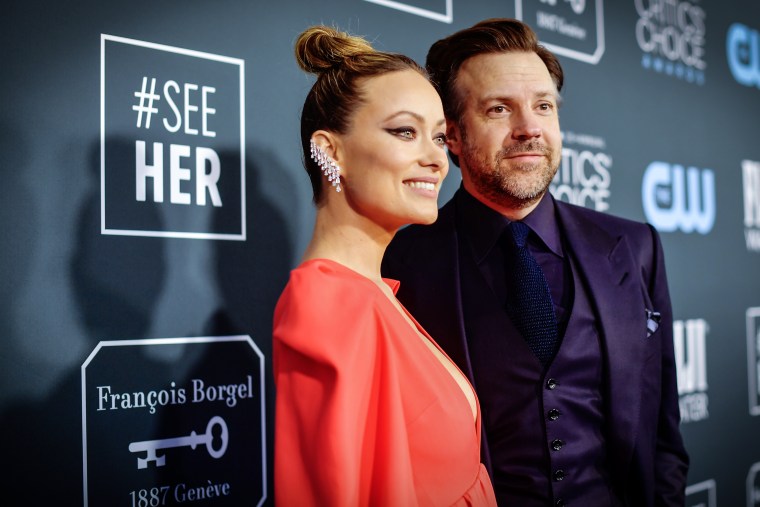 Her duties as nanny were also "increased exponentially" after Wilde left, Genaro alleges, which led her to speak to Wilde in a private conversation that was then relayed back to Sudeikis.
Around January 2021, Sudeikis and Wilde agreed to engage in group therapy with Genaro to address the "emotional toll" of their situation, the lawsuit states.
Genaro's therapist referred her to an osteopath, who recommended a three-day break from communications with both Sudeikis and Wilde in an attempt to help reduce her anxiety and stress, the lawsuit said.
But once informed of the need for a three-day medical leave, Genaro alleges that Sudeikis demanded to speak with her and fired her after she said she wouldn't speak with him, citing her physician's recommendation.
Genaro alleges that "her termination was because of her disability of anxiety/depression, and for seeking the reasonable accommodation of a three day leave of absence for same," the lawsuit said.
A representative for Sudeikis declined to comment on the lawsuit, and a spokesperson for Wilde did not immediately respond to NBC News on Tuesday.
The DailyMail, in October, reported on alleged details of the couple's breakup, using an unnamed nanny as their source.
Wilde and Sudeikis issued a joint statement in October regarding allegations, saying it was upsetting that their children's caretaker would make "false and scurrilous accusations" about them.
"Her now 18 month long campaign of harassing us, as well as loved ones, close friends and colleagues, has reached its unfortunate apex," they said. "We will continue to focus on raising and protecting our children with the sincere hope that she will now choose to leave our family alone."
Wilde and Sudeikis were together for nine years before their breakup was reported in 2020. They share two children together but were not married.
Their custody battle has since made headlines, as Wilde was served custody papers last year while speaking about her film "Don't Worry Darling" at CinemaCon, a ticketed industry convention.
Sudeikis denied having any knowledge of when or where the legal documents would be served to Wilde. A representative said in a statement on his behalf that "he would never condone her being served in such an inappropriate manner."
Wilde addressed the matter in an interview with Variety in August promoting the film's release, saying it was "really upsetting."
"The only people who suffered were my kids, because they'll have to see that, and they shouldn't ever have to know that happened," Wilde said. "For me, it was appalling, but the victims were an 8- and 5-year-old, and that's really sad.