Jana Kramer has announced her engagement to former pro soccer star Allan Russell after six and a half months of dating.
The country music singer, 39, shared the news on the most recent episode of her "Whine Down With Jana Kramer" podcast, during which she opened up about how the Scottish athlete-turned-coach popped the question.
Kramer explained that she and Russell were having a "summer hang" with her kids — daughter Jolie, 7, and son Jace, 4 (with ex-husband Mike Caussin) — when they decided to walk to the site of the new home she's having built.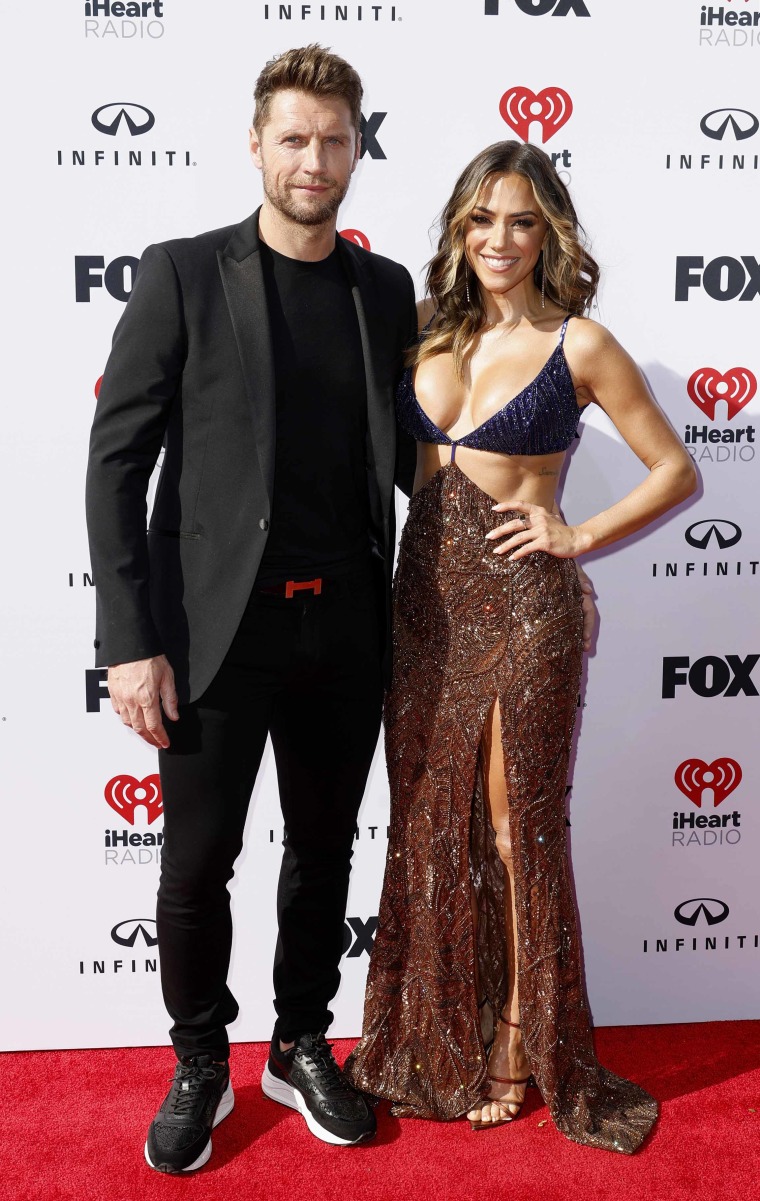 "We had some people over during the day, like, a little pool party thing, summer hang, and he took me and the kids, he's like, 'Hey, it's a beautiful night. Let's go for a walk and let's go walk up to the new house," said Kramer.
The former "One Tree Hill" star continued, "We were all sitting on the front porch steps and just looking out at the view because the view is just, I mean, stunning. And he, like, said my name. And ... then he got down on one knee.
"And then Jolie just started jumping up and down. It was the cutest thing ever," she went on. "It's like she knew what was happening ... And then she said, 'You're getting married!'"
As for details of exactly what Russell said to her when he proposed, Kramer couldn't recall. "I blacked out," she joked. Though she did remember Russell telling her, "You're the love of my life" before the pair started crying.
"It felt very sentimental given the front porch of, like, the new house and new beginnings," she said, adding, "It just felt right."
Kramer and Russell began dating in November 2022. They went Instagram official in January 2023 when Kramer posted a pic showing Russell holding her in her arms.
This will be Kramer's fourth marriage. She was previously married to former NFL star Caussin from from 2015 to 2021, to actor Johnathon Schaech from 2010 to 2011, and to Michael Gambino for several months in 2004.
In her podcast, Kramer said that she's planning on a long engagement and in "no rush" to have the ceremony soon, adding that she knows "people are going to come after me because of my past (divorces.)"
"I get it, I made dumb decisions when I was 19, 20, and whatever, continue on," she said with a laugh. "But I didn't want my last marriage to go the way that it did, you know, I would've stayed in that forever."
Kramer has previously said Caussin cheated on her throughout their marriage with more than 13 women.
She added that she knows the comment section will have thoughts about her latest engagement but she plans to try to ignore the noise.
"You can say whatever you want. At this point, I just am at a place, I now know and I now feel ... I am allowed to be happy and I deserve the happiness.