Half of the "Lords of Flatbush" have reunited.  
On July 25, Henry Winkler posted a selfie on X, formerly known as Twitter, of his recent reunion with former "The Lords of Flatbush" co-star Sylvester Stallone. 
In the snap, Winkler smiled widely as Stallone embraced his friend. 
"This was a great lunch !!!!" Winkler cheered in the post. 
The duo caught up almost 50 years after they appeared together in their Brooklyn-based, coming-of-age drama. In the movie, the prolific actors portrayed two rowdy teenagers who were part of a four-member crew known as "The Lords of Flatbush."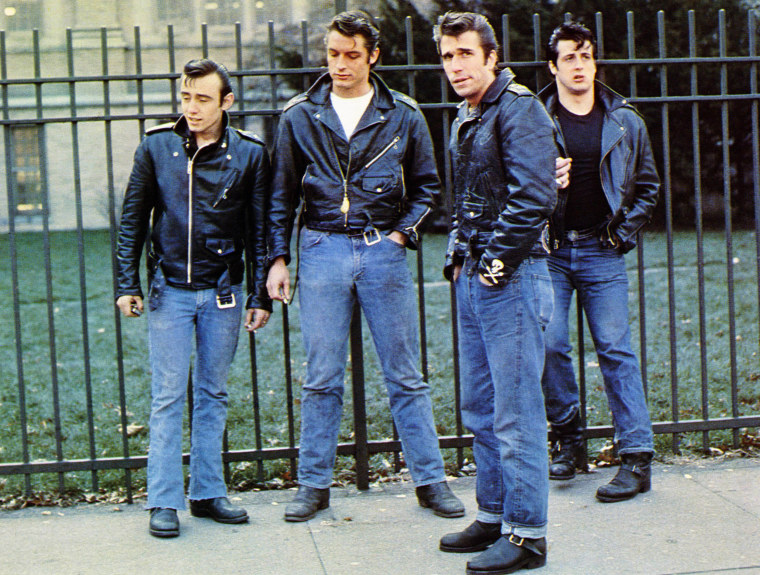 Fans were excited to see the longtime friends, who have supported each other throughout the years, meet up.
"The Lords of Flatbush, together again!" one person commented. 
Another wrote, "The Lord's of Flatbush never looked better."
Plenty of Twitter users referenced the actors' most well-known characters, like "The Fonz," Rocky Balboa and Rambo.
One joked, "I'll bet 'Ay oh' was said a lot. Common language between Rocky and the Fonz."
Another sweetly said, "I'm rarely speechless but if I saw you two guys out in public I don't think I could form a sentence. 'The Fonz' and 'Rocky' man just great." 
A third praised the legendary actors, writing, "Two of my role models in one photo. Wow!!! Thanks for the memories gents!!!!! Be safe!!!!" 
Stallone also shared photos from their hangout on Instagram, revealing that his younger brother Frank Stallone and actor Jon Lovitz joined them for lunch. 
Beside a carousel of pictures, he wrote, "Spending a great afternoon with my very, very long time friend Henry Winkler. Great guy, great actor, and hysterical Jon (Lovitz) and my very talented brother, the Frankster! @frank.stallone." 
"The Lords of Flatbush," a cult classic, highlighted the '50s greaser culture that Winkler also channeled for his iconic "Happy Days" character, "The Fonz."
Winkler revealed a few years ago that Stallone helped inspire his beloved sitcom role. 
On an episode of Entertainment Weekly and People's PeopleTV "Couch Surfing" in 2019, he explained how he created "The Fonz's" smooth-talking persona. 
He recalled sometimes thinking "What would Sly do here?" when he filmed scenes during the show's 11 seasons. 
Winkler added, "When I did the audition I just changed my voice a little bit, you know?" before launching into a spot-on Stallone impersonation.