Hailey Bieber is thanking Selena Gomez for addressing the frightening way some fans have treated the model online.
"I want to thank Selena for speaking out, as her and I have been discussing the last few weeks about how to move past this ongoing narrative between her and I," Hailey Bieber wrote in a lengthy message on her Instagram Story March 24.
"The last few weeks have been very hard for everyone involved and millions of people are seeing so much hate around this, which is extremely harmful," she continued. "While social media is an incredible way to connect and build community, moments like this only create extreme division instead of bringing people together."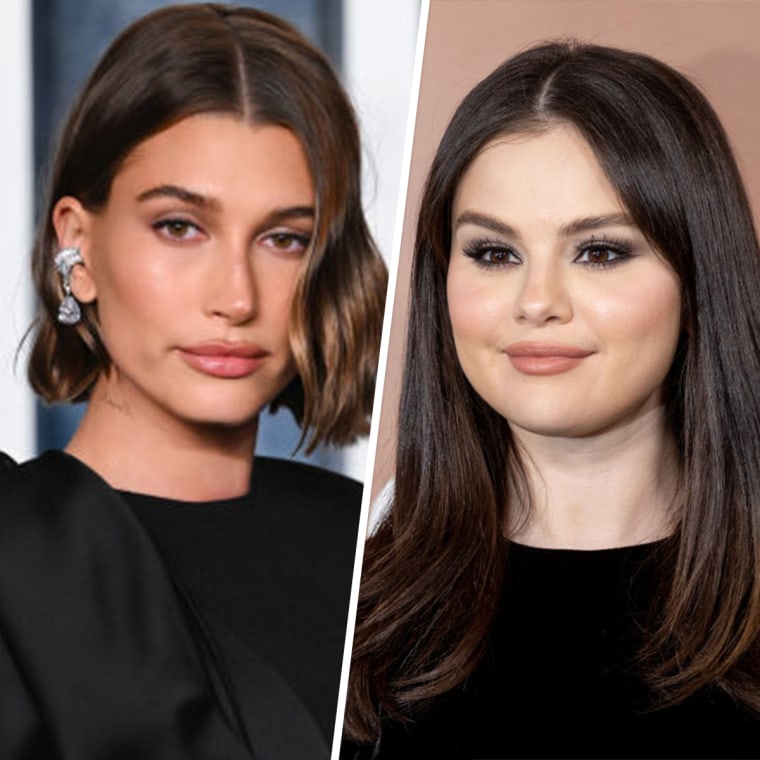 The model, who is married to Gomez's ex, pop star Justin Bieber, went on to say that sometimes comments are simply "taken out of context" or interpreted the wrong way.
"We all need to be more thoughtful about what we post and what we say including myself," she concluded. "In the end, I believe love will always be bigger than hate and negativity and there is always an opportunity to meet each other with more empathy and compassion."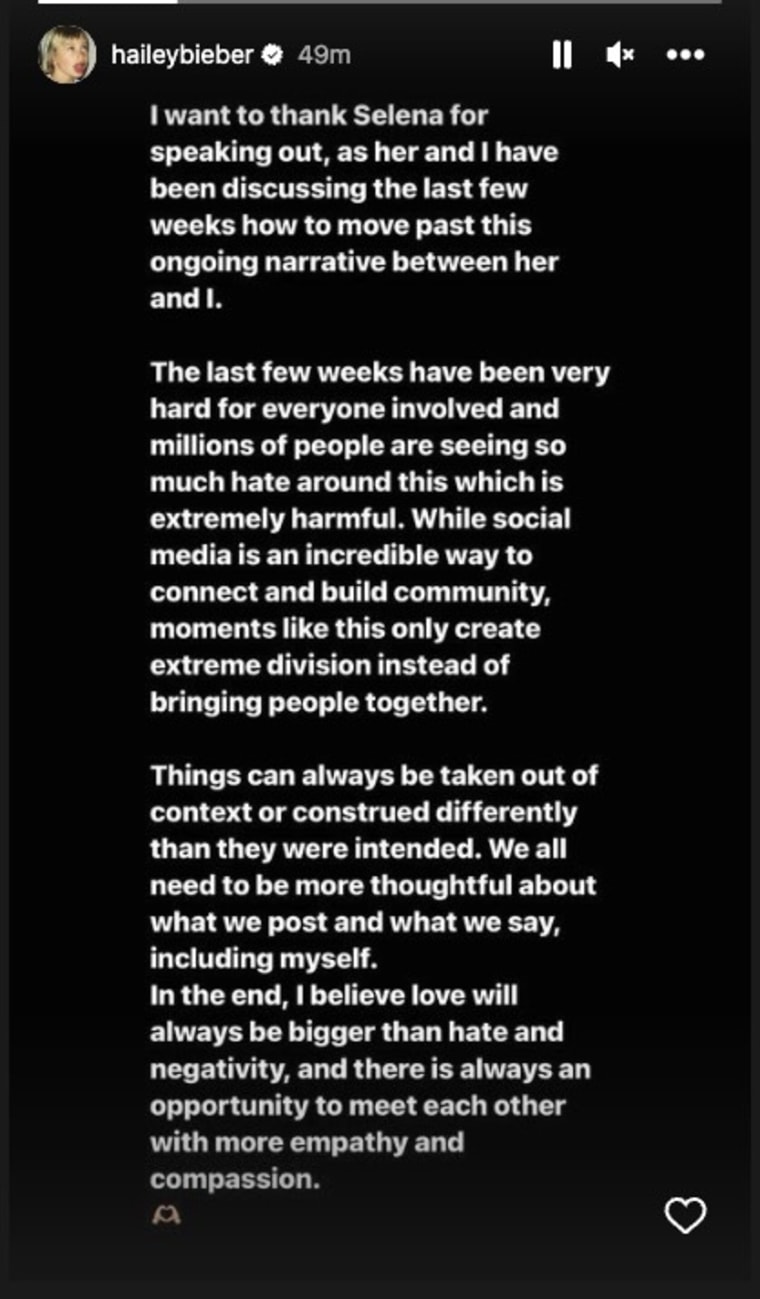 Hailey Bieber's message comes just hours after Gomez posted her own message on Instagram calling out fans who harass Bieber online.
"Hailey Bieber reached out to me and let me know that she has been receiving death threats and such hateful negativity," Gomez wrote. "This isn't what I stand for. No one should have to experience hate or bullying."
"I've always advocated for kindness," she added, "and really want this all to stop."
The "Only Murders in the Building" star dated Justin Bieber on and off from 2010 until 2018.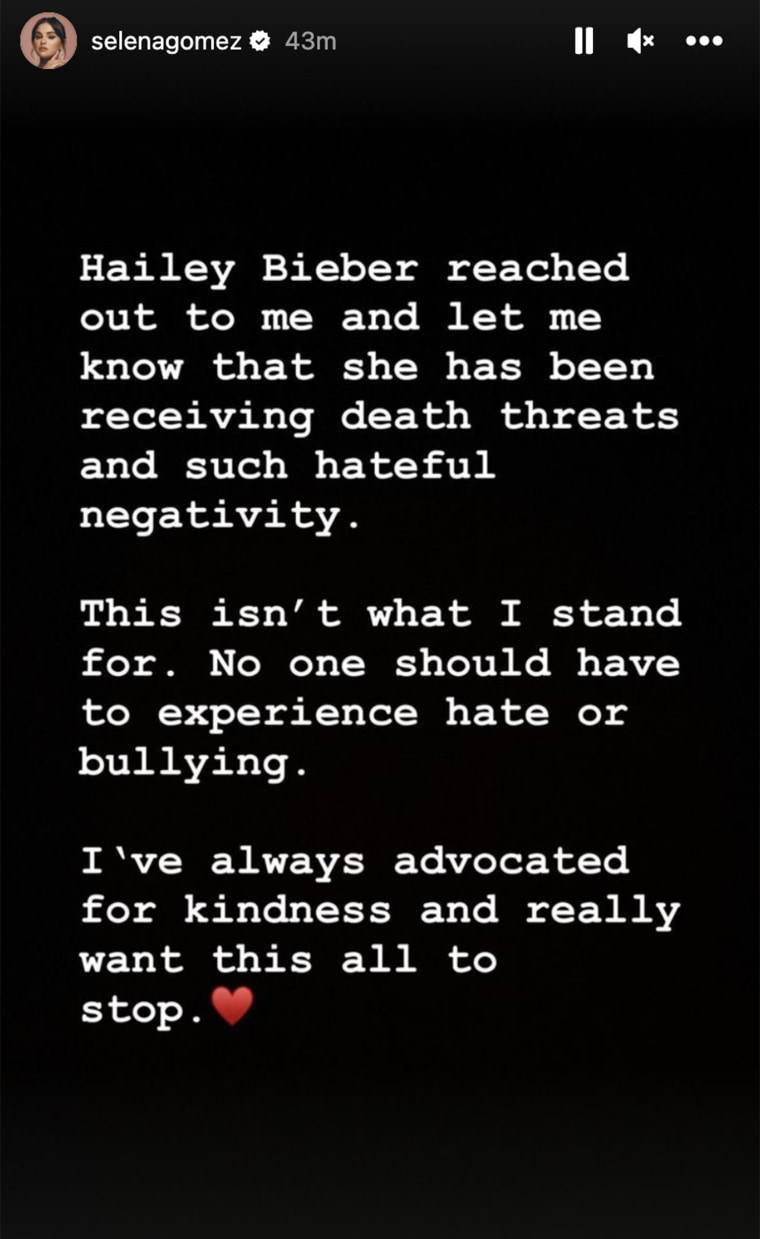 Hailey Bieber, whose dad is actor Stephen Baldwin, first sparked dating rumors with Justin Bieber in 2014 while he was on a break with Gomez. The pair eventually embarked on a romance of their own, confirming their engagement in June 2018 and tying the knot months later.
For years now, overzealous fans have accused Hailey Bieber of breaking up Justin Bieber and Gomez.
The online negativity peaked again in recent months after Gomez's fans suggested that Hailey Bieber was throwing shade at Gomez in a since-deleted TikTok video.
On March 4, Gomez urged fans to be be more respectful in the comments section of one of her TikTok videos.
"Please, please be kinder and consider others mental health," she wrote. "My heart has been heavy and I only want good for everyone. All my love."
Hailey Bieber and Gomez briefly put rumors of a feud to rest in October 2022 when the pair posed together at the Academy Museum of Motion Pictures 2nd Annual Gala in Los Angeles.