Even if you're not an active follower of Gwyneth Paltrow's, chances are you've heard about her current trial. 
The Goop founder, 50, is at the center of a civil lawsuit involving a collision that allegedly took place on the slopes of a Park City, Utah resort in February 2016.
Terry Sanderson, a 76-year-old retired optometrist, accused Paltrow of crashing into him on the slopes. Paltrow, meanwhile, has denied these accusations, claiming that it was actually Sanderson who crashed into her.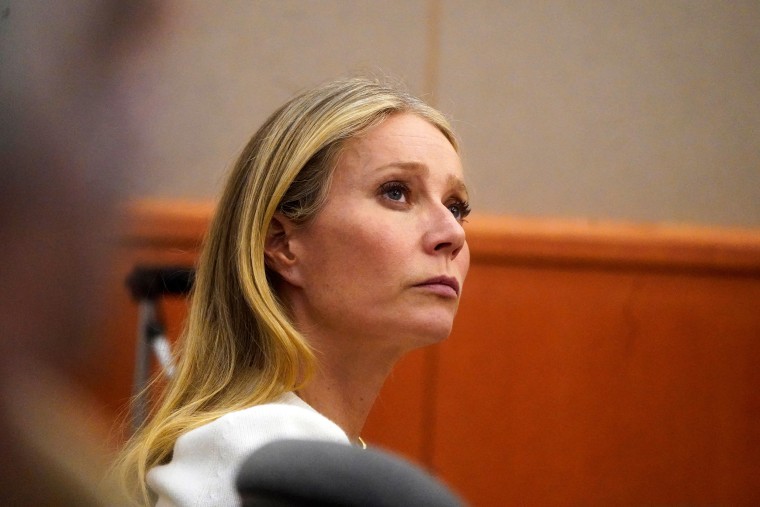 Sanderson is suing Paltrow for $300,000 in damages, claiming he suffered longterm injuries after the collision at Deer Valley Resort in Park City, Utah. Paltrow is countersuing Sanderson for $1, plus legal fees, and has previously called Sanderson's lawsuit an "attempt to exploit her celebrity and wealth."
At a news conference in 2019, per the Salt Lake City Tribune, Sanderson's attorneys, Lawrence D. Buhler and Robert B. Sykes, said all skiers — "even celebrities" — must abide by the Summit County ordinance prohibiting "reckless skiing."
Not long after it began on March 21, the trial — which is being streamed on YouTube channels including Court TV and Law & Crime— kicked off a meme frenzy on social media. 
People weighed in on the latest out of the Park City courtroom as it if were a true crime documentary — or else a Bravo reality show.
"Cast Gwyneth Paltrow on a housewives franchise immediately," one person tweeted, in response to a viral moment in which Paltrow stated that the collision had caused her to lose "half a day of skiing."
"ryan murphy himself couldn't give gwyneth paltrow a show this good," another person wrote.
"i need three seasons of a sitcom called skigate based on gwyneth paltrow's trial, i'm not kidding," another person tweeted.
Much of the chatter zeroed in on a few buzzy courtroom moments, like when a lawyer for the plaintiff grilled Paltrow about the nature of her friendship with Taylor Swift (Her answer? They are apparently "friendly" but not "good friends"), or about her height.
"Gwyneth Paltrow is currently being asked what Christmas gifts she has given Taylor Swift in the past during this trial (???), the best television content I have watched in years," tweeted Kevin Fallon, editor of Daily Beast's Obsessed.
There have been plenty of celebrity trials over the years, but why has Gwyneth Paltrow's skiing trial struck such a chord? Below, we speak to a pop culture editor and sociology professor to try and find the answer.
A 'White Lotus' trial: Why the Gwyneth Paltrow trial is fascinating, according to a pop culture editor
Sam Stryker, an editor, writer and self-described "long-time Gwyneth fan" who has written about celebrities and internet culture for Buzzfeed and other outlets, has been fully invested in the Gwyneth Paltrow trial since it began last week.
Below, Stryker explains why the trial has become so memeable.
What is so fascinating about this trial?
It really feels like an almost real-life version of the "Legally Blonde" trial from the first movie — a campy spectacle. I think Paltrow is so in touch with who she is and unapologetic about the fact that she's sort of, in a good way, aloof. She's the child of two Hollywood stars (actor Blythe Danner and director Bruce Paltrow). She doesn't make any bones about who she is, and I think she's really sort of been in rare form for this trial. She almost seems a little bit bothered by the fact that she even has to show up, in a way that's funny.
The legal system in general can be dry, so to have Gwyneth having these sort of entertaining one-liners ("half day of skiing"), and then this sort of quippy lawyer for the plaintiff questioning her — it's just this really delicious combo that people are eating up. 
The tone of this trial does seem different compared to other recent celebrity trials, like the Johnny Depp and Amber Heard case.
It's like a "White Lotus" trial, basically. It's just "rich people problems," and I think that's another aspect of why it's so entertaining to watch. 
Is part of the fascination with this trial that people are witnessing Paltrow unfiltered and in real time, seeing a side of her we don't always get to see?
She has an "Architectural Digest" tour of her very sunlit home in Santa Barbara; a wellness empire; celebrity friends. Then, you put her on the stand, and she's talking about how she yelled at this guy and said the f-bomb on the ski slopes, probably in front of her kids.
It is kind of a funny juxtaposition. I think it takes the air out of her a little bit too, in a good way, where you're like, "Oh, she's a real person on the inside."
There's been an explosion of true crime documentaries on Netflix and other platforms. Has our obsession with true crime kind of primed us to follow every moment of this trial in the same way?
Everyone has seen a true crime doc at this point. I think we do know sort of how the system works, and so this almost is like a real-world parody of that system. I may not believe in anything Goop says, but I do believe in the American criminal justice system, so this has been a great trial to watch.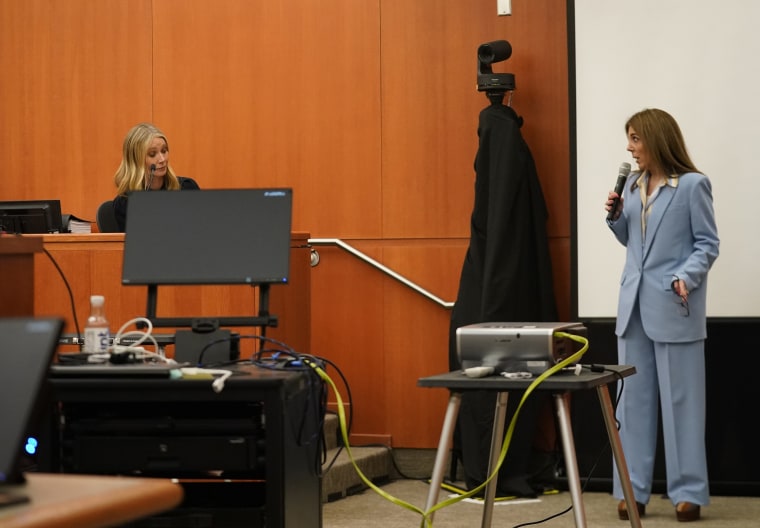 'Very aware of her image': Why the Gwyneth Paltrow trial is fascinating, according to a sociology professor
Dr. Frankie Mastrangelo is a sociology professor at Virginia Commonwealth University specializing in media analysis. Below, Mastangelo speaks to Paltrow's evolving place in celebrity culture, and why it seems to be reaching a head at the trial.
What is so fascinating about this trial?
Gwyneth Paltrow embodies a few angles of pop culture interests, especially in the past few years.
She embodies this concern about health disinformation and has peddled products claiming to boost wellness at a high price point. 
She's an emblem of girl boss culture, which started in the 2014, 2015 era as a hashtag, capturing women equating financial prosperity with feminism. Then it grew into being fodder, particularly with Gen-Z, deriding tone deaf white women with the limited understanding of their privilege. 
And she's been roped into the discourse around "nepo babies," as her parents are an actor and director. 
Plus, this trial embodies champagne problems. We simultaneously love to scoff at it and follow it as a break from a stressful day. 
How has it compared to recent celebrity trials?
Gen-Z and millennials have a complicated relationship with celebrity culture. While there's increased consciousness about wealth disparity and celebrity's roles in glorifying excessive wealth in late-stage capitalism, they're also looking for escapism amidst precarious and uncertain times.
It's a love-hate relationship.
And Gwyneth Paltrow embodies that love-hate relationship with celebrity culture in such a profound way. She's so charming on the one hand — during the trial, she's stylish, she's acting with the attorney like somebody you may aspire to be friends with. Then at the same time, there's this sense of scoffing out like … why is she on trial? It provokes so many eye-rolls.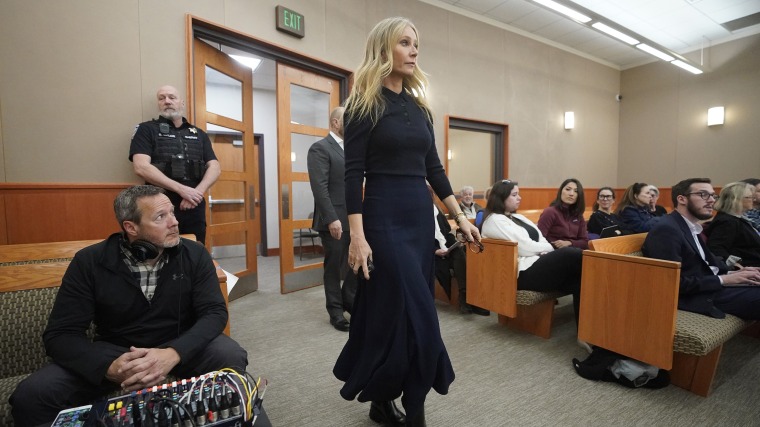 How do you see this impacting Gwyneth Paltrow's image? 
This is going to enhance her image. She owns the "bad girl of wellness" image. She embraces alternative paths that dovetail into where disinformation flows can happen.
She has stepped into a role of being OK with not being liked by particular people. She seems to promote idea that she is living her truth, even if the truth that she's sharing is contributing to disinformation. She's not interested. It all centers around "owning her own self-optimization," as she might say. 
This is her final evolution.
This is her final form. She's very aware of her image, but she's also OK with not presenting herself as being empathetic and sensitive to a wide array of experiences.