Danielle Jonas says she sometimes feels out of tune when it comes to the more famous people in her extended family.
During a June 27 interview with the "LadyGang" podcast, the television personality spoke about the complex feelings she sometimes experiences when she's with her famous sisters-in-law, Priyanka Chopra Jonas and Sophie Turner.
Jonas married Jonas Brothers band member Kevin Jonas in 2009.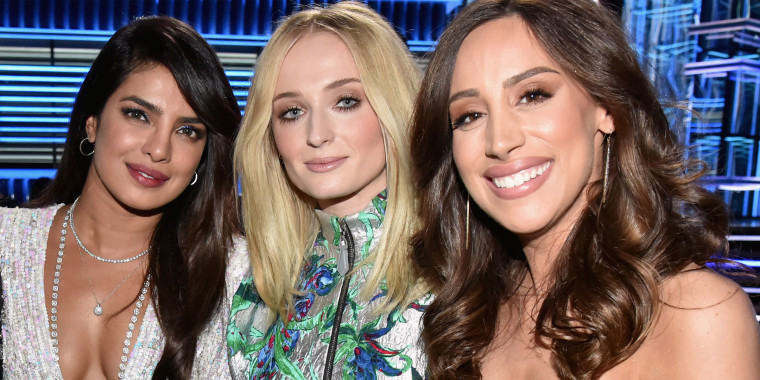 Since then, she has seen her brothers-in-law, Joe Jonas and Nick Jonas, marry the two actors whose careers often put them in the limelight.
Chopra Jonas is currently starring in the first season of the Amazon Prime series "Citadel" and married Kevin Jonas' younger brother, Nick, in 2018. Turner starred in "Game of Thrones" for eight seasons and is set to star in the upcoming British series "Joan," according to Deadline. She wed Joe Jonas in 2019.
"Finding my place in it ... the two boys married somebody who, they're actresses, they're out there and everyone knows them. And I feel like, I'm Danielle, you know?" she explained during the conversation.
In addition to having starred in E!'s reality television show "Married to Jonas," the mother of two owns her own jewelry company.
Danielle and Kevin Jonas share daughters Alena, 9, and Valentina, 6. 
Still, she said that some days she can't help but aspire to have more accomplishments under her belt. According to Danielle Jonas, this sentiment can be true when it comes to her husband, as well.
"It's also that, like, I'm out there celebrity-wise because I've married you," she told her husband, who also appeared on the podcast. "And that's where it's like, I wanna have something else to my name too so that it feels, I don't know, 'more than,' or like, the other girls. 'Cause then when I'm with the other girls, I feel just less than sometimes. It's weird."
Kevin Jonas, on his end, also shared that he can relate. He said, you will always be "compared to the people around you the most."
"I feel that way too," he said. "Nick and Joe, right? Solo careers, movies, all this stuff. It's like, everyone has to find their place. No matter the situation, right?" He added that for their relationship, it's about "communicating, talking through it."