Damar Hamlin is celebrating the "precious gift" of life on his birthday.
The Buffalo Bills safety turned 25 on Friday, March 24, and took the time to reflect on the "blessings to see another birthday" after suffering a near-fatal injury earlier this year.
"Life is a precious gift. it's a blessing to see another birthday. I can't begin to explain the feelings," the athlete wrote on Instagram, alongside a slideshow of personal photos. "(And) even if I could, you probably still wouldn't know the half.. But ima enjoy this one a lil extra today!"
He continued, "I know my purpose of why I'm here & I'm aligned focused & only answering to my higher calling. Thank-You To All For Every B-Day Wish!"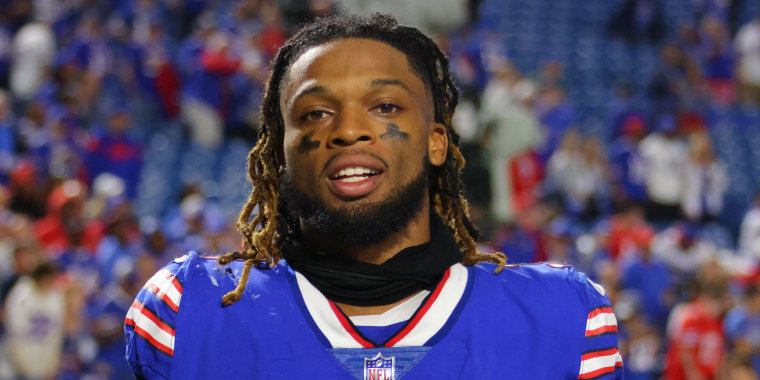 The NFL player went into cardiac arrest during the Buffalo Bills' matchup against the Cincinnati Bengals on Jan. 2. He was in critical condition after collapsing and receiving CPR on the field.
He would go on to receive treatment at the University of Cincinnati Health center, before returning to Buffalo on Jan. 9 to continue his recovery.
"Headed home to Buffalo today with a lot of love on my heart," Hamlin said in a tweet at the time. "Watching the world come together around me on Sunday was truly an amazing feeling."
Hamlin received many well wishes amid his recovery, as well as adorable get-well cards from grade-school students in Cincinnati. Fans also donated more than $4 million to his Chasing M's Foundation.
On Jan. 29, Hamlin released a video message where he expressed his sincere gratitude for all the love and support.
"What happened to me on 'Monday Night Football' I feel is a direct example of God using me as a vessel to share my passion and my love directly from my heart with the entire world," he said. "And I'm able to give it back to kids and communities all across the world who need it the most, and that's always been my dream. That's always been what I stood for and what I will continue to stand for."
He also thanked the medical professionals who helped in his recovery, his team, his family and his little brother, who he said he strives "to be my best self every day."
During the 2023 Super Bowl, Hamlin appeared in a video with the medical team that cared for him. The athlete was also in attendance at the game between Kansas City Chiefs and Philadelphia Eagles on Feb. 12.