Chip Gaines is sending the sweetest tribute to wife Joanna Gaines in honor of the couple's 20th wedding anniversary.
"20 years with the most incredible, most powerful, most beautiful woman I've ever known," Chip Gaines, 48, wrote May 31 on Instagram.
"You've given me the most beautiful life and I'm so grateful to God for you @joannagaines. 20 years ago today, you made me the happiest man on earth. Thank you for everything Jo," he added.
Chip Gaines shared his heartfelt tribute alongside a photo of his wife playfully munching on flower stems.
The Magnolia Network stars tied the knot in 2003 and share five kids: Drake, 18, Ella, 16, Duke, 15, Emmie, 13, and Crew, 4.
In March, the couple opened up to People about their marriage, revealing that they faced their share of challenges early on.
"In the first months of our marriage, we were always flipping a house," Chip Gaines told the publication. "We were working on this little shop. We had babies early in the process. We pretty quickly had to say, 'We're either going to go at each other and blow this thing up, you and I trying to fight each other about every nook and cranny, or we can figure out how to come together as a team.'
"We've had our challenges. I don't want to belittle that piece of the equation," he added. "But Jo and I — I don't know if it's our hearts — we're aligned in this sweet way to where we've just always been there for each other."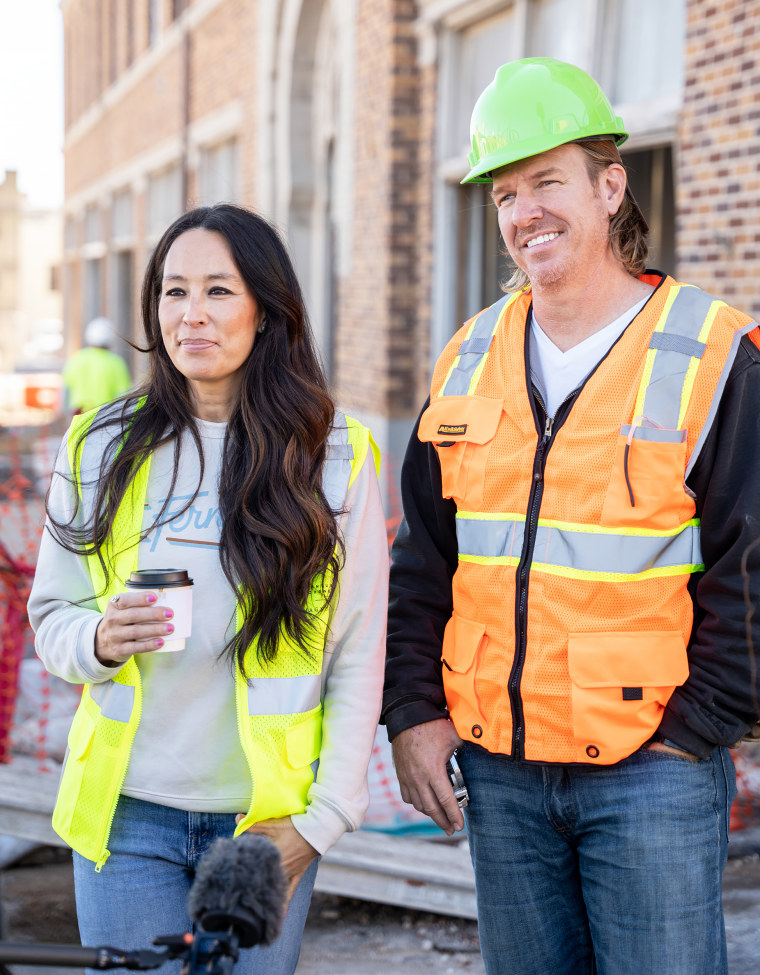 One thing that benefitted the couple in those early days was that each of them had a strong sense of who they were before they got married.
"The biggest thing is we met at a time when both of us felt pretty grounded in who we were as people by ourselves," said Joanna Gaines, 45.
"I feel like Chip, he was a visionary. He had these businesses," she added. "And I was at a place of fully knowing who I was. It wasn't the 'you complete me' thing."
However, Joanna Gaines has admitted in the past that she was first attracted to her future husband's roommate, a man they both jokingly call "Hot John."
During a Valentine's Day appearance on "The Tonight Show Starring Jimmy Fallon," Joanna Gaines recalled meeting Hot John while working at her dad's tire shop. 
The "Fixer Upper: The Hotel" star said her co-workers at the shop had been trying to set her up with customers, but she was never interested. That changed when Hot John walked through the door.
"I got the courage to get up out of my office. I walk towards the waiting room, and John and I make eye contact. But I'm not really gifted at making conversation," she told host Jimmy Fallon. "So I looked at him and I'm like, 'Now what?' And so instead of going to the waiting room, I walk straight outside, like I was going to take a smoke break or something."
"As I'm walking outside, Chip is coming in to get Hot John," she continues. "And he intersects."
Chip Gaines remembered that he immediately chatted up his future wife.
"I always have a one-liner planned for any occasion where you might meet one of the most beautiful women on the planet," he told Fallon. "You must have that back-pocket line ready to rock. So she walked right past Hot John, thankfully, right into (my) loving arms."
The hilarious conversation was made even funnier when Chip Gaines described Hot John as "tall, dark and handsome," and then described himself as "sort of shorter, redder and frumpier."
Joanna Gaines wasted no time interjecting, "That's my type."