Congratulations are in order for Alex Cooper and Matt Kaplan.
The "Call Her Daddy" podcast host confirmed that she and her Hollywood producer boyfriend are engaged.
Cooper confirmed their engagement in an interview with W Magazine published on April 23. The star podcaster revealed that Kaplan proposed on March 3 at their shared home in Los Angeles.
The proposal came as a surprise to Cooper, who thought they were doing a photo shoot for the magazine.
"I remember the shoot feeling like it had no direction, and I could tell everyone was stalling. Little did I know that this was a fake photoshoot that my publicist and Matt set up to keep me out of the house, out of my sweatpants, and in hair, makeup, and nails so I'd feel happy with the photos," she shared. "When I came home that night, my entire house was covered in candles, lit all over, music playing, and a scavenger hunt leading to Matt proposing." 
Cooper and the "To All the Boys" producer met in 2020 on a Zoom business call and quickly after started dating, according to the magazine.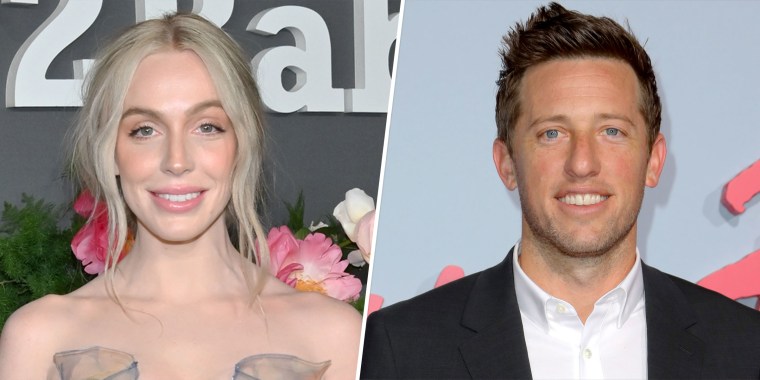 Cooper said that Kaplan set up a video where he was wearing the same outfit he wore on their first Zoom meeting and "talked about our relationship and his love for me."
The 28-year-old noted that she and the CEO of Ace Entertainment have talked about having kids together, which cemented her desire to get married one day.
"I was always unsure if marriage was something that I wanted," she explained, later adding, "But with Matt, it immediately was obvious to me, once our relationship progressed to the point that it was time, that yes, I would love to marry him."
Cooper and Kaplan have maintained a private relationship over the years. However, she said she has found a "healthy balance of sharing" more about their lives.
Cooper shared that she hopes to get married next year but will take it slow. "I have no idea what I want. I really did not grow up ever envisioning a wedding," she added.
After the news broke, Cooper did share a photo of the backyard proposal.
"I bet no one had this on their 2023 bingo card lol," she captioned her photo, adding a ring emoji.
The photo shows Cooper in a navy sweatsuit as Kaplan was down on one knee. She also showed off her vintage 1920s oval cut diamond ring in accompanying photos in her W Magazine interview.