You might be surprised to know that Ben Affleck is a big Wordle fan — or you might not, as the game became an instant hit amid the pandemic.
The actor revealed that he got invited to be part of, what he calls, a "red velvet rope celebrity Wordle group."
Affleck, 50, shared the tidbit in an in-depth interview with The Hollywood Reporter that was released on March 16. In it, he shares how his recent bout with COVID-19 left him with no energy, "where it was too much work to pick up the phone to play Octordle."
When the journalist asked him about the game, Affleck revealed his exclusive celebrity Wordle group.
"Octordle. It's just Wordle with more words," he explained. "Don't be impressed, it's not harder."
"I was invited to join a cool little red velvet rope celebrity Wordle group. Matt (Damon)'s one of them. Jason Bateman and Bradley (Cooper), and," he said, before pausing and adding, "Actually, the first rule of Wordle is don't talk about Wordle. Unless you get it in three guesses."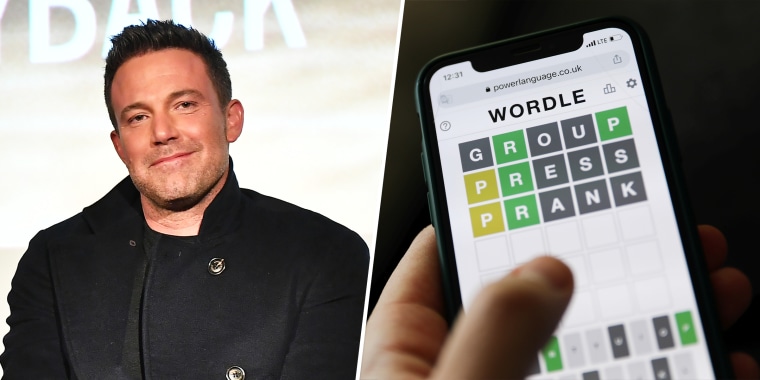 The "Air" director and actor credits being good at word games to doing crosswords "compulsively in the mornings."
"And let's face it, going up against actors, it's not a high bar. I expected to do fairly well, so I was seriously humbled," he said before explaining how they play. "You have to do the Wordle, the Quordle and the Octordle, and add up your score, and then whoever gets the lowest score wins for the day."
The Oscar winner added, "It's fiercely competitive, and there's a lot of mockery and derision. So I'm in training."
Wordle was created by software engineer Josh Wardle and bought by The New York Times in early 2022.
To play the game, players have six tries to guess a five-letter mystery word. Each time you guess a word, it tells you which (if any) of the letters you have guessed are correct and if they are in the correct place in the answer.
With Octordle, users have 13 guesses to solve all eight words.
Elsewhere in the THR interview, Affleck also touched on becoming a meme (again) after attending the 2023 Grammys with wife Jennifer Lopez and looking bored.
"I mean, some of it is, I'm like, 'All right, who is this act?' Like, I don't keep up. My wife does, obviously," he said about not being hip with the current music scene. "And yeah, it is your wife's work event."