When Arnold Schwarzenegger got frustrated about the damaged roads in his area, he took matters into his own hands.
On April 11, the actor and former governor of California shared video of him and a couple others filling a pothole.
"Today, after the whole neighborhood has been upset about this giant pothole that's been screwing up cars and bicycles for weeks, I went out with my team and fixed it," Schwarzenegger, 75, wrote in the caption of his video shared on social media. "I always say, let's not complain, let's do something about it. Here you go."
While filling in the pothole, a driver stopped and thanked them for their work.
"You're welcome," the "Terminator" star replied in the clip. "You have to do it yourself. This is crazy. For three weeks I've been waiting for this hole to be closed."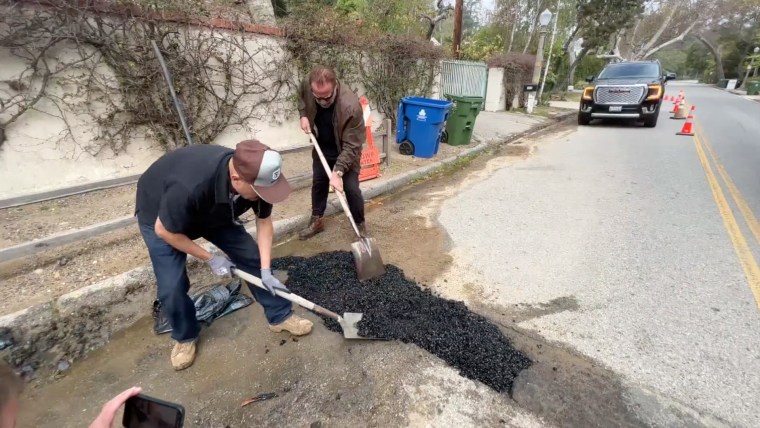 People in comments section applauded the movie star for his work, while others used clever references to his films.
"That pothole is terminated," one user wrote.
"The pothole won't be back," one person commented, while another suggested, "Pothole: I'll be back!"
A statement from a spokesperson for Schwarzenegger read, "There were numerous requests because of potential damage to cars and injury to bicyclists to repair this, and the pothole next to it. And to be told that it would be done in two months is not an ideal response."
Some people also wondered if he was allowed to fix the potholes and if the fix would be enough.
Elena Stern, a senior public information director for the department of public works in Los Angeles, told NBC News that the location where Schwarzenegger did his repair is not a pothole or a public works-related project.
Stern said it is a "service trench that relates to active, permitted work being performed at the location by SoCal Gas, who expects the work to be completed by the end of May."
SoCal Gas, Stern said, will be required to repair the area once their work is completed.
While it may not be considered a pothole, California has seen many damaged roads from a recent rainy season.
Mayor Karen Bass spoke about her plans to repair potholes in Los Angeles county during a press conference April 6.
"For Angelenos who have hit a pothole … it's more than an inconvenience, it's a financial burden," Bass said. "Our city is increasingly unaffordable, and these damages could mean missed days of work and unaffordable costs that create tradeoffs at home."
In that same press conference city councilors said Los Angeles received 19,642 pothole repair request since Dec. 30. Keith Mozee, executive director and general manager of the Bureau of Street Services, said 17,459 of those requests have been completed. He added that under normal conditions, the repair response time is one to three days.