Aaron Carter's cause of death was revealed on April 18, months after he was found dead in his home at age 34 in Lancaster, California.
The singer accidentally drowned in his bathtub due to the effects of inhaling difluoroethane and taking alprazolam, a generic form of Xanax, according to records from the Los Angeles County Department of Medical Examiner-Coroner obtained by NBC News.
Difluoroethane is "a gas commonly used as propellant in the air spray cleaners for electronic devices that can induce feelings of euphoria when inhaled," the coroner report states.
Due to the effects of alprazolam and difluoroethane, Carter "became incapacitated while in the bathtub" and caused the drowning. The manner of death is accident.
The Los Angeles County Dept. of Medical Examiner-Coroner told NBC News the musician was examined on Nov. 6, one day after he was found. His death certificate, obtained by NBC News on Nov. 17, deferred his cause of death. It showed Carter was cremated and his ashes were given to his twin sister, Angel.
Deputy Alejandra Parra with the Los Angeles County Sheriff's Department told NBC News that deputies were called to Carter's home at around 11 a.m. on Nov. 5 and found a "deceased person."
"We are extremely saddened and shocked to confirm the passing of Aaron Carter today," a representative for Carter said in a statement to NBC News on Nov. 5. "At the moment his cause of death is being investigated. We ask that you give the family time and they will have more information when available. We cannot express the outpouring of love coming in."
Carter became a beloved pop star when, at just 10 years old, he released his self-titled debut album in the U.S. in 1998. Three years later, he released his second album, "Aaron's Party (Come Get It)." The song of the same name spent 15 weeks on the Billboard Hot 100 chart and is three-time platinum certified by the Recording Industry Association of America.
Carter had one child, Prince Carter, in 2021 with Melanie Martin, his fiancée at the time. The pair split in early 2022. Carter's death certificate notes he never married.
As an adult, Carter had been open about his struggles with mental health. In a 2019 interview on the television show "The Doctors," he said he had been diagnosed with multiple personality disorder, schizophrenia, acute anxiety and manic depression.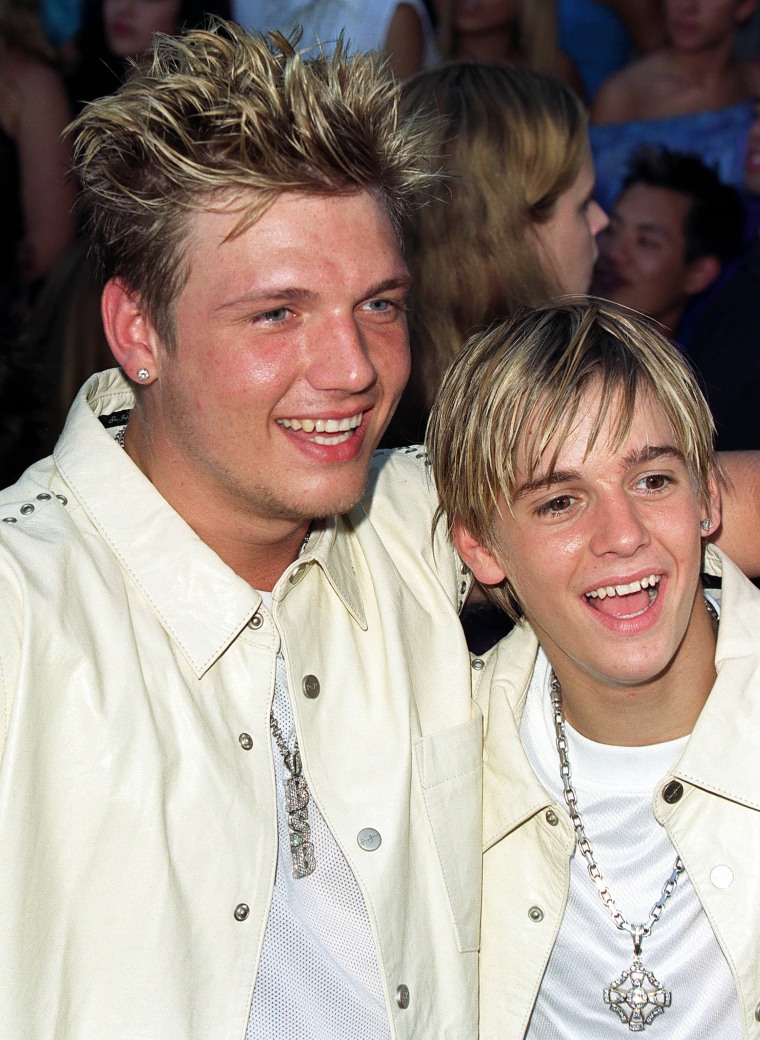 The same year, Carter's older brother, Nick Carter, said he and his sister, Angel, had filed a restraining order against the "I Want Candy" singer. In a statement on Twitter, the Backstreet Boys star said he and his sister had "no choice" after they noted their brother's "recent confession that he harbors thoughts and intentions of killing (Nick Carter's) pregnant wife and unborn child."
The Backstreet Boys honored Aaron Carter the day after his death at a performance in London. The group showed a photo of the singer on the Jumbotron with the caption "Aaron Carter 1987-2022."
"Tonight, we've got a little bit of heavy hearts 'cause we lost one of our family members yesterday and we just wanted to find a moment in our show to recognize him," Kevin Richardson said as members of the group hugged Nick Carter.
Carter posted his own tribute to his brother on Instagram on Nov. 6.
"My heart has been broken today," he said. "Even though my brother and I have had a complicated relationship, my love for him has never ever faded. I have always held on to the hope that he would somehow, someday want to walk a healthy path and eventually find the help that he so desperately needed."
"Sometimes we want to blame someone or something for a loss, but the truth is that addiction and mental illness is the real villain here. I will miss my brother more than anyone will ever know. I love you Chizz. Now you can finally have the peace you could never find here on earth….God,Please take care of my baby brother."