Guests attending Eckhaus Latta's show at New York Fashion Week saw an unexpected face appear on the runway. 
On Feb. 11, "The White Lotus" actor Jon Gries stepped onto the catwalk donning a mohair style fluffy sweater, beige pants and a smoldering stare at Eckhaus Latt's fashion show. The look was a part of the designer's fall 2023 ready to wear collection.
The 65-year-old actor shared videos on his Instagram story of him strutting down the runway. He also posted the surprised reactions from his fans to seeing him pop up at the fashion event.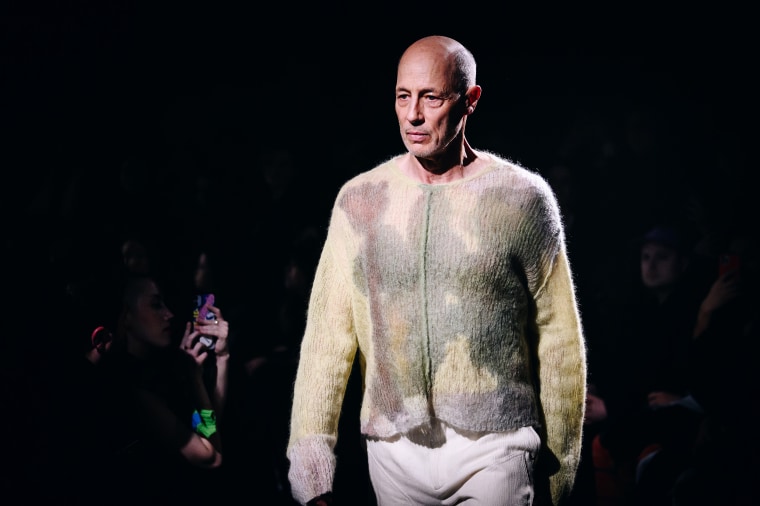 New York Fashion Week's TikTok page uploaded a funny video of Gries that referenced his "The White Lotus" character on Feb. 12. 
"Hi. This is Jon Gries and I'm here at the Eckhaus Latta's show and there are definitely some high-end gays," he jokes, quoting a hilarious line Jennifer Coolidge's character Tanya says on the show.
When asked if anyone is at risk of being murdered like the shocking Season Two finale, he replies, "They're just murdering us with beautiful ideas."
Designers Zoe Latta and Mike Eckhaus spoke to Vogue about the inspiration behind the clothes Gries and the 29 other models debuted on the catwalk. 
"This season there was a want for a certain kind of hardness," Eckhaus explained to the publication. 
Latta added, "There's a kind of moodiness, not in a pessimistic way, but maybe on edge, an uneasy feeling that we are curious to play with."
Gries isn't the only star from the hit HBO series who has made an appearance at a fashion show recently. 
His costar Stefano Gianino joined "Emily In Paris" actor Lucas Bravo and Zane Phillips from "Fire Island" for Louis-Gabriel Nouchi's showing at Paris Fashion Week last month. 
In honor of the show's "American Psycho" theme, Gianino wore a baby blue suit, a sheer top and black latex gloves. 
Gianino celebrated his collaboration with the designer on Instagram.
"My first fashion show!" he wrote in the caption beside a photo of him strolling down the runway. "I (didn't) expect it! AMAZING EXPERIENCE!"
He thanked the French designer and said, "I met beautiful people with big hearts!"
"The Real Housewives of Beverly Hills" star Lisa Rinna also turned heads during Copenhagen Fashion Week on Feb. 2 for Rotate Birger Christensen's Autumn/Winter 2023 collection.
The 59-year-old wowed in a black bodysuit and leopard-print coat. Her signature short hair was teased high, resembling a mohawk, and she revealed her temporary bleach-blond eyebrows. 
While some celebrities have been displaying their modeling skills during the different fashion weeks across the world, others have been supporting their favorite fashion designers from the front row.
On Feb. 10, Quinta Brunson, Lindsay Lohan, Julia Stiles were photographed sitting together at Christian Siriano's show.
Lohan shared a photo of the trio with the caption, "Thanks to @csiriano I got to have a fab #nyfw kick off with these talented beauties!"