/ Source: msnbc.com contributor
Bill Compton, "True Blood"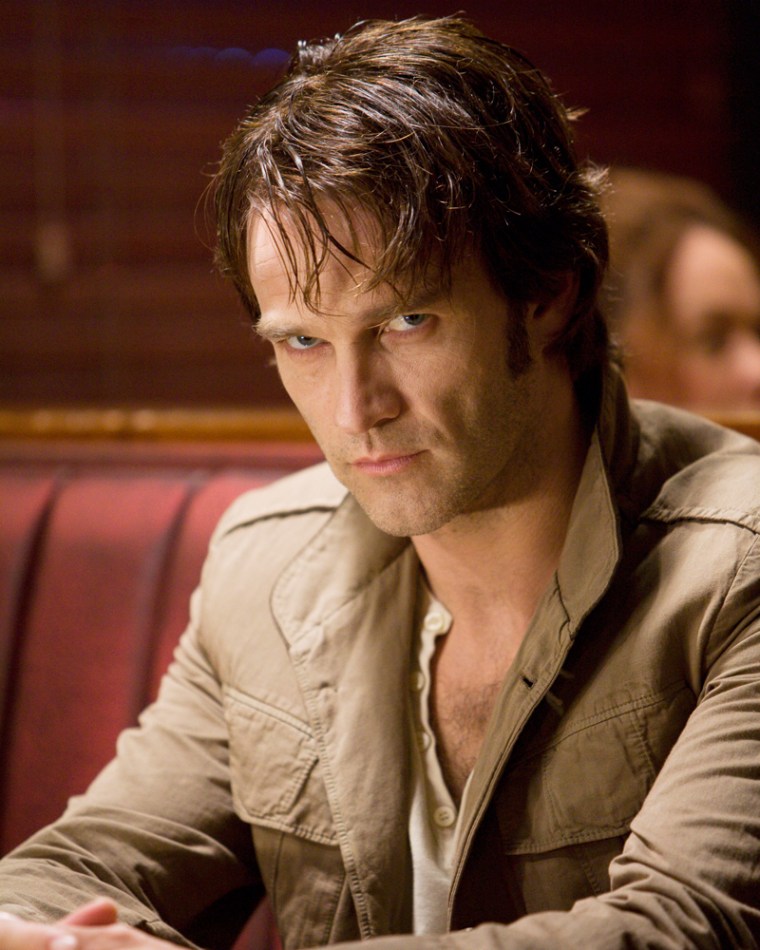 He'll just as soon suck your hemoglobin for a midnight snack, but unlike many other of his vampire brethren, Bill (Steven Moyer) can be a good friend too. He's certainly spry for someone 173 years old — not a wrinkle on him — and his affection for Sookie (Anna Paquin) was something he never expected. Still trying to figure how he can satisfy both his vampire needs without being repelling to humans, Bill is an all right guy. Just be sure not to expose your neck toward him with a "Come get a taste of me" tease.
Gemma Morrow, "Sons of Anarchy"
Long removed from her days as Peg Bundy, Katey Sagal achieves an equal mix of Machiavellian manipulator and loving mom as Gemma, the matriarch of the Charming, Calif., Sons motorcycle club. It's a difficult balance — at one moment Genna is making sure son Jackson "Jax" Taylor (Charlie Hunnam) is staying out of trouble while the next minute she's hoping he doesn't go soft and refuse to partake in the club's violent acts. Gemma is confronting marital issues as well, especially when husband Clay ("Hellboy's" Ron Perlman) decides to get frisky with some of the club's female groupies much to her dismay. She may be 30 years their senior, but she's feisty nonetheless.
Dr. Walter Bishop, "Fringe"

One-half of Bishop (John Noble) is clearly bizzaro, while the other 50 percent of the good doctor is a certified genius. He's brilliant enough to create a contraption that has the ability to read mind of a dead man, while, at the same time, so crazy that he'd want to taste soup that is so radioactive it would light up half of San Francisco. He's the wild card in a show that's never afraid to move beyond the reasonable and into the unfathomable. If the writers feel their out-there plots get too convoluted, they hand it off to Bishop, who will translate the verbiage into something we can all understand. His explanations to son Peter (Joshua Jackson) and the FBI agent Olivia Dunham (Anna Torv) makes perfect sense — even if it's coming from certified cuckoo.
Det. Ray Carling, "Life on Mars"
Michael Imperioli transitioned from a mob hit man in "The Sopranos" to a cop, and the funny part is the two characters share a lot of the same characteristics. Blatant racism and bigotry was a way of life for many in 1973 in the NYPD, and that's the time period in which Det. Carling resides in the addicting "Life on Mars," a drama import from England. We can all laugh now — 35 years later — at how wrong he is on most every cultural and social issue, but he doesn't have the advantage of looking into the future like the rest of us. And his forest-like mustache is a symbol of the '70s as much as Donna Summer's disco hits and the bicentennial celebration.
Tim, "The Life & Times of Tim"
Nothing makes me laugh as much as Tim, a well-intentioned worker bee who never misses an opportunity to make himself look stupid if front of his girlfriend, Amy. Voiced by series creator Steve Dildarian, Tim is an animated Larry David from "Curb Your Enthusiasm," but much less cynical and confrontational. As a matter of fact, he's much too eager to listen and agree with his friends — especially sex-crazed Stu and hooker Debbie — and boss, and when he should just pay them no attention, he stupidly agrees to their shenanigans and finds himself knee-deep in embarrassment. Why the amiable Amy stays with him, I'm not quite sure, but she's way better than what he deserves.