A San Francisco antiques dealer dies under suspicious circumstances days before she is scheduled to lead a group of her rich American friends on an exclusive tour through Southeast Asia. The trip goes forward as planned, but on Christmas morning, the tourists disappear without a trace in the Burmese jungle. And that's just the premise for the latest novel from best-selling author Amy Tan, "Saving Fish from Drowning." Tan was invited to discuss the book on "Today." Here's an excerpt.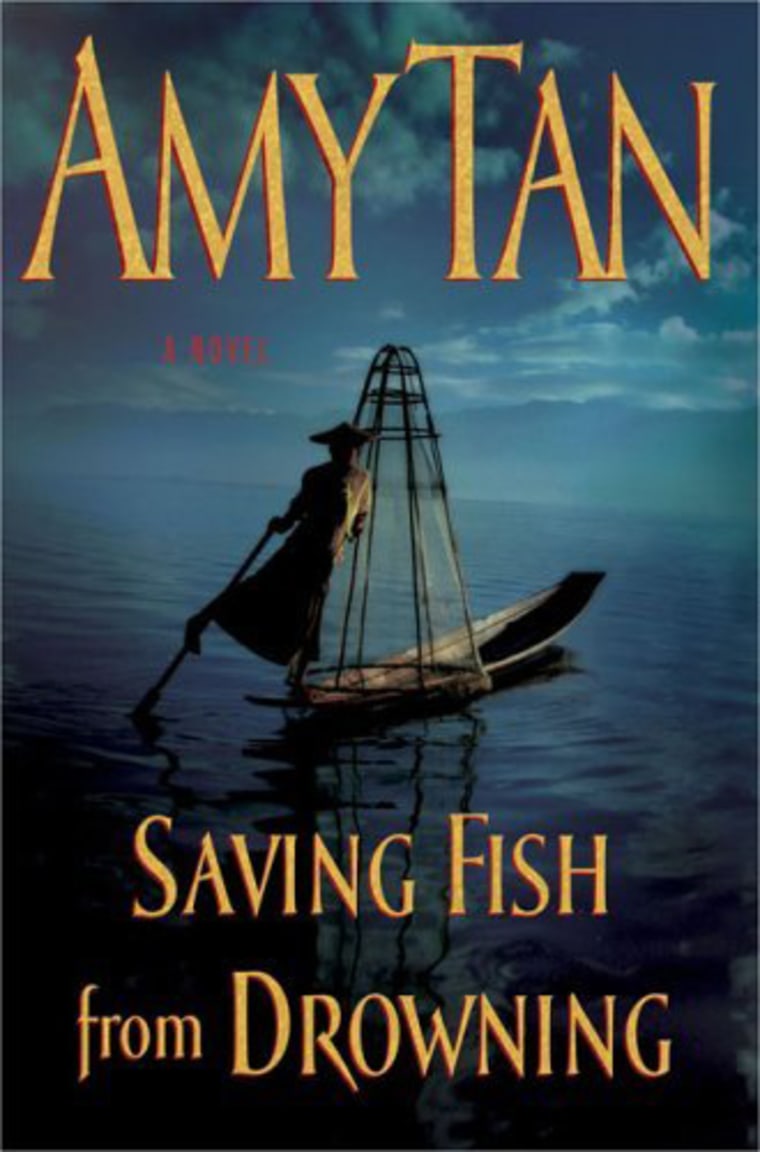 "Following the Buddha's Footsteps" is what I named the expedition. It was to have begun in the southwestern corner of China, in Yunnan Province, with vistas of the Himalayas and perpetual spring flowers, and then to have continued south on the famed Burma Road. This would allow us to trace the marvelous influence of various religious cultures on Buddhist art over a thousand years and a thousand miles — a fabulous journey into the past. As if that were not enough appeal, I would be both tour leader and personal docent, making the expedition a truly value-added opportunity. But in the wee hours of December 2nd, and just fourteen days before we were to leave on our expedition, a hideous thing happened ... I died. There. I've finally said it, as unbelievable as it sounds. I can still see the tragic headline: "Socialite Butchered in Cult Slaying."
The article was quite long: two columns on the left-hand side of the front page, with a color photo of me covered with an antique textile, an exquisite one utterly ruined for future sale.
The report was a terrible thing to read: "The body of Bibi Chen, 63, retail maven, socialite, and board member of the Asian Art Museum, was found yesterday in the display window of her Union Square store, The Immortals, famed for its chinoiserie...." That odious word — "chinoiserie" — so belittling in a precious way. The article continued with a rather nebulous description of the weapon: a small, rakelike object that had severed my throat, and a rope tightened around my neck, suggesting that someone had tried to strangle me after stabbing had failed. The door had been forced open, and bloody footprints of size-twelve men's shoes led from the platform where I had died, then out the door, and down the street. Next to my body lay jewelry and broken figurines. According to one source, there was a paper with writing from a Satanic cult bragging that it had struck again.
Two days later, there was another story, only shorter and with no photo: "New Clues in Arts Patron's Death." A police spokesman explained that they had never called it a cult slaying. The detective had noted "a paper," meaning a newspaper tabloid, and when asked by reporters what the paper said, he gave the tabloid's headline: "Satanic Cult Vows to Kill Again." The spokesman went on to say that more evidence had been found and an arrest had been made. A police dog tracked the trail left by my blood. What is invisible to the human eye, the spokesman said, still contains "scent molecules that highly trained dogs can detect for as long as a week or so after the event." (My death was an event?) The trail took them to an alleyway, where they found bloodstained slacks stuffed in a shopping cart filled with trash. A short distance from there, they found a tent fashioned out of blue tarp and cardboard. They arrested the occupant, a homeless man, who was wearing the shoes that had left the telltale imprints. The suspect had no criminal record but a history of psychiatric problems. Case solved.
Or maybe not. Right after my friends were lost in Burma, the newspaper changed its mind again: "Shopkeeper's Death Ruled Freak Accident."
No reason, no purpose, no one to blame, just "freak," this ugly word next to my name forever. And why was I demoted to "shopkeeper"? The story further noted that DNA analysis of the man's skin particles and those on both the blood-spattered trousers and the shoes confirmed that the man was no longer a suspect. So who had entered my gallery and left the prints? Wasn't it an obvious case of crime? Who, exactly, caused this freak accident? Yet there was no mention of a further investigation, shame on them. In the same article, the reporter noted "an odd coincidence," namely that "Bibi Chen had organized the Burma Road trip, in which eleven people went on a journey to view Buddhist art and disappeared." You see how they pointed the shaking finger of blame? They certainly implied it, through slippery association with what could not be adequately explained, as if I had created a trip that was doomed from the start. Pure nonsense.
The worst part about all of this is that I don't remember how I died. In those last moments, what was I doing? Whom did I see wielding the instrument of death? Was it painful? Perhaps it was so awful that I blocked it from my memory. It's human nature to do that. And am I not still human, even if I'm dead?
The autopsy concluded that I was not strangled but had drowned in my own blood. It was ghastly to hear. So far none of this information has been of any use whatsoever. A little rake in my throat, a rope around my neck — this was an accident? You'd have to be brainless to think so, as more than a few evidently were.
At the postmortem, photos were taken, especially of the awful part of my neck. My body was tucked into a metal drawer for future study. There I lay for several days, and then samples of me were removed — a swab of this, a sliver of that, hair follicles, blood, and gastric juices. Then two more days went by, because the chief medical examiner went on vacation in Maui, and since I was an illustrious person, of particular renown in the art world — and no, not just the retail community, as the San Francisco Chronicle suggested — he wanted to see me personally, as did esteemed people in the professions of crime and forensic medicine. They dropped by on their lunch hour to make ghoulish guesses as to what had happened to cause my premature demise. For days, they slid me in, they slid me out, and said brutish things about the contents of my stomach, the integrity of the vessels in my brain, my personal habits, and past records of my health, some being rather indelicate matters one would rather not hear discussed so openly among strangers eating their sack lunches.
In that refrigerated land, I thought I had fallen into the underworld, truly I did. The most dejected people were there — an angry woman who had dashed across Van Ness Avenue to scare her boyfriend, a young man who jumped off the Golden Gate Bridge and changed his mind halfway down, an alcoholic war vet who had passed out on a nude beach. Tragedies, mortal embarrassments, unhappy endings, all of them. But why was I there?
I was stuck in these thoughts, unable to leave my breathless body, until I realized that my breath was not gone but surrounding me, buoying me upward. It was quite amazing, really — every single breath, the sustenance I took and expelled out of both habit and effort over sixty-three years had accumulated like a savings account. And everyone else's as well, it seemed, inhalations of hopes, exhalations of disappointment. Anger, love, pleasure, hate — they were all there, the bursts, puffs, sighs, and screams. The air I had breathed, I now knew, was composed not of gases but of the density and perfume of emotions. The body had been merely a filter, a censor. I knew this at once, without question, and I found myself released, free to feel and do whatever I pleased. That was the advantage of being dead: no fear of future consequences. Or so I thought.
Excerpted from "Saving Fish from Drowning." Copyright 2005 by Amy Tan. All rights reserved. Reprinted by permission of Putnam Publishing, a division of Penguin Putnam, Inc.