What "Fahrenheit 9/11" represents, more than anything else, is the promise or threat — depending on how you look at it — that Michael Moore will get an opportunity to deliver another incendiary acceptance speech at the next Academy Awards. He had a few choice words for President George W. Bush when he took the microphone with an Oscar in hand after "Bowling for Columbine" won best documentary feature in 2003. It enraged those on the right and heartened those on the left.
But regardless of whether you believe Moore is a super patriot or a lying sack of car parts, one truth has emerged from having him in the spotlight:
We're living in a golden age of documentary filmmaking.
Again, if you love or hate Moore, put it aside for a moment and realize that while he may be the loudest and most opportunistic of his ilk, a wave of quality documentaries have hit theaters in his wake.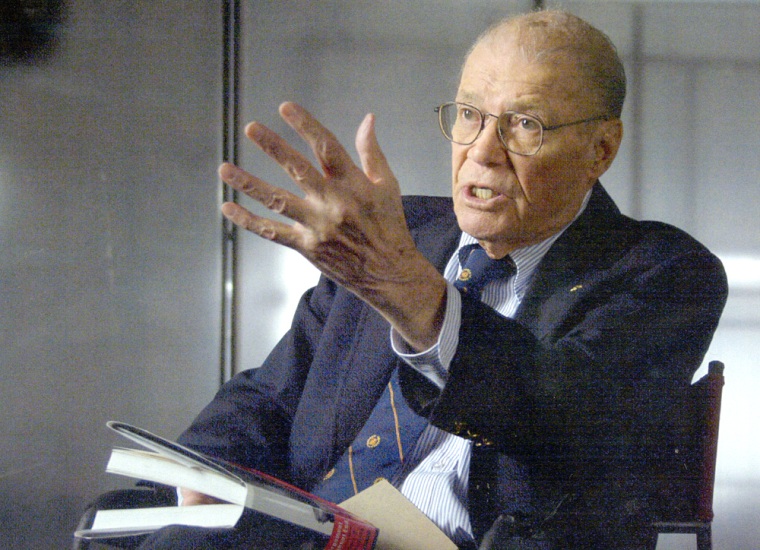 This past February, the five pictures nominated for best documentary feature may have constituted the strongest field ever. Errol Morris' "The Fog of War," which took home the hardware, examines the life and career of former Secretary of Defense Robert S. McNamara, often described as "the architect of the Vietnam War." The film represents the work of a noted documentarian at his best combined with a topic that has particular resonance now, given the current events in Iraq.
The other four were equally magnificent. "Balseros" by Carlos Bosch and Josep Maria Domenech examines the plight of Cuban refugees making the harrowing journey to the U.S. and what their lives were like once they arrived;  "The Weather Underground" by Sam Green and Bill Siegel tells the story of a band of radicals in the '60s and '70s bent on overthrowing the U.S. government;  Nathaniel Kahn, the illegitimate son of famed architect Louis Kahn, takes a look at his father's complicated life in "My Architect"; and "Capturing the Friedmans" by Andrew Jarecki started off as a look at a clown who works kids parties in New York but expanded into a portrayal of a family in crisis over child abuse allegations.
In theaters now are "Super Size Me,"  in which Morgan Spurlock eats nothing but McDonald's food in a first-hand effort to study obesity in America, and "Control Room," a look at coverage of the Iraq war from an Arab point of view done by Jehane Noujaim, one of the filmmakers responsible for the equally superb "Startup.com" in 2001.
Marshalling in the new ageMoore did not invent the documentary. In fact, his detractors might point out that his documentaries are a bit too inventive when it comes to presenting the facts.
But every parade needs a grand marshal, and Moore is serving that purpose when it comes to docs. He is garnering attention for nonfiction filmmaking, even if there are those who insist he belongs in another category.
Because of Moore, people who might not include docs in their regular viewing might now rent "Hoop Dreams," Steve James' excellent 1994 chronicle of the lives of two inner-city African American kids as they pursue their hopes for a career in professional basketball, or "4 Little Girls," Spike Lee's 1997 take on the tragic bombing of a church in Birmingham, Ala., in 1963, or even "Grey Gardens," the seminal cinema verite' work by brothers Albert and David Maysles from 1975 that looks at the lives of two distant relatives of the Kennedy clan living in a decaying estate in East Hampton.
There are various theories for why docs are suddenly darlings. One logical but optimistic possibility is that audiences are craving good stories. This doesn't mean all audiences — after all, pigs like "The Chronicles of Riddick" and "The Stepford Wives" still draw crowds despite being crippled by a lack of imagination — but savvy movie-goers who want more than just the usual plot rehashes and stock characters are turning to documentaries in droves.
Truth more interesting than fiction?
Another suggestion is that news events like the O.J. Simpson trial, which begat myriad court television programs, which in turn begat reality programming, have whetted the appetites for mass audiences to indulge in nonfiction fare. Since truth is indeed often stranger than fiction, pictures like "Capturing the Friedmans" offers a staggering amount of real-life human drama in a context that would be considered hard to believe if presented by the Hollywood dream factory.
And because of this, another development may be taking place. Talented filmmakers who ordinarily might head right toward the studios with a screenplay in one hand and a short film in another with aspirations to be the next Spielberg are instead being drawn toward the creative and financial rewards of this current documentary renaissance. It is no longer the domain of obscure academics and hardcore cinema buffs. Documentaries have gone mainstream, and they're bringing some of the best filmmakers along with them.
But don't ever discount the Michael Moore effect. It used to be that the Academy would turn up its nose at docs that achieved mainstream acceptance; "Hoop Dreams" received a nomination but didn't win, despite widespread critical acclaim. But in 1999 the Academy instituted changes in voting procedures to ensure that a wider pool of voters who are more active and accomplished in nonfiction filmmaking would participate in the initial screening of entrants, and that voters would be given more opportunity to see the eligible films.
Then Moore came along and energized the field of filmmakers, the voters and audiences. Celebrate him or condemn him, give the man his due for helping to raise awareness not on any particular political topic but of other documentary filmmakers with passion and stories to tell.