There's a new poster promoting the upcoming "Gilmore Girls" revival that has fans buzzing, and there's really only one way to celebrate that: with a piping hot cup of coffee — or two.
To mark the highly anticipated return of the beloved series, Netflix released a simple teaser featuring mom Lorelai (Lauren Graham), daughter Rory (Alex Bledel) and a couple of jumbo latte mugs.
Appropriately enough, the image of TV's most coffee-obsessed duo came out on Thursday — aka National Coffee Day — and it was accompanied by a tweet that either of those caffeinated characters could have written.
"Drink it. Shoot it. Eat it. Snort it. Whatever form it's in, gimme," it read, along with the #NationalCoffeeDay hashtag.
RELATED: What does Stars Hollow look like now? New 'Gilmore Girls' photos give sneak peek
This marks a trend in promoting the sequel season. The first teaser image, released in June, simply featured a solo cup of joe.
RELATED: Oh, baby! Did 'Gilmore Girls' just reveal a huge hint about the reboot?
The importance of coffee and the conversations that take place over the brewed beverage in the lives of the Gilmore gang can't be overstated. After all, it's part of the three all-important food groups — along with Chinese takeout and Pop-Tarts.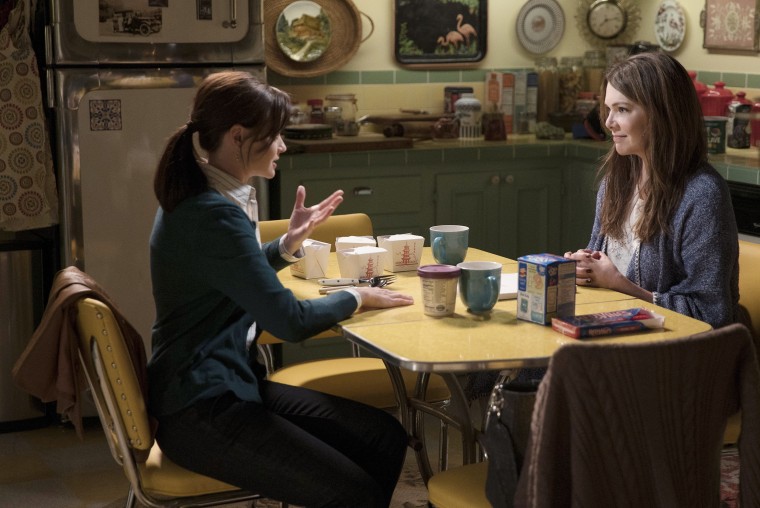 And thanks to a recent sneak peek at the script for the very first episode of revival run, we also know that coffee isn't just the perfect way to start the day — it's also the perfect way to start the show.
"Gilmore Girls: A Year in the Life" comes to Netflix on Nov. 25.
Follow Ree Hines on Twitter.