What's your summer pleasure? Ice cream, drippy and delicious, whether homemade or shaped like a cartoon character and sold from a truck? Antipasti, light and unfussy, perfect for sharing at garden parties? Or perhaps you've been heating up our outdoor barbecue ever since the snow melted, grilling everything from A (asparagus) to 'Za (pizza can be grilled, too).
Our roundup of new summer cookbooks mostly sticks to cuisines and food styles that, like summer, take it somewhat easy on us. There's a minimum of hot oven work and a maximum of light, fresh, seasonal flavors. After all, if the livin' is easy in summertime, the cooking should be, too.    —Gael Fashingbauer Cooper
We all scream for ice creamWhen I was a kid, summer meant salty swims and rides into town for soft-serve ice cream, chocolate and vanilla twisted together atop a wafer cone. Emily Luchetti's "A Passion for Ice Cream" (Chronicle Books, $35) pays homage to our melty memories, then leaves them behind in a swirl of daring flavors and fresh presentations.
I lingered over photos of ruby-red pomegranate sorbet nested in meringue baskets. Of crème fraiche ice cream piped into lacy rolls. Of espresso floats. None of which I'd ever eaten as a child. But who cares? Summer is the perfect season for adventures, why not dessert adventures?
I promised my coworkers I'd share my creations. Early on, I brought in a lemon-ginger angel food cake (an intended match for sorbet). Then — nothing. How could I confess that the rest had disappeared, scoop by scoop, from my freezer?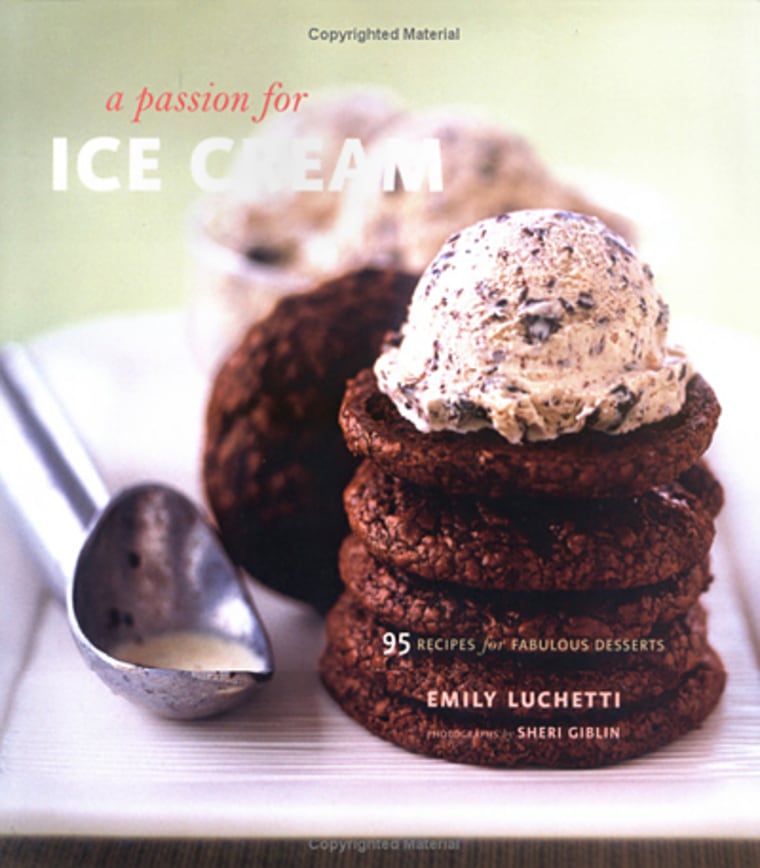 Plan ahead — these desserts take time. Time for chilling, churning and hardening (the ice cream). Time for mixing, baking and cooling (the accompaniments). Time for assembling and serving. Keep in mind: While some of Luchetti's ice creams work well alone (like my favorite, a creamy-tart lemon), others are meant as part of a balancing act. Her coconut ice cream, barely sweetened, deliciously offset sugary espresso meringues and a pool of chocolate sauce. Served alone? Eh.
The ingredients aren't cheap. Vanilla beans alone can run $6 each. You'll faint at the price of exceptional chocolate. Still, don't skimp on quality ingredients; you'll find they deliver in taste what you spend in money.
Which brings me back to chocolate and vanilla. Luchetti's chocolate-chocolate chunk ice cream is reminscent of rich, frozen mousse. French vanilla, flecked with vanilla beans and slightly fragrant, embodied elegance. I scooped them into the same bowl. Better than that childhood soft-serve. Maybe Luchetti didn't leave my ice cream memories behind, after all.    —Joan Wolfe
Appetizing antipasti
"Antipasti: Fabulous Appetizers and Small Plates" (Chronicle Books, $20), may be the food equivalent of a summer sundress and bare feet, offering dishes that are light, easy and fast.  Author Joyce Goldstein takes care to ensure that her dishes are uncomplicated and casual, dishes you'd want to share with friends.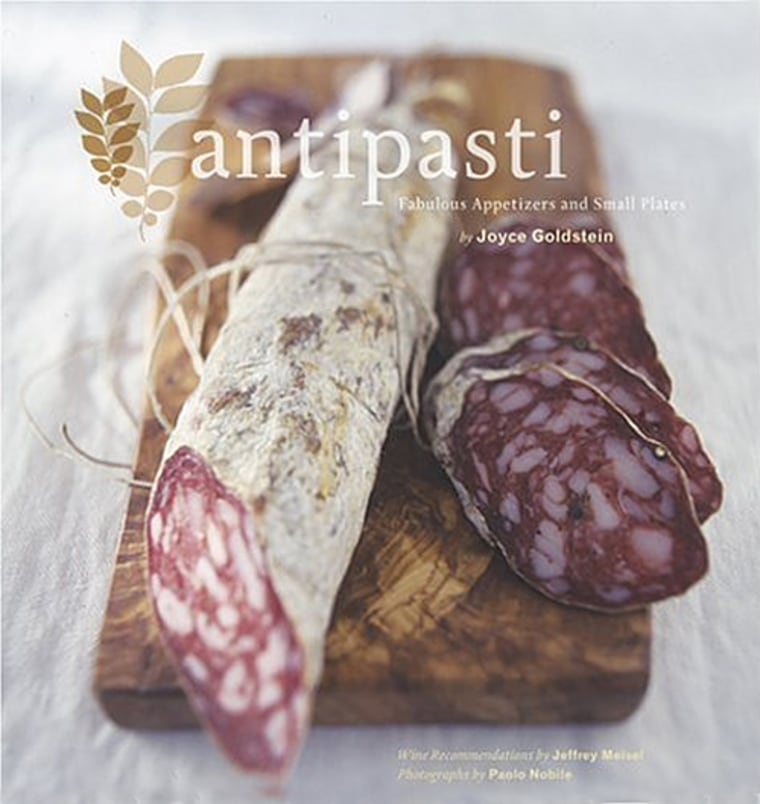 Even the book's introduction gets into the act, offering nine pages of shop-and-serve antipasti. You'll be tempted to copy this section and keep it next to your shopping bags. The effortless offerings include chunks of Parmesan cheese drizzled with aged balsamic vinegar: a perfect balance of salty and sweet. Piquant olives warmed and dusted with lemon zest and red pepper flakes and smoky roasted peppers with goat cheese on crostini are also winners.
Goldstein's remaining recipes require a bit more work, but they're usually worth the effort. Homemade twice-baked Parmesan crackers drew mixed reviews when served plain, but paired well with smoked salmon. Rice croquettes, despite a core of prosciutto, mushrooms and molten mozzarella, seemed bland until we thought to top them with spicy tomato sauce from an earlier recipe. As if you were snacking from a giant platter of antipasti, just mix and match flavors according to your tastes.
The hits were unquestionable. A salad of mixed greens and tart vinaigrette, topped with smoky, salty prosciutto bits sautéed crisp, won compliments. Stuffed eggs, a homely summer classic, were transformed with olives, briny capers and rich bites of tuna.
Neither prepared me for the gorgonzola custard. Silky, atop peppery arugula and a delicate hazelnut vinaigrette, it elevated paper-thin slices of pear to new heights. You could build a party around this dish, or a casual summer picnic. Add a few more appetizers and wine, then call up your friends. They'll agree that the custard, and Goldstein's cookbook, are fabulous indeed.    —J.W.
The hole storyDiverse eaters should be thankful they don't have to dine with John T. Edge. His latest book, "Donuts: An American Passion" (Putnam, $20), maintains the same obsessively single-minded focus as three of his prior books ("Fried Chicken," "Apple Pie," "Hamburgers & Fries.") Edge, the director of the University of Mississippi's Southern Foodways Alliance, has tried in each book to capture the glory of a uniquely American treat, to understand its nuances and varied forms, its role in the culture.
"Donuts" ... well, shouldn't be hard to figure out what the book is about, should it?  Edge criss-crosses the nation, sampling deep-fried treats from Massachusetts (jelly-filled long johns) to Hawaii (Portuguese-inspired malassadas). Along the way, he considers every regional variant and historic reference, from New Orleans beignets to Dutch olykoeks. Regional artisans and corporate obsessions (Krispy Kreme) alike get their due, and Edge has done his homework to extract a colorful cultural history of fried dough through the decades. Aside from some overly rhapsodic moments of prose, he tells his tale concisely and colorfully.
And yes, there are recipes — everything from Lassie Loops, inspired by the Salvation Army women in World War I who made donuts a symbol of home for the doughboys, to donut soup, inspired by Chicago's postmodern Moto restaurant. These are all fine and good, if you have a yen for playing with hot oil and dripping dough.  But as Edge makes clear, part of the American experience is the trip to the donut shop. And, as he documents, there is always a new generation of immigrants (Cambodians in the 1970s, for instance) setting up shop on a nearby corner, ready to make your donut dreams come true.    —Jon Bonné
Viva ItaliaEverything seems to slow down in the summertime. Cooks who want to stretch out their meals, but not the time they spend in the kitchen, will find a lot of inspiration in Ursula Ferrigno's "Trattoria: A Passion For Italian Food" (Running Press, $30). Ferrigno's book embraces the food of Italy's family-run restaurants, complete with photographs and mini-essays on trattorias and foods from each region of the country.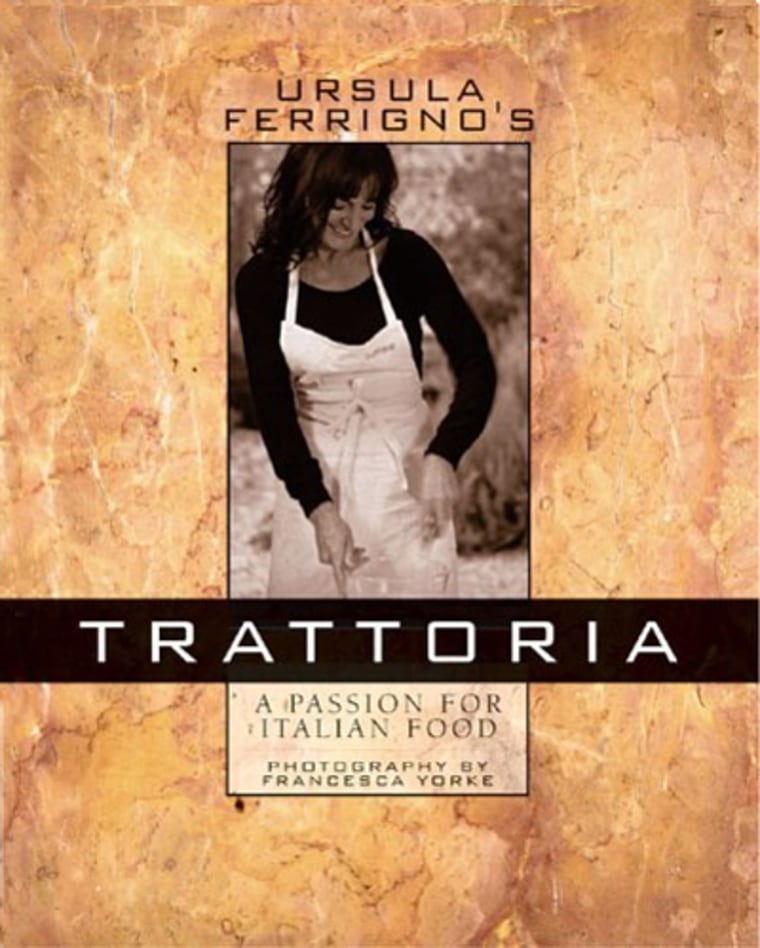 The travelogue approach makes traditional and familiar Italian dishes seem sexy and fresh as with a lasagne from Verona which uses radicchio in place of spinach. Mouthwatering photographs and Ferrigno's breezy tone are a huge part of the appeal. At times she gets too casual, however, switching randomly between weight and volume in her ingredient listings, requesting "tasty" goat cheese in another (as opposed to flavorless cheese?). The recipes are still easy to read, though, and those tested were nearly foolproof. 
While the pasta section is loaded with flavorful choices, standouts are to be found among the appetizers, sandwiches and vegetables.  Nothing could be more elegant than miniature omelets with ricotta, loaded with herbs and light enough for the hottest summer day.  Picnickers will love the foccaccia sandwiches and an unbelievably rich potato cake stuffed with cheeses and salami.  Gardeners will appreciate the many vegetable recipes — there are enough zucchini recipes, from baked and stuffed to the base of a zesty soup with spaghetti, to get through the most bountiful bumper crop.
The trattoria philosophy of seasonal ingredients and simple technique seems tailor-made for a time when produce is at its best and cooks want to take it easy—this summer, Ferrigno's passion is hard to resist.    —Hannah Meehan Spector
Talkin' 'bout my grillThe Culinary Institute of America takes a no-nonsense approach to book publishing, and so its latest effort, "Grilling : Exciting International Flavors from the World's Premier Culinary College" (Lebhar-Friedman Books, $35) cuts out the of slow-cooked meat in favor of brass tacks.  Where it succeeds best is in documenting cooking techniques and in page after page of helpful tips, like the proper mise en place for grilling (though using that term seems so very wrong when standing out by the grill), which wood works best and how to make a temporary, jury-rigged smoker. Why they even acknowledge the existence of molded single-piece tongs is beyond me, but hey, it's their book.
What didn't work so well were the recipes. The technique for barbecued spareribs with an apricot-ancho glaze was perfect, but the recipe was far too elaborate for its own good, as was the glaze, which fussily relied on 15 ingredients and ended up way too sweet. Even a triple dose of vinegar didn't help restore a passable tang. Given how long some grilling efforts take (the ribs required a lengthy dry rub and then over 90 minutes on the grill), the authors would have been well served to include cooking times. In another experiment, polenta cakes (which needed more water than the recipe called for) were grilled with nary a drop of oil to keep them from sticking.
True, the book is meant to celebrate "international flavors," but too many recipes invoked a faux-exotic tone for exoticism's sake, like grilled vegetables "with Three Mediterranean Sauces." Others used the grill as a mere technicality, almost as a pointless exercise in literalism. Just because you can put a griddle on a grill top and use it to make French toast doesn't mean you should.    —J.B.
Jon Bonné is MSNBC.com's Lifestyle editor. Joan Wolfe works in the Editorial Development group at MSNBC.com. Hannah Meehan Spector is a writer in Los Angeles.