It's almost time to start giving out some roses!
ABC has released the list of 30 women who will be vying for the affection of leading man Colton Underwood on the upcoming season of "The Bachelor," ranging from a self-described "sloth" to a 22-year-old woman who says she's never been kissed.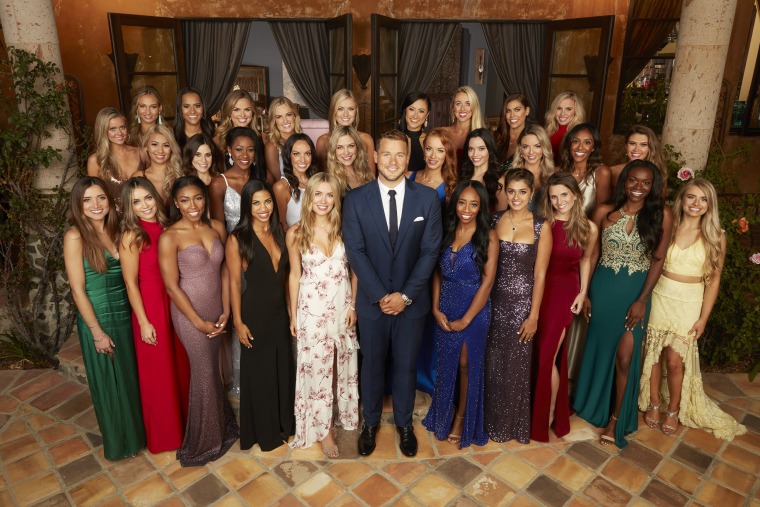 Other contestants include Erin, 28, a Texas woman who lists her occupation as "Cinderella" and works for her stepmother's home improvement business. Tayshia, 28, is a California woman who works as a phlebotomist, drawing blood for a living, so she presumably can help with any thorn-related mishaps with the roses.
Alex D., 23, is a Boston woman who identifies as a "sloth" because she moves "verrrrrrrrrry slowly," while Erika, 25, is known by her friends as "The Nut."
The 23rd season of the hit show, which premieres with a three-hour special on Jan. 7, also includes a pageant star who's a self-titled "hot-mess express" and a "Nigerian beauty with a loud-and-proud personality," according to ABC's news release.
They will all be trying to win the heart of Underwood, 26, a former NFL player who appeared on the 14th season of ABC's "The Bachelorette" as well as on "Bachelor in Paradise."
Underwood sparked conversation on "The Bachelorette" with Becca Kufrin when he revealed he is a virgin.
"It's something that I don't talk about very often and something that only a handful of people know," he wrote on Instagram in July. "I considered it a gift and a curse for many years, but finally have come to terms about standing up for who I am and the details that make me, me."
Whether he's ready for a woman whose biggest dating fear is farting too loud or one who has a tattoo that says "I love bad ideas" remains to be seen, but he is eager to find out.
"This is the perfect time in my life to do this," he told People magazine in September. "I'm so unbelievably happy with myself and now I can focus on finding my wife. I'm so excited to find that. My heart is 100 percent healed and I'm going to give this my all. And hopefully I'll come out of it engaged!"
Here is a full list of the contestants:
Alex B., 29, a dog rescuer from Vancouver, British Columbia, Canada
Alex D., 23, a sloth from Boston, Massachusetts
Angelique, 28, a marketing salesperson from Hamilton, New Jersey
Annie, 23, a financial associate from New York, New York
Bri, 24, a model from Los Angeles, California
Caelynn, 23, Miss North Carolina 2018 from Charlotte, North Carolina
Caitlin, 25, a realtor from Toronto, Ontario, Canada
Cassie, 23, a speech pathologist from Huntington Beach, California
Catherine, 26, a DJ from Ft. Lauderdale, Florida
Courtney, 23, a caterer from Atlanta, Georgia
Demi, 23, an interior designer from Red Oak, Texas
Devin, 23, a broadcast journalist from Medford, Oregon
Elyse, 31, a makeup artist from Soldotna, Alaska
Erika, 25, a recruiter from Encinitas, California
Erin, 28, Cinderella from Plano, Texas
Hannah B., 23, Miss Alabama 2018 from Tuscaloosa, Alabama
Hannah G., 23, a content creator from Birmingham, Alabama
Heather, 22, never been kissed from Carlsbad, California
Adrianne "Jane," 26, a social worker from West Hollywood, California
Katie, 26, a medical sales representative from Sherman Oaks, California
Kirpa, 26, a dental hygienist from Whittier, California
Laura, 26, an accountant from Dallas, Texas
Nicole, 25, a social media coordinator from Miami, Florida
Nina, 30, a sales account manager from Raleigh, North Carolina
Onyeka, 24, an IT risk consultant from Dallas, Texas
Revian, 24, an esthetician from Santa Monica, California
Sydney, 27, an NBA dancer from New York, New York
Tahzjuan, 25, a business development associate from Castle Pines, Colorado
Tayshia, 28, a phlebotomist from Corona Del Mar, California
Tracy, 31, a wardrobe stylist from Los Angeles, California