In the new comedy "A Million Ways to Die in the West," Neil Patrick Harris plays Foy, the condescending proprietor of the town's fancy "moustachery." Apparently, some aspects of the character have stuck.
In a visit to TODAY Wednesday to talk about the film, Harris wore a phony handlebar 'stache (poorly) glued beneath his nose, with anchor Matt Lauer gamely sporting a matching fake.

"What would we call this particular kind of mustache?" Lauer asked the actor with mock seriousness, his own facial pelt partially peeling off.
"An embarrassing mustache," Harris deadpanned.
(At least the two had plenty of company: The camera swept around the studio to reveal that TODAY's behind-the-scenes crew had donned fake mustaches, as well.)
It wasn't just Harris' up-for-anything sense of humor that made him a natural fit for writer/director/co-star Seth MacFarlane's bawdy ensemble comedy. The actor's theatrical dance training came in handy, too, particularly during the film's "Mustache Song" scene.
"There's a barn dance that happens, and everyone that's there knows this dance, this incredibly complicated dance about mustaches," Harris explained.
Lauer asked Harris to demonstrate a few moves.
"It was lots of, like, steps and turns," Harris said vaguely, raising his lower legs and twisting his feet outward.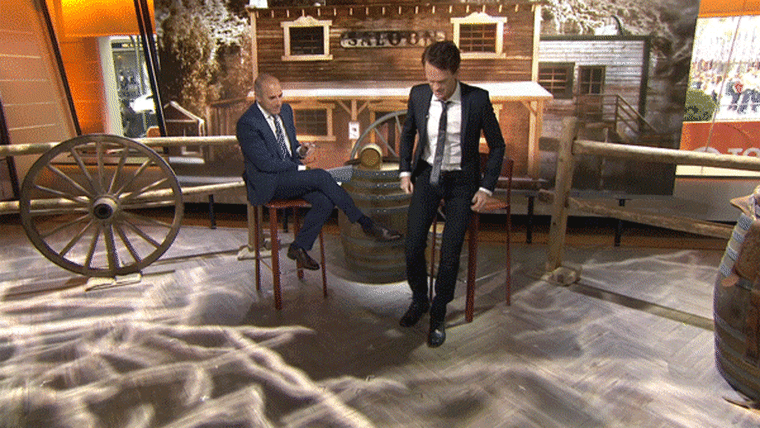 "It's a little hoedown-ish," Lauer observed.

Mustache maneuvers are not to be found in Harris' current role on Broadway, where he stars as a transgender punk performer in "Hedwig and the Angry Inch." In fact, the role requires near-total hairlessness from the actor.
"I've shaved; I'm shorn," Harris told Lauer, gesturing at his arms.
"All the way up?" Lauer asked.
"All the way up," Harris said.
"A Million Ways to Die in the West" opens in theaters May 30.